How to Get a Philippines eSIM: A Step-by-Step Guide
Sep 07,2023 | Matrix
Exploring the vibrant and tropical landscapes of the Philippines is a dream for many travelers. And in today's connected world, staying online and in touch with your loved ones while you embrace the beauty of this archipelago is easier than ever, thanks to eSIM technology. If you're planning your trip to the Philippines, you've likely come across the term 'e SIM Philippines' or 'prepaid eSIM Philippines.' In this guide, we'll delve into how ByteSIM is revolutionizing the way travelers stay connected with convenient prepaid eSIMs, ensuring that your Philippine adventure is not only unforgettable but also seamlessly connected.
Table of contents
Understanding eSIM
In today's fast-paced world, connectivity is crucial, especially when traveling to a captivating destination like the Philippines. In this chapter, we'll delve into the fundamentals of eSIM technology, exploring what an eSIM card is and why it's becoming the preferred choice for travelers in the Philippines. We'll also take a closer look at how ByteSIM, a prominent eSIM provider in the Philippines, is changing the game with its innovative eSIM solutions.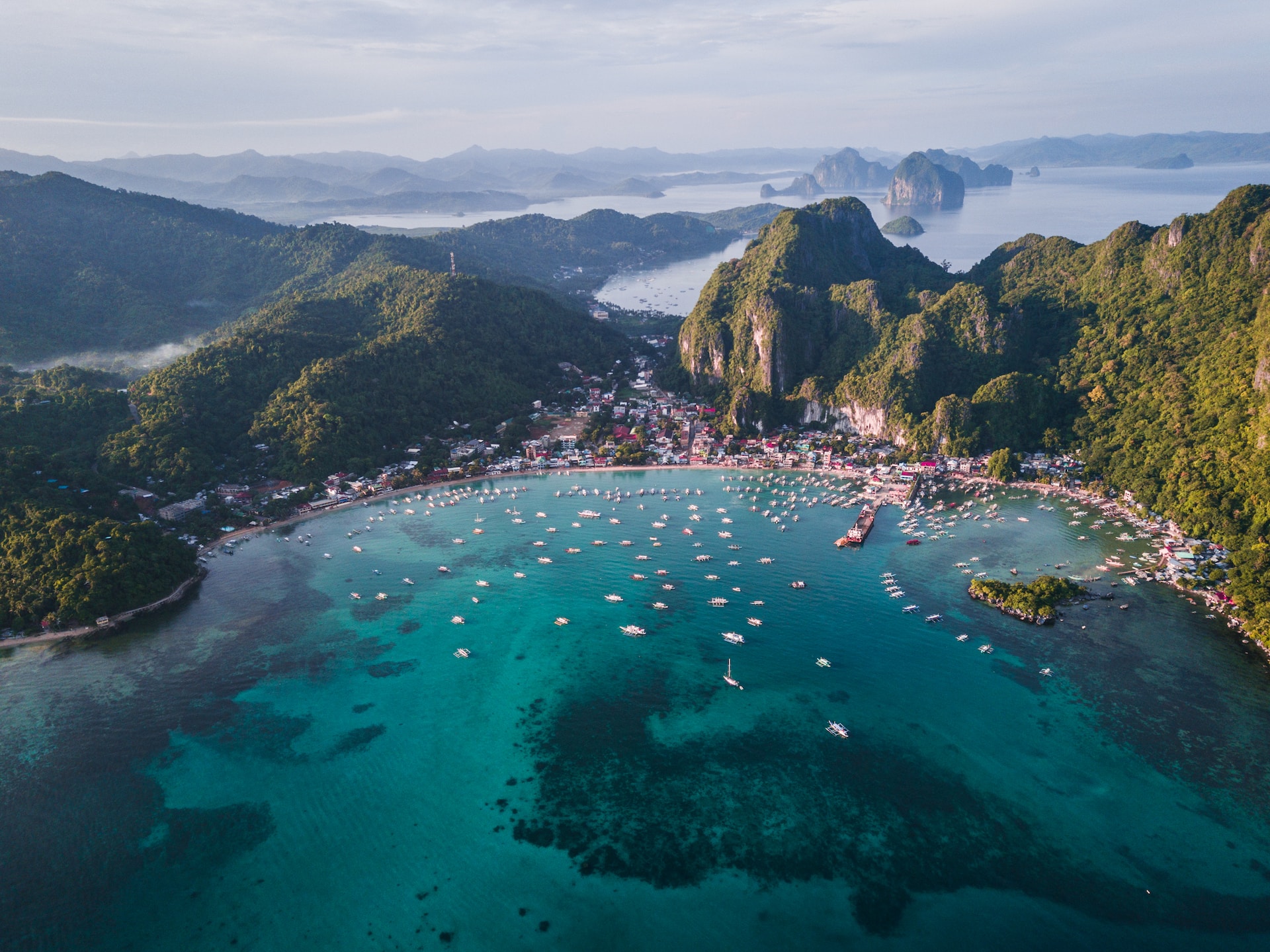 1.1 What is an eSIM Card?
Traditional SIM cards have been the go-to choice for mobile connectivity for years. However, with the advent of eSIMs, travelers in the Philippines now have a more versatile and convenient option. An eSIM, short for embedded SIM or electronic SIM, is a small, programmable chip built directly into your device. Unlike physical SIM cards, eSIMs can be provisioned and reconfigured remotely, eliminating the need to swap physical cards when changing carriers or traveling internationally. In the context of eSIM Philippines, this means seamless access to local networks without the hassle of acquiring a physical SIM card upon arrival.
1.2 Advantages of eSIM over Traditional SIM Cards
When it comes to mobile connectivity in the Philippines, eSIMs offer a host of advantages over their traditional counterparts. For travelers, these benefits are particularly appealing:
- Flexibility: eSIMs allow you to switch between carriers and data plans effortlessly, catering to your specific needs while exploring the diverse landscapes of the Philippines. No more searching for physical stores to purchase local SIM cards.
- Cost-Effectiveness: Prepaid eSIM Philippines options often come with competitive pricing, making it easier for budget-conscious travelers to stay connected without breaking the bank.
- Convenience: With an eSIM, you can activate or change your data plan directly from your device, providing unparalleled convenience, especially for tourists constantly on the move.
1.3 ByteSIM: An Overview of the eSIM Provider
ByteSIM has emerged as a leading eSIM provider in the Philippines, offering travelers a hassle-free solution for their connectivity needs. With ByteSIM's eSIMs tailored for the Philippines, travelers can experience the following advantages:
- Local Expertise: ByteSIM understands the unique challenges and opportunities of the eSIM Philippines market, ensuring that travelers have reliable access to the best local networks.
- Seamless Activation: ByteSIM's user-friendly app simplifies the activation process, allowing travelers to choose and activate their preferred eSIM plan for the Philippines quickly.
- Robust Coverage: ByteSIM's partnerships with local carriers ensure robust coverage across the picturesque islands of the Philippines, keeping you connected in urban hubs and remote paradises alike.
As we journey further into this guide, you'll discover how ByteSIM's prepaid eSIM Philippines options can transform your travel experience, offering unparalleled convenience and connectivity.
Why Should You Choose a Philippines eSIM?
The decision to choose a Philippines eSIM for your upcoming adventure in this tropical paradise is not merely a matter of convenience; it's a smart choice that offers a myriad of benefits. In this chapter, we'll delve deeper into why opting for a Philippines eSIM, especially through providers like ByteSIM, is a decision that enhances your travel experience in more ways than one.
The Philippines as a Premier Travel Destination
Before we dive into the advantages of a Philippines eSIM, it's important to understand why the Philippines is such a sought-after travel destination. With its crystal-clear waters, lush rainforests, and warm, welcoming culture, the Philippines has something for every type of traveler. From exploring the vibrant marine life in Palawan to experiencing the rich history of Manila, this archipelago offers a diverse range of experiences.
Now, imagine immersing yourself in this tropical paradise while staying seamlessly connected with your loved ones, sharing your experiences in real-time, and navigating your adventures with ease. That's precisely what a Philippines eSIM facilitates.
The Advantages of a Philippines eSIM
So, why should you choose a Philippines eSIM over traditional SIM cards or other connectivity options? Here are some compelling reasons:
- No Physical Card Swapping: Traditional SIM cards require you to physically swap out your existing card for a local one when traveling internationally. With a Philippines eSIM, this hassle is eliminated. You can activate your eSIM remotely, ensuring that you're connected as soon as you land.
- Flexibility in Plans: A Philippines eSIM gives you the flexibility to choose from a range of data plans that suit your specific needs. Whether you're a casual surfer or a data-hungry explorer, you can select a plan that matches your usage, helping you stay within your budget.
- Local Network Access: Through partnerships with local carriers, eSIM providers like ByteSIM offer access to reliable and extensive networks throughout the Philippines. This means you'll have coverage in both bustling cities and remote, off-the-beaten-path destinations.
- Continuous Connectivity: With a Philippines eSIM, your connection remains stable even as you move between islands and regions. This ensures that you can make calls, send texts, and access the internet without interruption, no matter where your travels take you.
Before diving into the world of eSIMs, it's essential to ensure that your smartphone is compatible. For the most up-to-date information on device compatibility, please refer to the 2023 list of esim supported devices.
Is the 5G Network Readily Available in the Philippines?
In addition to the advantages mentioned above, it's worth noting that the Philippines is also making strides in the realm of 5G technology. As you choose a Philippines eSIM, you might have the opportunity to experience the blazing-fast speeds of 5G in select areas. This is particularly beneficial if you rely on high-speed internet for work, streaming, or simply staying connected to the world.
In summary, selecting a Philippines eSIM, especially from reputable providers like ByteSIM, ensures that you not only get to explore the beauty of this enchanting country but also do so with the assurance of constant, reliable connectivity. The advantages of flexibility, convenience, and access to local networks make it a choice that aligns perfectly with your travel needs and enhances your overall experience in the Philippines.
Telecom Operators for Philippines Travel
When it comes to staying connected during your travels in the Philippines, having the right telecom operator can make all the difference. In this guide, we'll explore some of the prominent telecom operators in the Philippines, including Globe Mobile, Smart/Sun/TNT Mobile, and Dito Mobile. We'll also discuss how ByteSIM, as an eSIM provider, partners with these operators to offer travelers the best connectivity experience, including access to 5G high-speed networks.
First and foremost, let's take a look at the most crucial aspect: the overall comparison of 4G signal coverage.

Smart continues to dominate in 4G coverage experience, scoring 8.2 out of 10, closely followed by Globe at 8.1. However, the newer player, DITO, is making strides, with its score improving by 0.5 points, while Globe and Smart saw smaller increases of 0.3 and 0.2 points, respectively.
GLOBE Mobile: A Telecom Titan
GLOBE is undeniably one of the leading players in the Philippine telecom industry. Their extensive coverage, competitive communication costs, and the ability to use their phone cards domestically have made GLOBE a top choice among both locals and international travelers in the Philippines. With ByteSIM's partnership with GLOBE, you can trust that you're in good hands when it comes to connectivity.
Globe Takes the Crown: Leading the Philippines in Mobile Video Streaming
Globe has secured the Video Experience award in the Philippines, surpassing former winner Smart. This positions Globe as the top choice for users seeking an excellent mobile video streaming experience. With a remarkable score of 58.2 points out of 100, Globe leads the pack, ahead of DITO and Smart, which scored 56.2 and 52.9 points, respectively. Globe is the sole Filipino operator in the "Good" category, ensuring users can enjoy high-quality video streaming. Furthermore, Globe's 5G users experience the best video quality with a significant lead of 4.4 points over Smart in the 5G video experience category. In summary, Globe offers the best mobile video streaming experience in the Philippines, making it the preferred choice for both 4G and 5G users.
This map represents the coverage of Globe Mobile 2G, 3G, 4G and 5G mobile network as follow: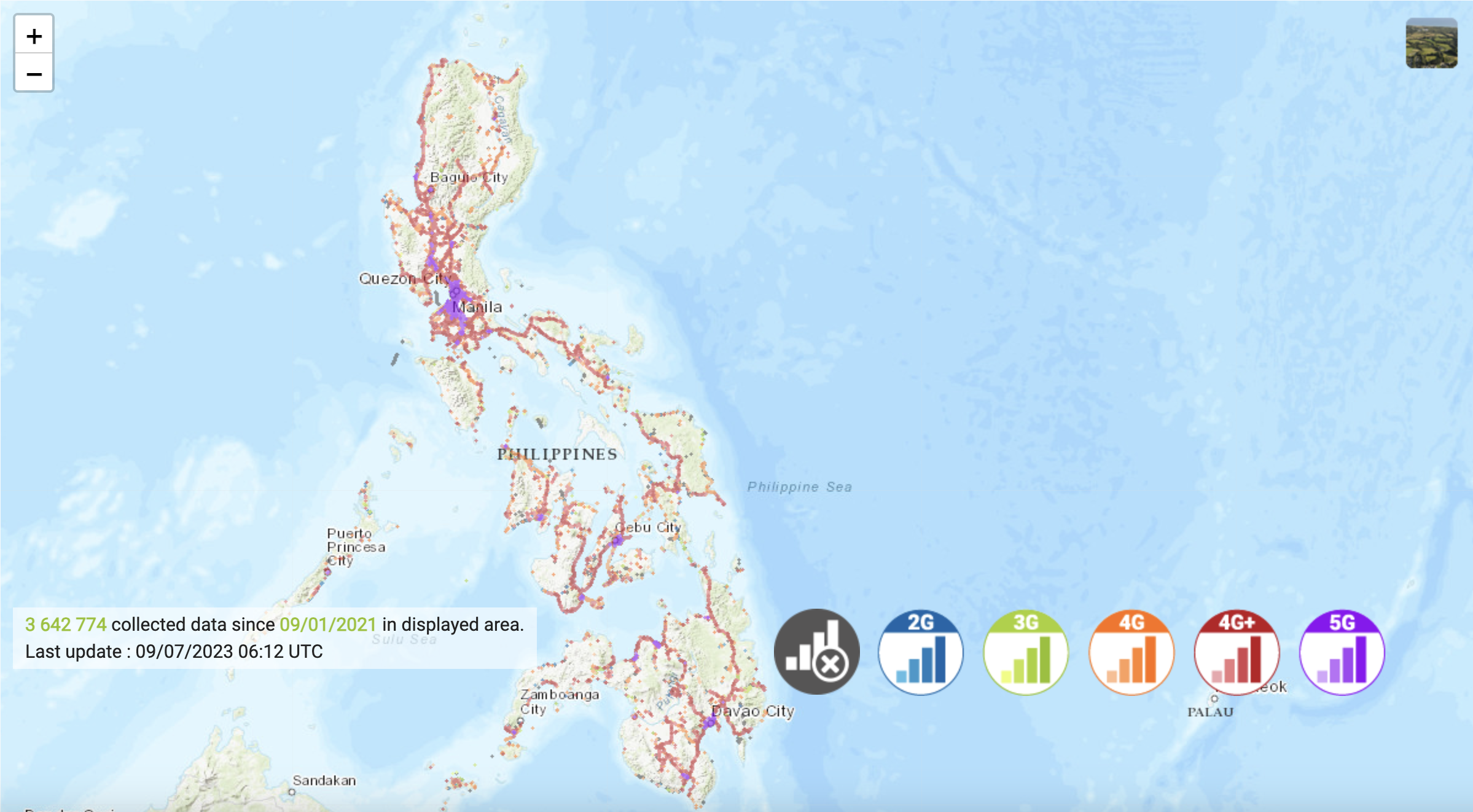 Smart/Sun/TNT Mobile: A Competitive Alternative
Smart Communications, part of the PLDT Group, is another major player in the Philippines. It serves as a primary competitor to GLOBE, offering a wide range of services to cater to various user needs. While it may come at a slightly higher cost than GLOBE, Smart is a great option for those looking for 5G wireless data packages, especially if you have a 5G-capable smartphone.
Smart Leads in Download Speeds, Especially in 5G
Smart maintains its lead in the overall Download Speed Experience award with a score of 25.3Mbps, ahead of DITO at 22.8Mbps and Globe at 16.2Mbps. However, Smart's lead has reduced from the previous report due to DITO's substantial improvement. Smart also excels in Download Speed Experience – 5G Users, with 51.3Mbps compared to Globe's 32.9Mbps, showcasing its dominance in 5G download speeds.

This map represents the coverage of Smart/Sun/TNT Mobile 2G, 3G, 4G and 5G mobile network: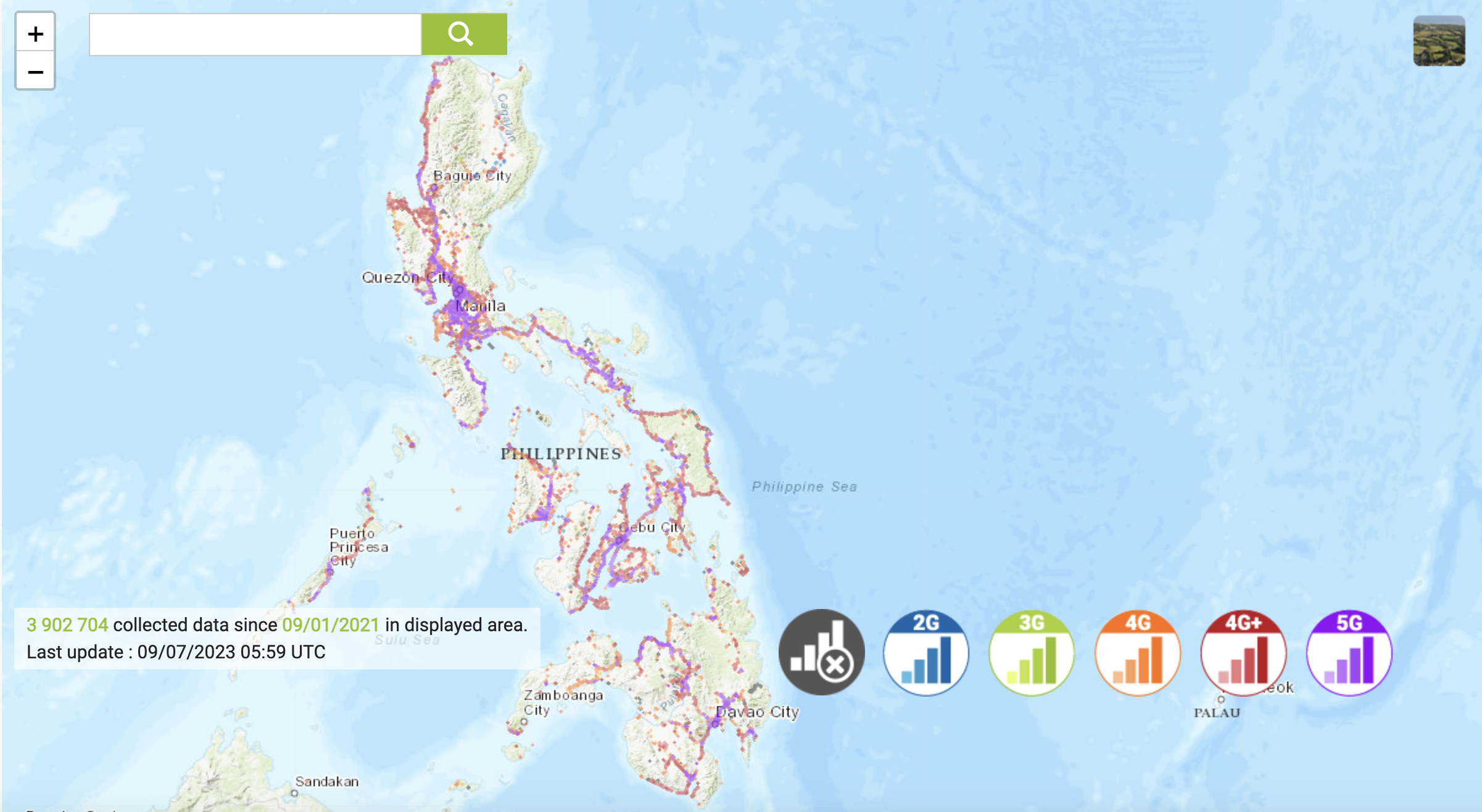 Dito Mobile: The New Kid on the Block
Dito Telecommunity, the third-largest telecom operator in the Philippines, has quickly made a name for itself. With coverage exceeding 70% of the Philippines and a user base of over 12 million, Dito has rapidly expanded its network. While it may not have the history of the more established operators, Dito is a noteworthy choice for travelers looking for reliable coverage during their stay.
This map represents the coverage of Dito Mobile 2G, 3G, 4G and 5G mobile network: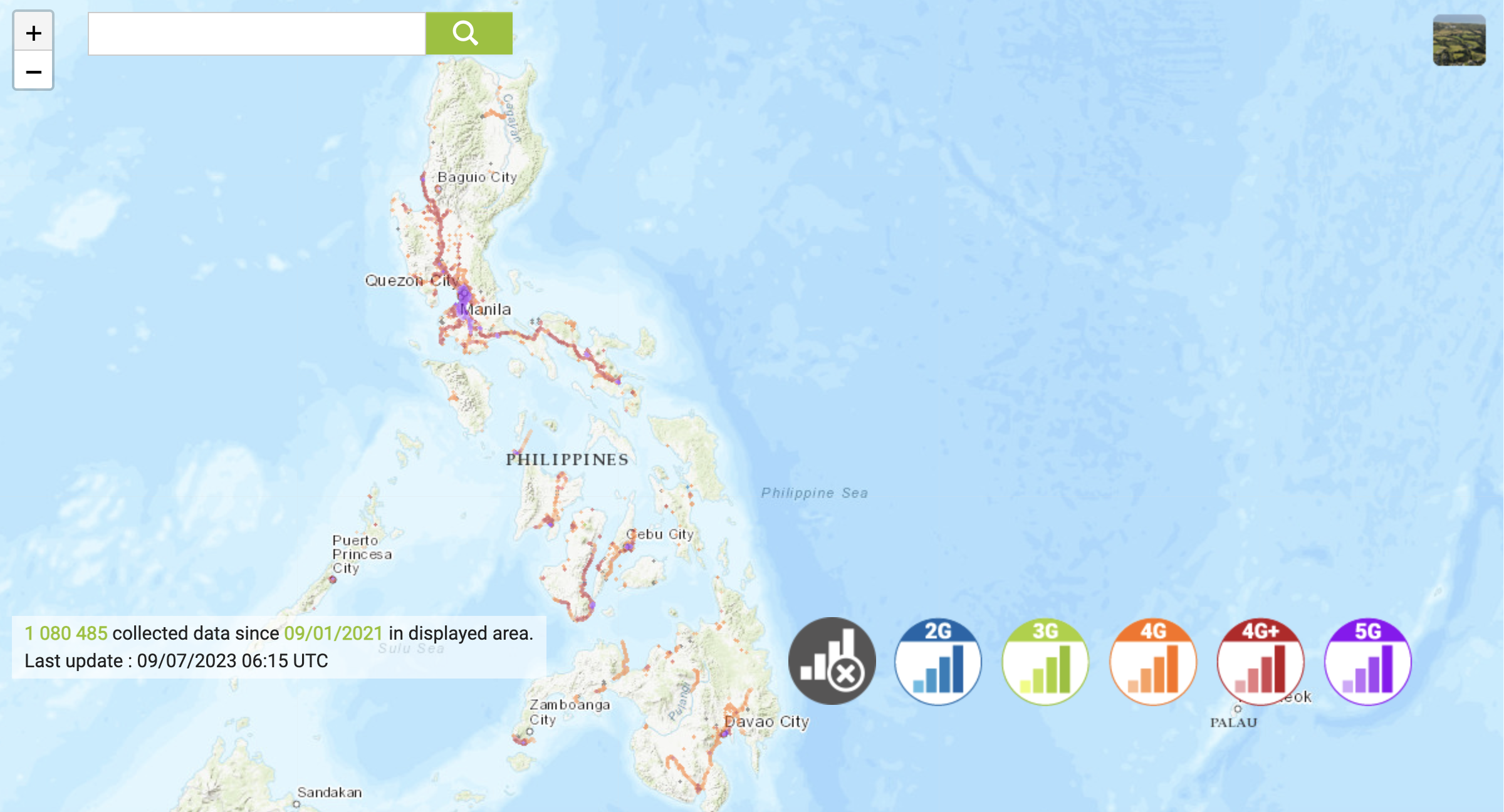 ByteSIM's Network Provider: The Optimal Choice of GLOBE
One of the standout features of ByteSIM for travelers in the Philippines is its strategic partnership with GLOBE, one of the telecommunications giants in the country. This partnership ensures that ByteSIM users enjoy extensive coverage and reliable connectivity throughout their Philippine adventures. With GLOBE as the network provider, ByteSIM users can count on a seamless and uninterrupted communication experience, whether they are exploring bustling urban centers or remote island getaways.
Furthermore, ByteSIM goes the extra mile by offering access to 5G high-speed networks in select areas of the Philippines. This means that travelers with 5G-capable devices can enjoy lightning-fast internet speeds, making it perfect for activities like streaming, video calls, and downloading large files while on the go.
Which is the best eSIM for Philippines?
When it comes to selecting the best eSIM for your Philippines travel, ByteSIM stands out as a top choice for several compelling reasons, now including the convenience of its iOS App and Android app, which make purchasing, downloading, and managing your eSIM a breeze.
1. Extensive Network Coverage with Globe
ByteSIM's partnership with Globe, one of the Philippines' leading telecom giants, ensures travelers enjoy extensive and reliable network coverage throughout the country. Whether you're exploring urban hubs or remote islands, you can count on a strong and stable connection. Globe's network excellence has consistently placed it at the forefront of mobile connectivity in the Philippines.
2. The Convenience of Prepaid eSIM
ByteSIM offers prepaid eSIM plans tailored for the Philippines, which means you have full control over your usage without any surprises. No more concerns about exceeding data limits or managing postpaid bills. What truly sets ByteSIM apart is its dedication to user privacy. You can enjoy the benefits of unlimited data without the need to submit personal identification, such as passports or engage in cumbersome real-name registration processes.
3. Access to 5G High-Speed Networks
In select areas, ByteSIM users have the privilege of accessing 5G high-speed networks. This is a game-changer for those who rely on fast and reliable internet for streaming, video calls, and staying productive on the go. ByteSIM's commitment to offering the latest technology ensures you stay ahead in the connectivity game.
4. Seamless Activation and Usage Through Mobile Apps
ByteSIM's user-friendly iOS and Android apps have revolutionized the eSIM experience. Purchasing, downloading, and managing your eSIM has never been easier. With just a few taps on your smartphone, you can activate and customize your eSIM plan for the Philippines, eliminating the need for physical SIM cards and tedious paperwork.
5. Reliable Customer Support - 24/7 Human Assistance
ByteSIM goes the extra mile by providing round-the-clock human customer support, ensuring that you have assistance at your fingertips whenever you need it. In a world where automated systems often dominate, ByteSIM's commitment to real-time human interaction sets it apart. Whether you have questions, encounter issues, or need assistance during your trip, ByteSIM's support team is readily available to provide the help you need, ensuring your peace of mind throughout your Philippines adventure.
How much does an eSIM cost for Philippines?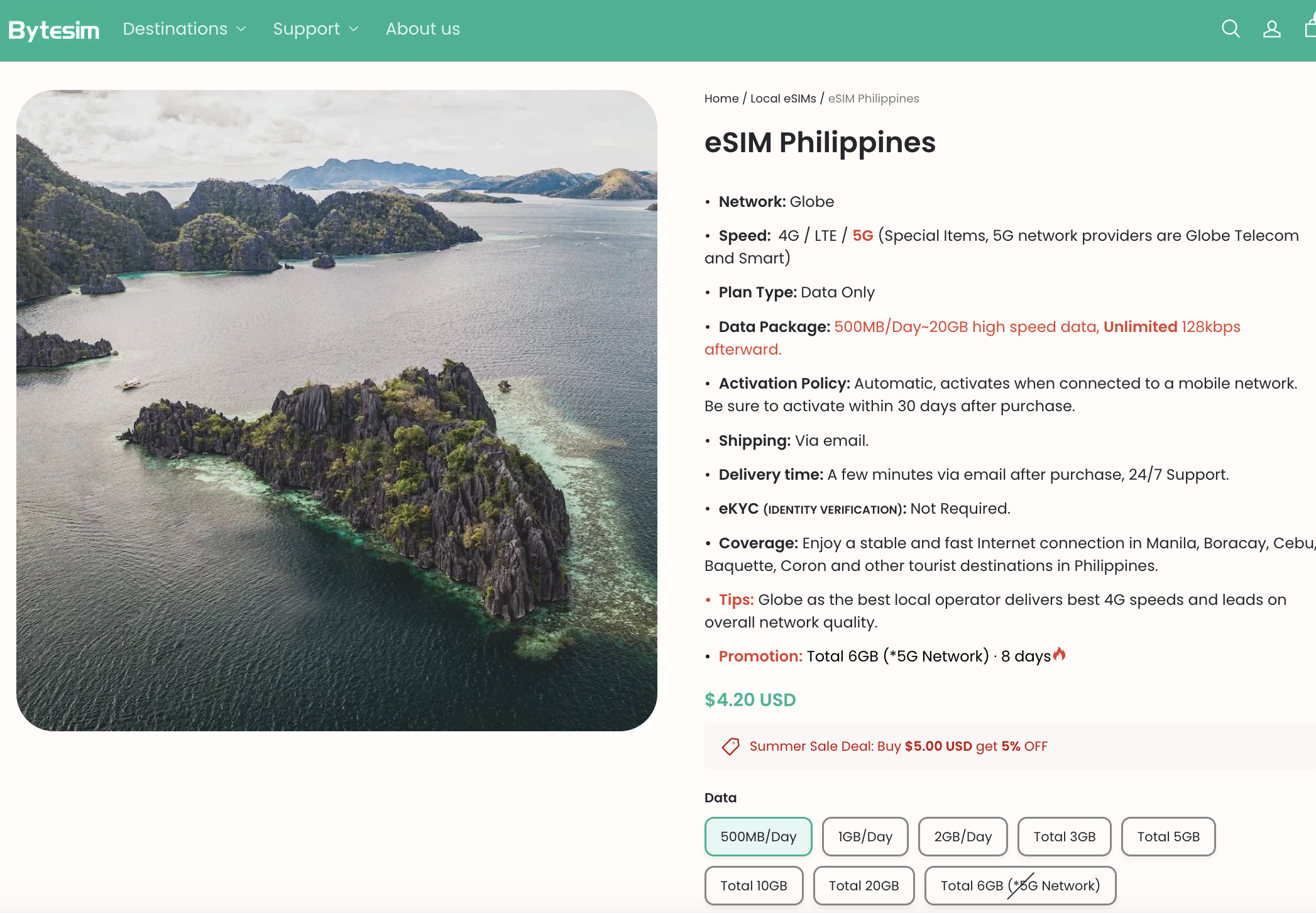 Check out the prices for a ByteSIM eSIM for Philippines.
| | | | |
| --- | --- | --- | --- |
| Brand | Data | Service Days | Price ($USD) |
| ByteSIM | 500MB/Day-Unlimited | 3-30 Days | 4.2-36.9 |
| ByteSIM | 1GB/Day-Unlimited | 3-30 Days | 7.5-63.9 |
| ByteSIM | 2GB/Day-Unlimited | 3-30 Days | 11.9-109.9 |
| ByteSIM | Total 3GB-Unlimited | 3-30 Days | 7.5-9.5 |
| ByteSIM | Total 5GB-Unlimited | 3-30 Days | 9.5-12.5 |
| ByteSIM | Total 10GB-Unlimited | 3-30 Days | 17.9-21.9 |
| ByteSIM | Total 20GB-Unlimited | 3-30 Days | 31-35.9 |
| ByteSIM | Total 6GB (*5G Newtwork) | 8 Days | 21.9 |
| Holafly | 3GB/Day-Unlimited | 5 Days | 19 |
Table 1. Virtual SIM Card rates with ByteSIM's Philippines data. Source: ByteSIM
Frequently Asked Questions (FAQs)
1. Which networks are compatible with eSIMs in the Philippines?
ByteSIM partners with Globe, a major telecom provider in the Philippines, to offer extensive network coverage across the country.
2. Can I access 5G networks with an eSIM in the Philippines?
Yes, in select areas, ByteSIM users can access 5G high-speed networks, providing fast and reliable internet connectivity.
3. Is my personal information required when using an eSIM in the Philippines?
ByteSIM respects your privacy and offers an anonymous service, ensuring you can enjoy connectivity without submitting personal identification or undergoing complex registration processes.
4. How can I access unlimited data while traveling in the Philippines with an eSIM?
ByteSIM, a leading eSIM provider, offers prepaid plans with unlimited data, ensuring you stay connected without worrying about data limits.