How to get an eSIM for Canada as a tourist?
Jun 25,2023 | Matrix
Planning a trip to Canada as a tourist? Get ready to explore the beauty of the Great White North! To ensure a seamless and hassle-free mobile experience, we have an exciting solution for you: eSIMs. In this guide, we'll show you how to get an eSIM for Canada, allowing you to stay connected throughout your journey without the limitations of physical SIM cards.
We'll introduce you to the concept of eSIMs and explain how they differ from traditional SIM cards. Say goodbye to the hassle of swapping cards or worrying about losing them – with eSIMs, you can enjoy a virtual SIM card experience that lives inside your phone.
We'll explore some of the best eSIM options for tourists in Canada. Alongside major operators like Bell, Rogers, and Telus, we'll also introduce you to ByteSIM, an eSIM provider that offers an unlimited data plan for your Canadian adventure. With ByteSIM's unlimited data plan, you can surf the web, stream your favorite shows, and share your experiences on social media without worrying about data limits. It's the perfect option for travelers who want the freedom to stay connected and make the most of their time in Canada.
So, get ready to unlock the wonders of eSIMs for Canada and discover the convenience of a virtual SIM card experience. Say goodbye to SIM card hassles and embrace the flexibility and freedom that eSIMs provide. Let's dive into the world of eSIMs and ensure that your trip to Canada is truly unforgettable, with seamless connectivity at your fingertips!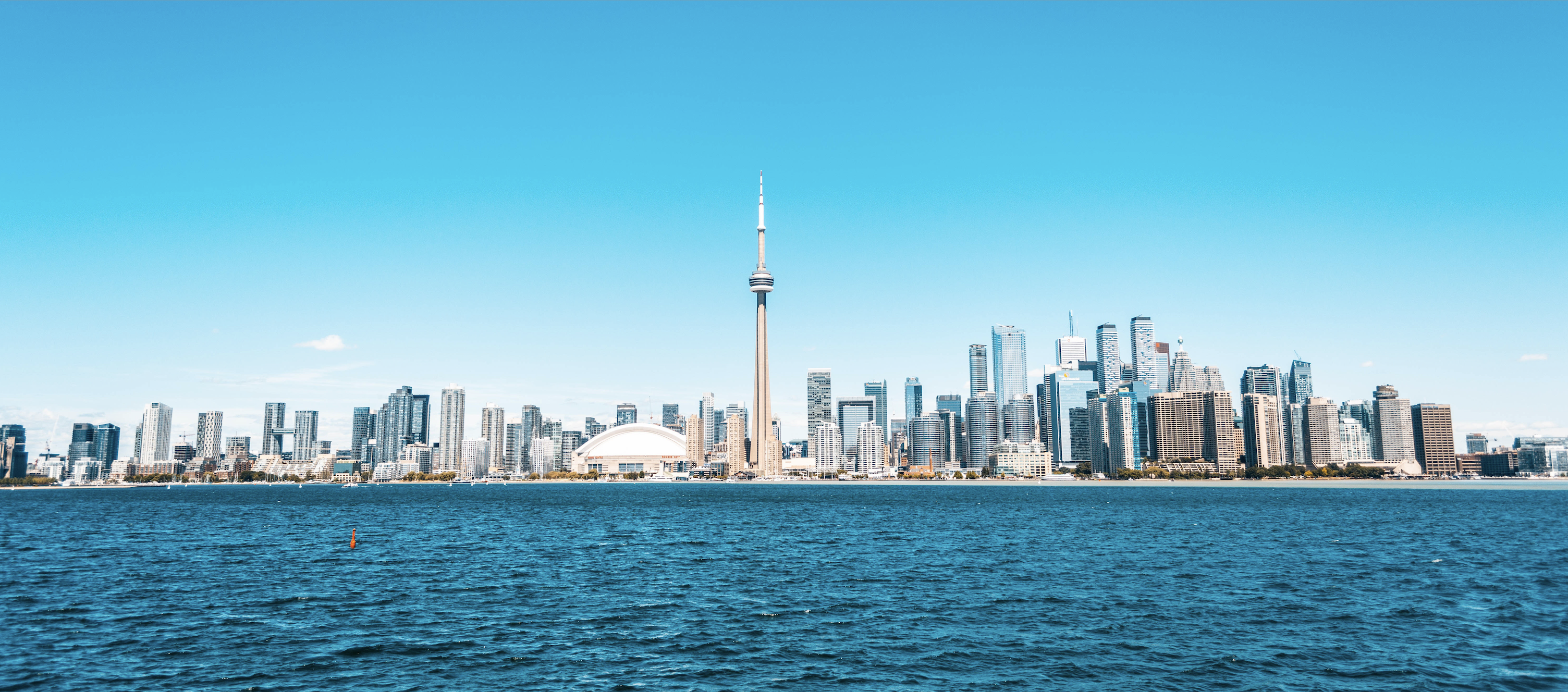 Table of contents
Bell eSIM

Rogers eSIM

Telus eSIM

Regional operator (Freedom/ Videotron/ SaskTel)
What is an eSIM, and how does it differ from a physical SIM card?
In today's fast-paced world, staying connected is a crucial part of our lives, even when we're traveling abroad. Traditional physical SIM cards have served us well, but now there's a new player in town: eSIMs. These virtual SIM cards offer a range of benefits and a different user experience compared to their physical counterparts. In this section, we'll delve into the user experience of eSIMs and explore how they enhance convenience, flexibility, and simplicity for travelers.
Streamlined Activation Process:
Activating a physical SIM card often involves visiting a store, filling out paperwork, and waiting for the card to be activated. In contrast, eSIMs offer a streamlined activation process. With just a few taps on your device, you can activate an eSIM plan directly, eliminating the need for physical paperwork or store visits. This saves valuable time and allows you to start using your eSIM almost instantly upon arrival in a new country.
Easy Switching Between Mobile Networks:
One of the standout features of eSIMs is their ability to switch between different mobile networks with ease. While using a physical SIM card, you may face limitations and inconveniences when changing networks. With eSIMs, however, you can switch between networks seamlessly through the device settings or a dedicated app. This flexibility empowers travelers to choose the best network for their needs, whether it's based on coverage, pricing, or other factors.
Local Connectivity Without the Hassle:
When traveling to a new country, getting a local SIM card has been the traditional approach to ensure affordable and reliable connectivity. However, this process often involves finding a local store, dealing with language barriers, and spending time on administrative tasks. eSIMs simplify this process by allowing you to activate a local eSIM plan remotely. With just a few taps on your device, you can have a local phone number, access to local mobile services, and seamless connectivity without the hassle of physical SIM cards.
Dual-SIM Capability and Flexibility:
eSIMs bring a significant advantage for travelers who need to maintain multiple phone numbers. With eSIM functionality, you can have dual-SIM capability, meaning you can have two active phone numbers on a single device. This flexibility is particularly valuable for individuals who need separate numbers for personal and business use, eliminating the need to carry multiple devices or constantly switch SIM cards.
Future-Proof and Space-Saving:
As devices become increasingly compact and streamlined, physical SIM card slots take up valuable space. eSIMs eliminate the need for physical slots, freeing up space within devices for other components or sleeker designs. This not only enhances the aesthetic appeal of devices but also ensures they are future-proofed to accommodate advancements in technology and design.
eSIMs offer a user experience that prioritizes convenience, flexibility, and simplicity for travelers. From streamlined activation to easy network switching, the benefits of eSIMs go beyond the elimination of physical SIM cards. As technology continues to evolve, eSIMs are paving the way for a more seamless and connected future, transforming the way we stay connected while traveling.
Which is the best eSIM for tourists in Canada?
When it comes to choosing the best eSIM for tourists in Canada, you have several options to consider, including national and regional operators. Let's explore the differences between these operators and highlight a recommended option for your eSIM needs.
When it comes to market share in Canada, Bell remains the largest national operator, offering extensive services across the country. However, it's important to note that the province of Saskatchewan stands out as an exception. In Saskatchewan, the local operator SaskTel firmly holds a 60% market share, leaving the three major national operators unable to compete effectively in the region.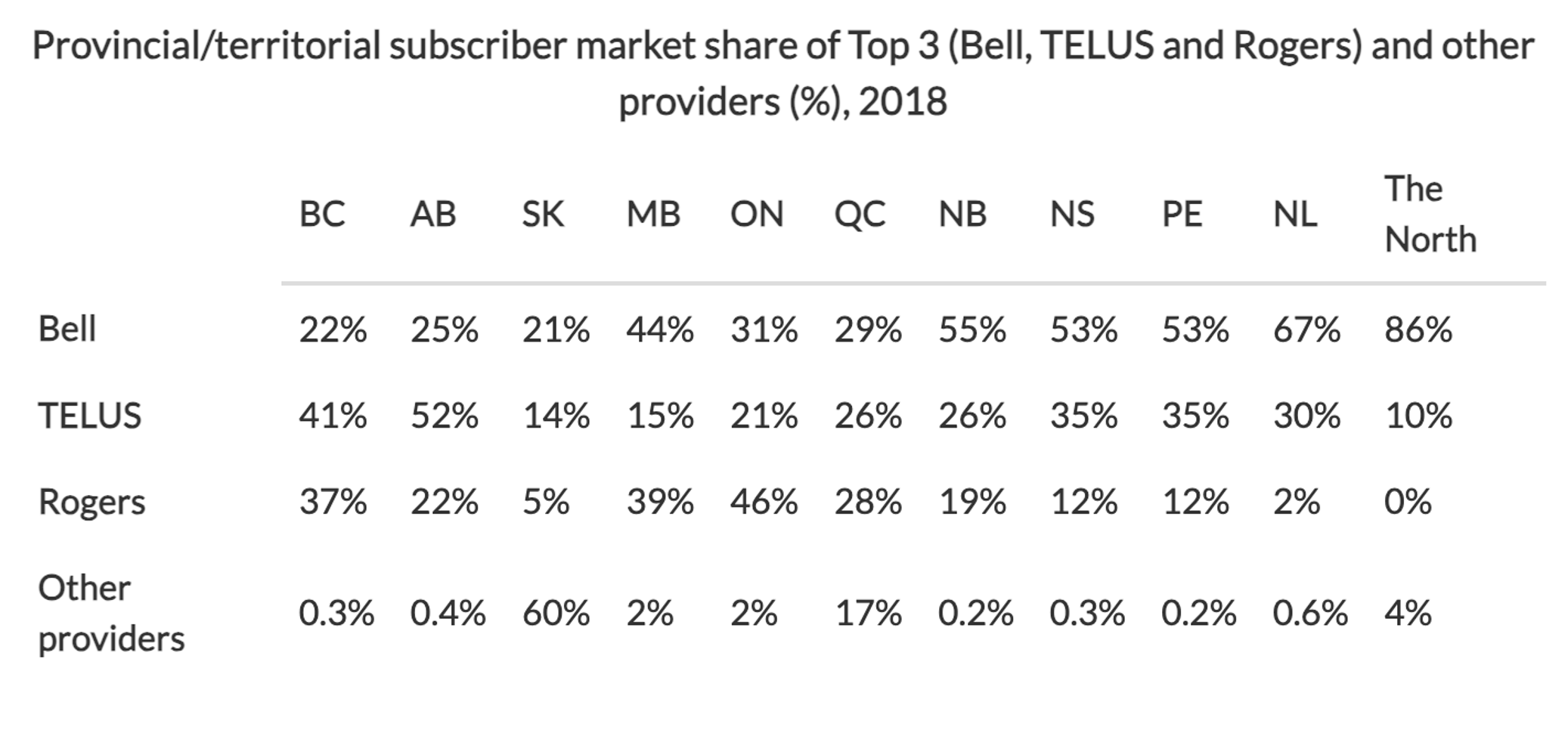 Source: CRTC data collection
First, let's take a look at the network coverage comparison of operators:

When it comes to coverage, the three major national operators in Canada have relatively similar reach. However, if we have to compare them, Bell and Telus are on par in terms of network technology, and they have the broadest coverage in theory. Rogers, on the other hand, focuses more on serving the populous provinces of British Columbia (BC) and Ontario (ON), so its signal quality is expected to be slightly better in major cities. However, the difference in actual usage is minimal, especially in major urban areas.
It's important to note that the main brand and sub-brands of the same company have identical network coverage. The difference lies primarily in terms of speed and package pricing.
Regarding regional operators, SaskTel performs exceptionally well in Saskatchewan, holding over 60% market share. They provide extensive coverage and tailored plans specific to the needs of residents and visitors in the province. Videotron is another regional operator that has made significant strides in Quebec. Personally, I have used their services and found them to be excellent. For international students living and studying in Ottawa, which is in Ontario, choosing Videotron can be a great option. They offer comparable packages to Ontario operators but at two-thirds of the price.
Second, let's compare download speeds:

Bell users in Canada continue to enjoy the fastest overall download speeds, with an average of 74Mbps. This speed is 2.6Mbps (3.7%) faster than Telus and a significant 15.2Mbps (25.9%) faster than Rogers. As a result, Bell once again claims the top spot for the Download Speed Experience award in Canada.
In terms of improvements since the last report, Rogers saw the largest jump in Download Speed Experience, with a 10.2% increase. Bell followed with a 6.4% improvement, while Telus showed a 5.1% increase. These advancements highlight the ongoing efforts of these operators to enhance the download speed experience for their users.
Let's take a closer look at these operators.
National Operators:
Bell eSIM: As one of the three major national operators in Canada, Bell offers a wide range of services, including television, landline, broadband, and mobile. While their prices tend to be on the higher side, they provide reliable coverage and a strong network. Bell also operates sub-brands like Virgin and Lucky Mobile, which offer alternative options and plans to suit different budgets.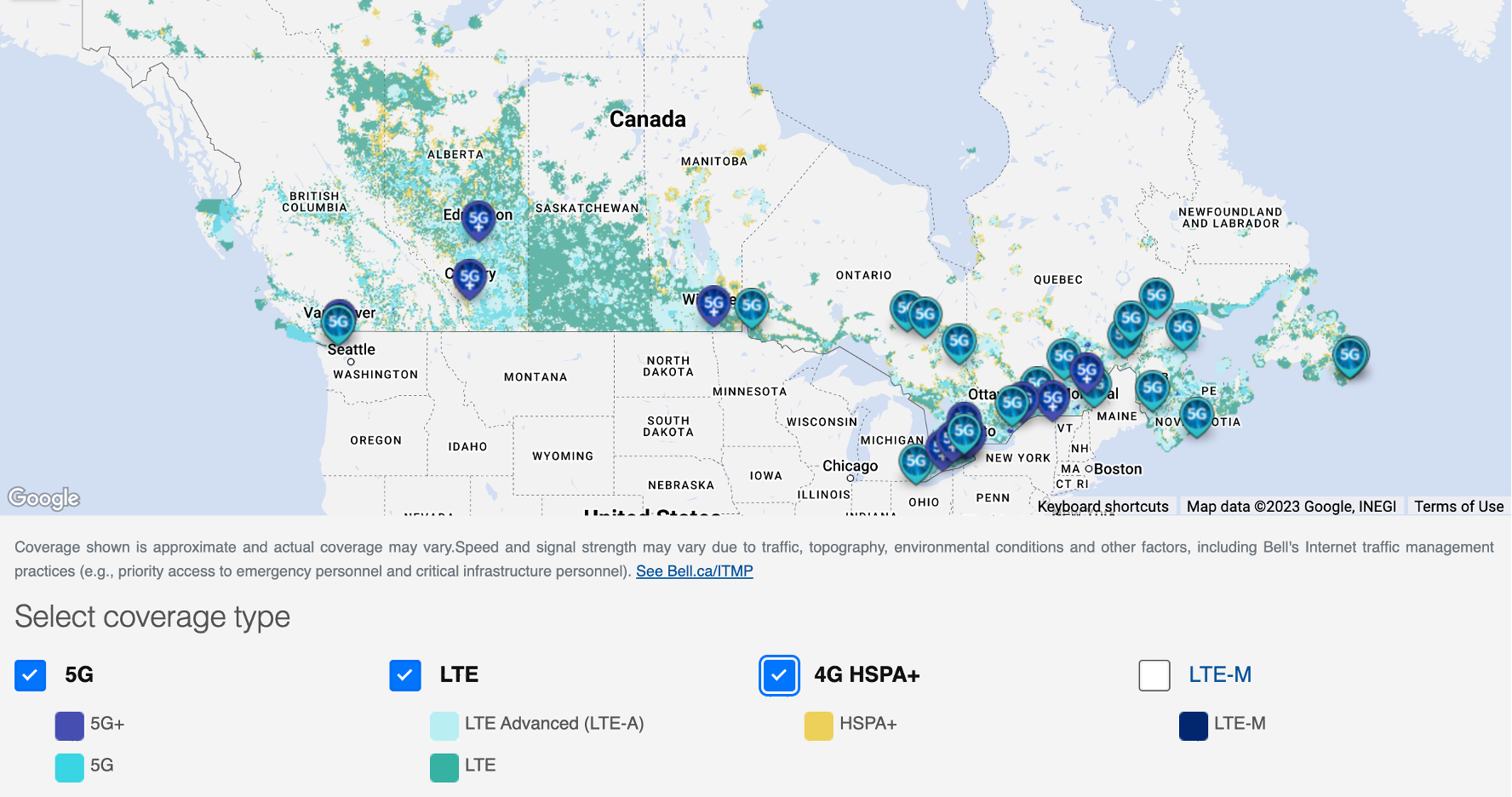 Bell network coverage
Rogers eSIM: Another major player in the Canadian telecom market, Rogers provides a variety of services and operates sub-brands like Fido and Chatr. Rogers offers competitive coverage and plans, catering to different needs and budgets.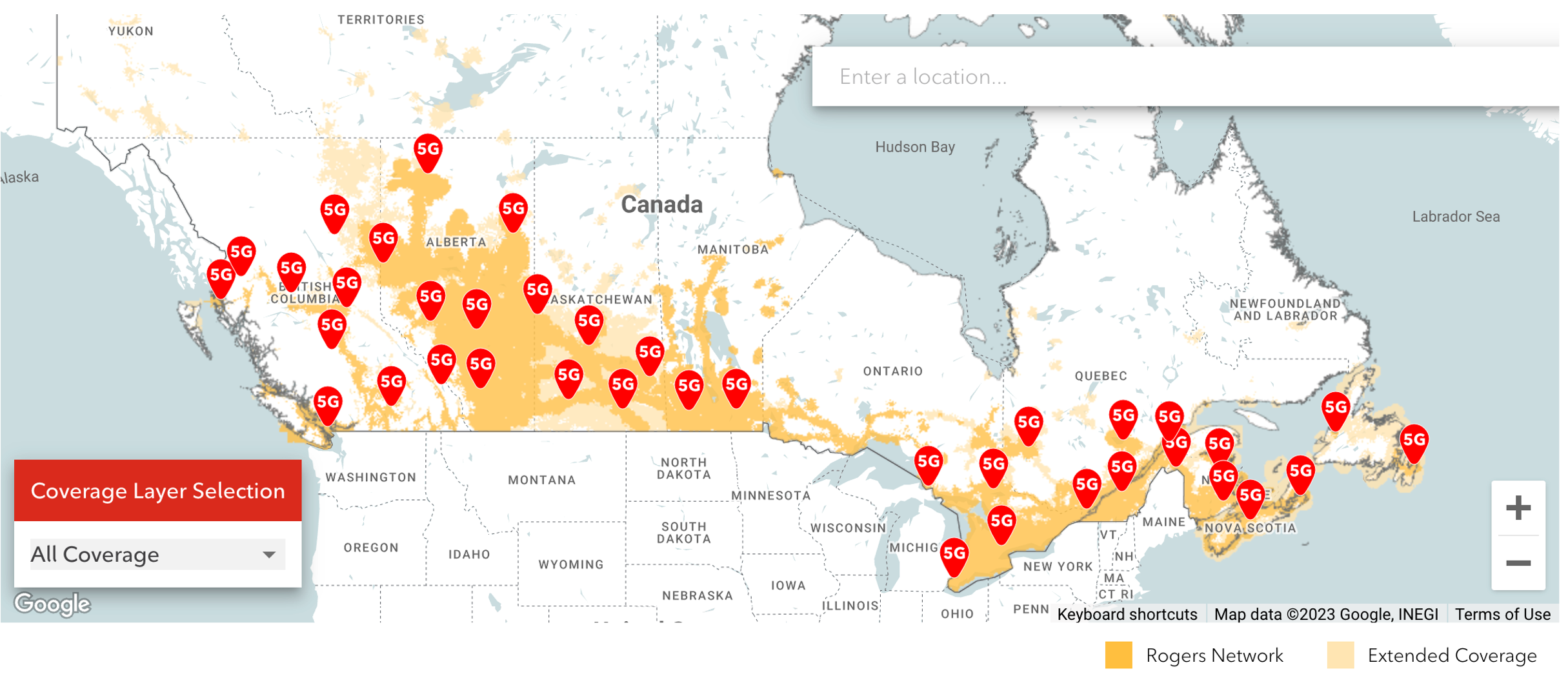 Rogers network coverage
Telus eSIM: Telus is the third major national operator in Canada, offering a comprehensive range of services. They operate sub-brands like Koodo and Public Mobile, which provide additional options and tailored plans. Telus is known for its strong network coverage and reliable service.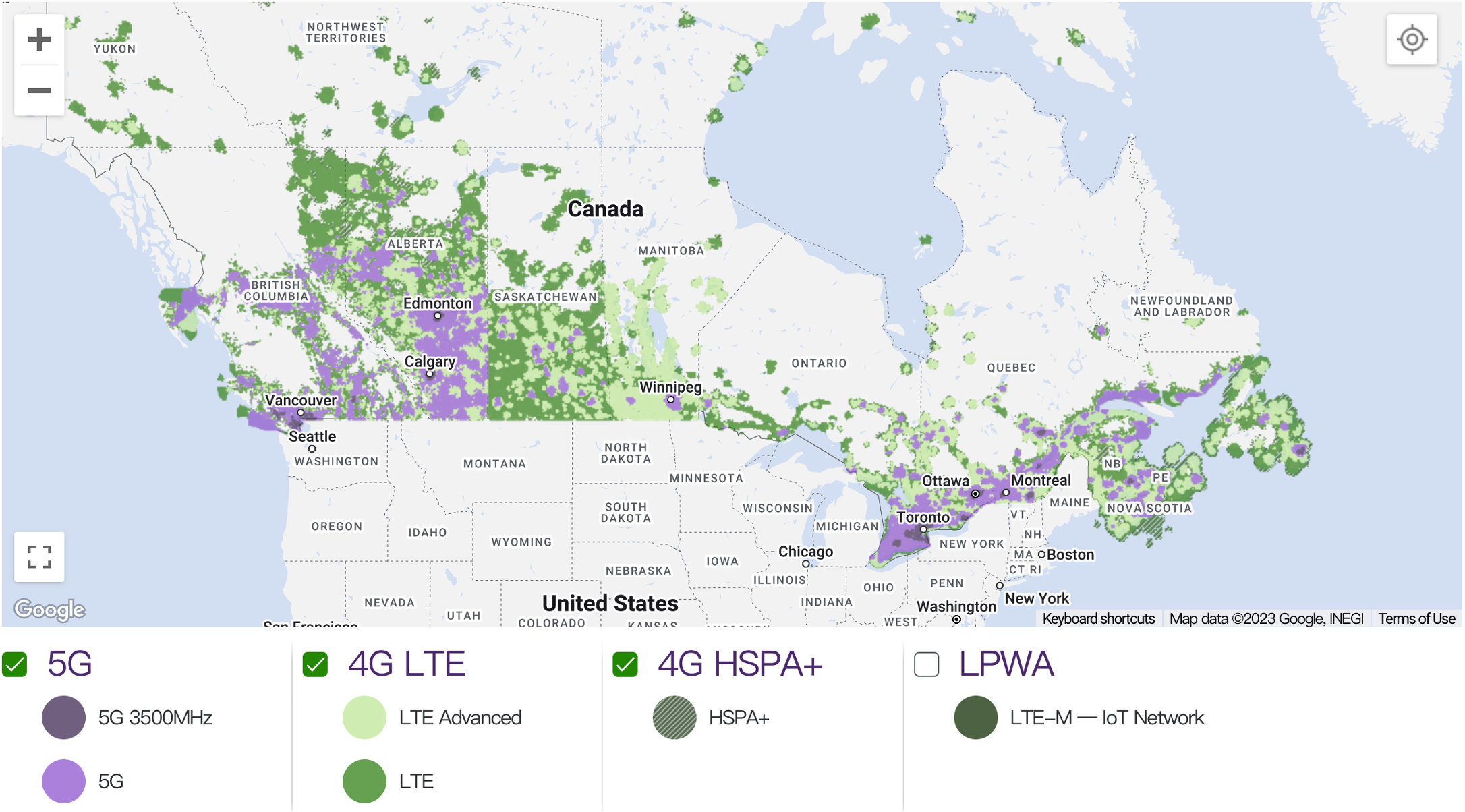 Telus network coverage
Regional Operators:
Freedom Mobile: Operating primarily in Ontario, Ottawa, Toronto, and Vancouver, Freedom Mobile offers network services in those areas. They provide competitive plans with attractive pricing options, making them a popular choice for local residents and tourists in those regions.
Videotron: Serving Quebec and the Ottawa region in Ontario, Videotron is a regional operator with a focus on those areas. They offer reliable network coverage and a range of plans tailored to the specific needs of customers in those regions.
SaskTel: Serving the province of Saskatchewan, SaskTel is the primary network provider in the region. They offer comprehensive coverage and services, catering specifically to residents and visitors in Saskatchewan.
Recommended Option: ByteSIM Canada eSIM
In addition to the national and regional operators mentioned above, there's another noteworthy option for your eSIM needs in Canada: ByteSIM. ByteSIM utilizes the networks of Bell and Telus, ensuring reliable coverage across the country. They offer an exciting unlimited data plan that allows you to stay connected without worrying about data limits. With ByteSIM, you can enjoy seamless connectivity and take advantage of their high-speed 5G network, ensuring fast and reliable internet access during your travels.
How can tourists activate their eSIM upon arrival in Canada?
When tourists arrive in Canada and want to activate their eSIM, the process is relatively straightforward. Here's a step-by-step guide to help you get your eSIM up and running
1. Check device compatibility: Before arriving in Canada, ensure that your device supports eSIM functionality. Most newer smartphones and devices have eSIM capabilities, but it's always a good idea to double-check with your device manufacturer or carrier.
2. Choose an eSIM provider: Research and select an eSIM provider that offers services in Canada. While there are several options available, one noteworthy provider is ByteSIM. ByteSIM provides an excellent solution for tourists with their unlimited data plan and access to high-speed 5G networks. One of the advantages of ByteSIM is its support for both Bell and Telus networks. This means that if you encounter poor signal reception in a certain area, ByteSIM can seamlessly switch between the two operators, ensuring you stay connected.
3. Purchase an eSIM plan: Visit the ByteSIM website to explore their available plans. Their unlimited data plan is a great option for tourists who require a reliable and unrestricted internet connection during their stay in Canada. Compare prices, features, and coverage to find the plan that suits your needs best.
4. Provide necessary information: During the purchase process, you will need to provide the required information, such as your device's IMEI number and personal details. This information ensures compatibility and smooth activation of your eSIM. However, When purchasing an eSIM plan from ByteSIM, one of the advantages is the ability to use their services anonymously without requiring personal identification documents such as a passport or ID.
5. Receive the QR code or activation details: After completing the purchase, ByteSIM will send you a QR code or activation details via email or SMS. This code contains the necessary information to activate your eSIM.
6. Activate the eSIM: Open the settings menu on your device and locate the eSIM or cellular settings. Choose the option to add a cellular plan or scan the QR code provided by ByteSIM. Follow the on-screen instructions to complete the activation process. Remember to enable data roaming to fully utilize the benefits of your ByteSIM eSIM.
7. Set up network preferences: Once activated, you may need to configure network preferences on your device. Adjust settings such as preferred networks and data roaming options. ByteSIM's support for both Bell and Telus ensures you have flexibility in choosing the network that provides the best signal in your location.
Enjoy your eSIM in Canada: With ByteSIM activated, you can enjoy the convenience of unlimited data and high-speed 5G networks. Explore Canada, stay connected, and make the most of your trip without worrying about data limits.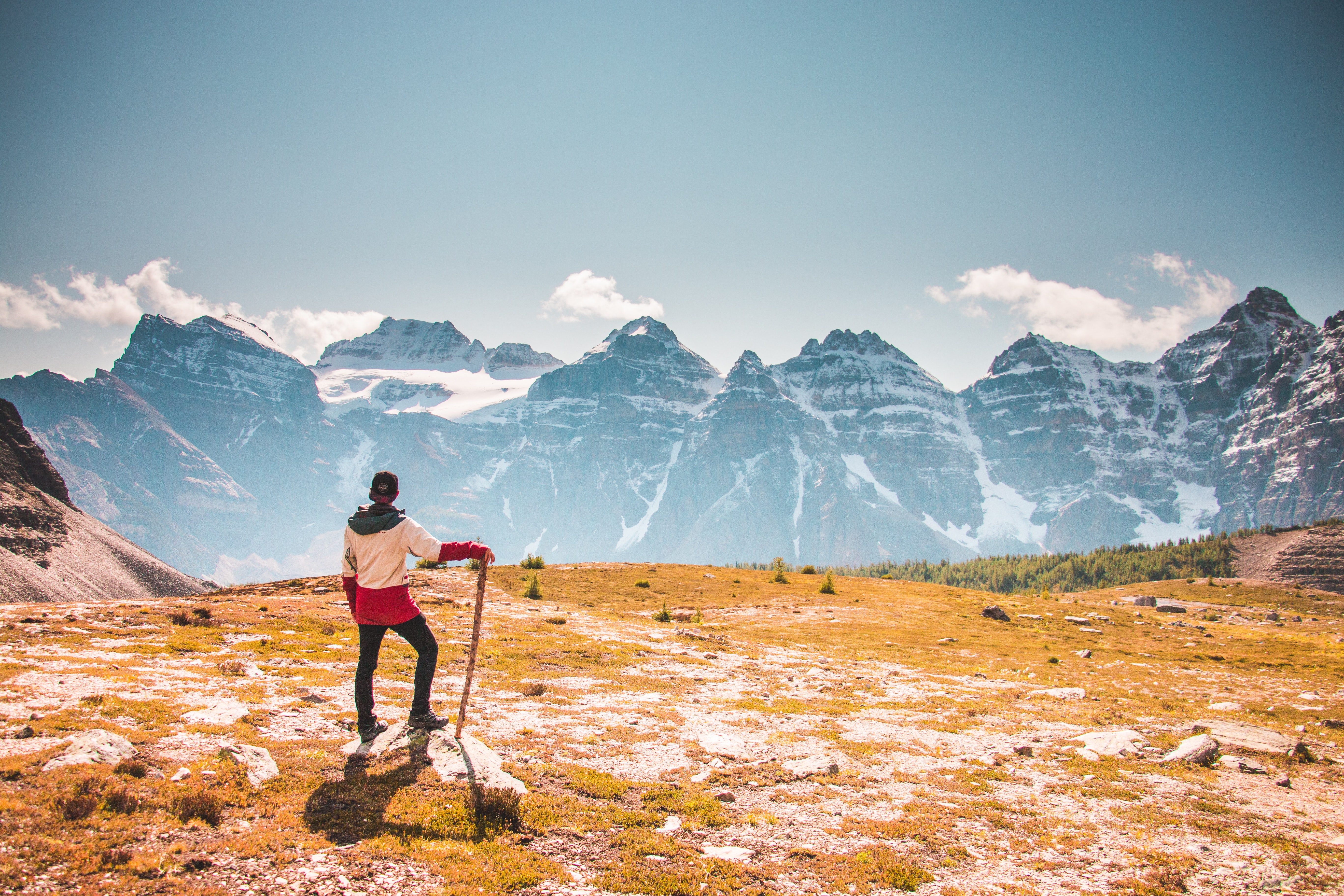 Where to buy an eSIM for Canada?
When it comes to purchasing an eSIM for Canada, there are various options available to travelers. Here are four different ways to acquire an eSIM, including some key considerations for each method:
Online eSIM providers: ByteSIM is an excellent example of an online travel eSIM provider. With ByteSIM, you can conveniently purchase and activate your eSIM online, eliminating the need to visit a physical store. One of ByteSIM's core advantages is its unlimited data plan, allowing you to stay connected without worrying about data limits. Additionally, ByteSIM prioritizes user privacy by not requiring passport or ID information. They offer high-speed 5G networks and support both Bell and Telus, allowing you to switch between networks for the best signal reception. This online option provides flexibility, cost-effectiveness, and ease of use.
Airport kiosks: Many major airports in Canada, including Toronto Pearson International Airport, offer eSIM services at dedicated kiosks. These kiosks allow travelers to conveniently purchase and activate an eSIM upon arrival. However, it's important to note that the available eSIM options may be limited, and prices could be higher compared to online providers. Additionally, the activation process may require providing personal identification, so be prepared to provide the necessary documents if required.
Local carrier stores: Another option is to visit local carrier stores, such as Bell, Rogers, or Telus, which have physical locations across Canada. These stores offer eSIM services and can assist you with purchasing and activating an eSIM for your device. It's advisable to research the specific carrier's eSIM offerings and contact the store beforehand to ensure availability and inquire about any required identification documents or additional fees.
Third-party retailers: Some third-party retailers, such as electronics stores or mobile phone retailers, may also offer eSIM services. These retailers may have partnerships with various eSIM providers or carriers, giving you additional options to choose from. Similar to carrier stores, it's important to verify the availability, pricing, and any necessary identification requirements with the specific retailer.
Regardless of the method you choose, it's crucial to consider factors like coverage, pricing, and customer support when selecting an eSIM provider. ByteSIM stands out as an online provider, offering an unlimited data plan, no requirement for passport or ID information, high-speed 5G networks, and the flexibility to switch between Bell and Telus networks. It provides a cost-effective and convenient solution for travelers looking for a reliable eSIM option in Canada.
How much does an eSIM cost for Canada?
Check out the prices for a ByteSIM eSIM for Canada.
| | | | |
| --- | --- | --- | --- |
| Brand | Data | Service Days | Price ($USD) |
| ByteSIM | 500MB/Day-Unlimited | 3-30 Days | 5.5-45.5 |
| ByteSIM | 1GB/Day-Unlimited | 3-30 Days | 7-59.9 |
| ByteSIM | 2GB/Day-Unlimited | 3-30 Days | 11.9-110.9 |
| ByteSIM | Total 5GB-Unlimited | 3-30 Days | 15.5-18 |
| ByteSIM | Total 10GB-Unlimited | 3-30 Days | 25.5-33.9 |
| ByteSIM | Total 20GB-Unlimited | 3-30 Days | 42.9-44 |
| ByteSIM | Total 6GB-Unlimited(*5G Network) | 15 Days | 43.9 |
Table 1. Virtual SIM Card rates with ByteSIM's Canada data. Source: ByteSIM
Frequently Asked Questions for Canada Prepaid SIM
1. Do I need to provide passport or ID information to activate a prepaid eSIM for Canada?
With ByteSIM, one of the advantages is that you can activate their prepaid eSIM without the need to provide passport or ID information. ByteSIM prioritizes user privacy and allows for an anonymous activation process.
2. When should I activate my eSIM card for Canada?
Important Tip: Don't set up your eSIM too early. Each eSIM data plan has a limited number of days of service, so don't start installing and activating too early, or the billing will start counting down before the trip begins.
Best practice is to set up your data plan on the day of your travel.
3. Does Canada support 5G networks?
Yes, Canada does support 5G networks. Major Canadian carriers like Bell, Rogers, and Telus have been actively deploying and expanding their 5G infrastructure across the country. With the rollout of 5G technology, users can experience faster download and upload speeds, lower latency, and improved network performance. It's important to note that 5G coverage may vary depending on your location and the specific carrier. Before purchasing a prepaid eSIM for Canada, it's recommended to check with the provider or carrier about their 5G network availability and coverage in the areas you plan to visit. ByteSIM, for example, offers high-speed 5G networks as part of their eSIM services, ensuring a reliable and fast connection for your mobile needs.
4. What are the top 10 places to visit in Canada?