How to Get a Vietnam eSIM for Tourists?
Jun 11,2023 | Matrix
Are you planning a trip to Vietnam and looking for the best travel eSIM solution? If so, you've come to the right place. In this guide, we will explore the world of Vietnam eSIMs for tourists, providing you with essential information on how to obtain one and which eSIM provider to choose. From the advantages of embedded SIM cards to step-by-step instructions on purchasing and configuring your eSIM, we've got you covered. Let's dive in and discover everything you need to know about getting a Vietnam eSIM for your upcoming adventure!
Table of contents
1. Which Vietnam eSIM Provider Should You Choose?
2. Advantages of the embedded SIM card vs the physical SIM
3. Where Can I Buy a Prepaid SIM Card for Vietnam?
5. How much does a tourist eSIM in Vietnam cost?
6. Frequently Asked Questions for Vietnam Travel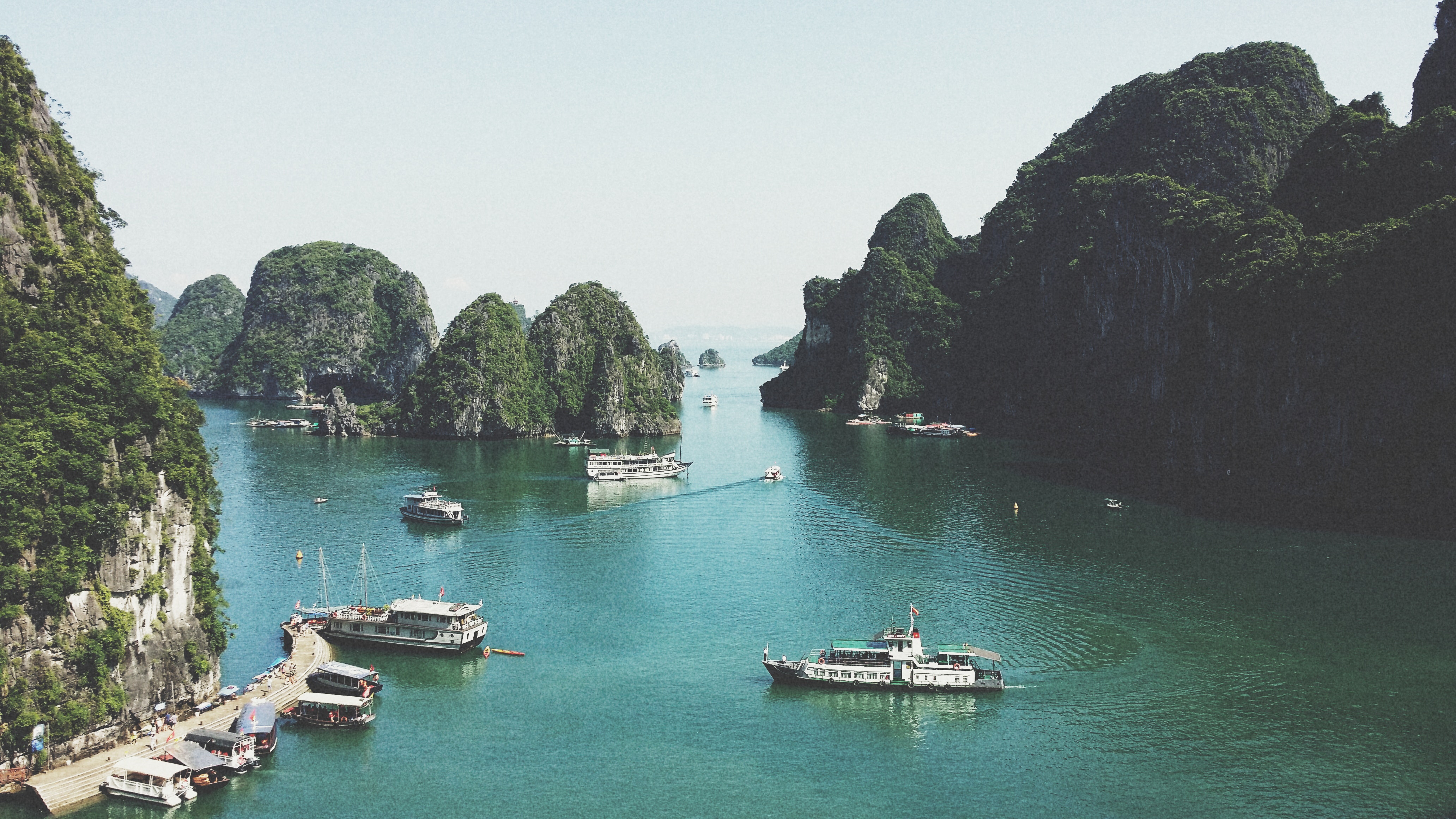 Which Vietnam eSIM Provider Should You Choose?
When traveling to Vietnam, having a reliable eSIM provider is crucial to ensure seamless connectivity and convenient communication. With several options available, it's essential to understand the features and advantages offered by different eSIM providers. Let's explore some of the leading Vietnam eSIM providers and the unique benefits they bring to tourists.
Firstly, let's compare the download speeds of these eSIM providers.

Vinaphone is once again top for overall download speed in Vietnam. Vinaphone offers competitive download speeds, ensuring efficient data transfer and a seamless online experience. While the speeds may vary depending on the location, Vinaphone generally provides satisfactory download performance.
4G Coverage Experience measures how mobile subscribers experience 4G coverage on an operator's network.
Viettel Mobile has emerged as the clear winner in terms of 4G availability and coverage experience. In fact, our users consistently enjoy a longer duration of 4G connectivity and encounter a 4G signal in a greater number of locations compared to users of other providers. Additionally, Viettel leads the pack with a 4G coverage experience score of 9.1 points, surpassing Vinaphone by a significant margin of 1.7 points. These achievements highlight Viettel's commitment to providing exceptional 4G services to its users, ensuring an uninterrupted and reliable mobile internet experience.
Viettel eSIM
- Extensive Network Coverage: Viettel offers an extensive network coverage across Vietnam, including popular tourist destinations and remote areas. You can stay connected no matter where your adventures take you.
- Generous Data Allowances: Viettel provides generous data allowances, enabling you to browse the internet, use maps, and share your travel experiences without worrying about data limitations.
- Value-added Services: With Viettel, you can enjoy additional services such as access to their Wi-Fi network and discounts on local attractions, enhancing your overall travel experience.
- 24/7 Customer Support: Viettel offers round-the-clock customer support, ensuring prompt assistance in case of any issues or queries.
This map represents the coverage of Viettel 2G, 3G, 4G and 5G mobile network, Coverage is the widest and best.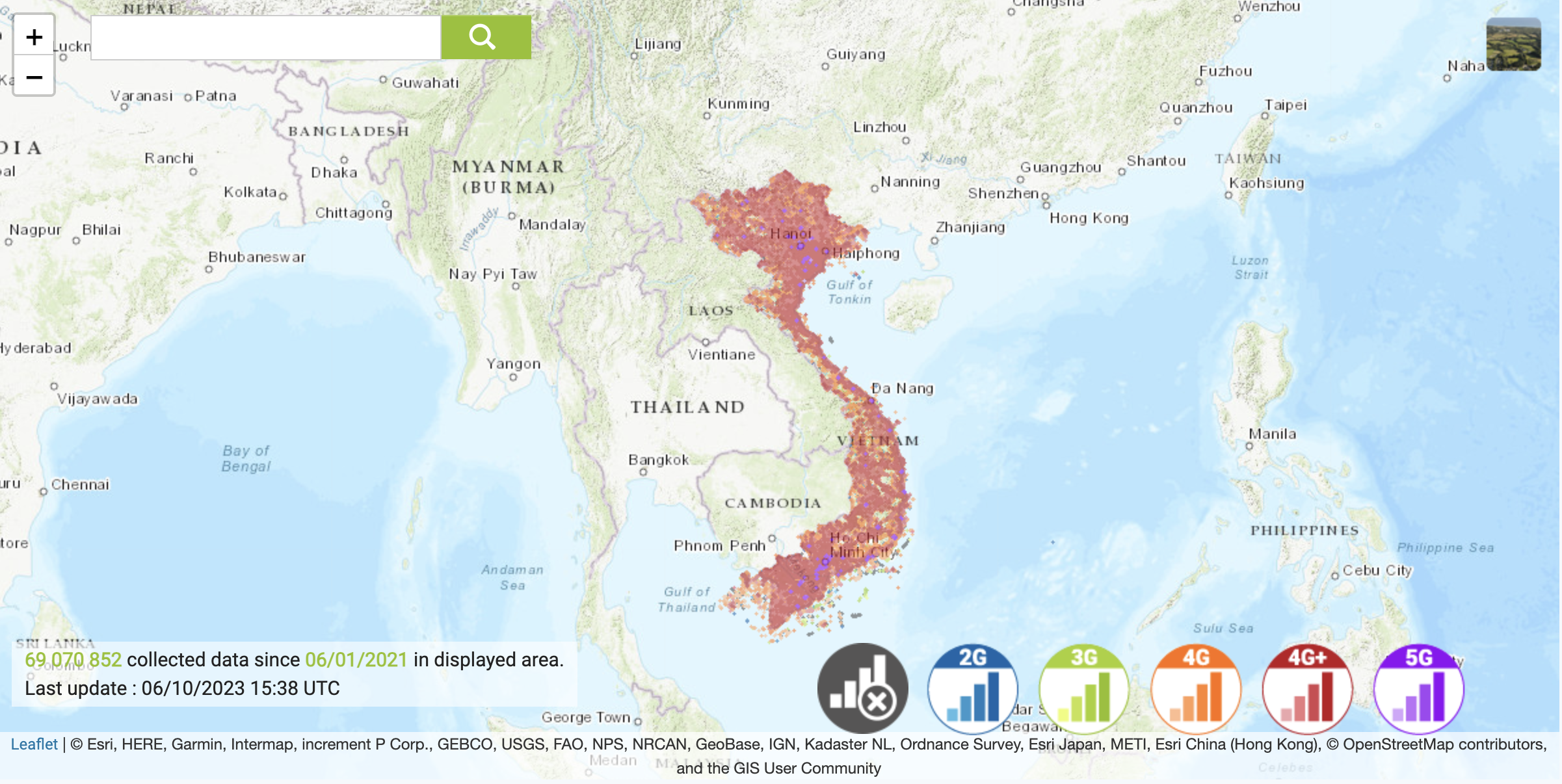 Vinaphone eSIM:
- Wide Urban Coverage: Vinaphone focuses on offering wide network coverage in urban areas and major cities, making it an excellent choice for travelers visiting bustling city destinations.
- Affordable Pricing: Vinaphone provides cost-effective eSIM plans suitable for travelers on a budget, allowing you to stay connected without breaking the bank.
- Data Packages for Every Need: With various data packages available, Vinaphone caters to different data usage needs, ensuring you have the right amount of data for your travel activities.
- User-Friendly Interface: Vinaphone's eSIM activation process is user-friendly, making it easy for travelers to set up and start using their eSIM without any hassle.
This map represents the coverage of Vinaphone 2G, 3G, 4G and 5G mobile network, coverage second only to Viettel.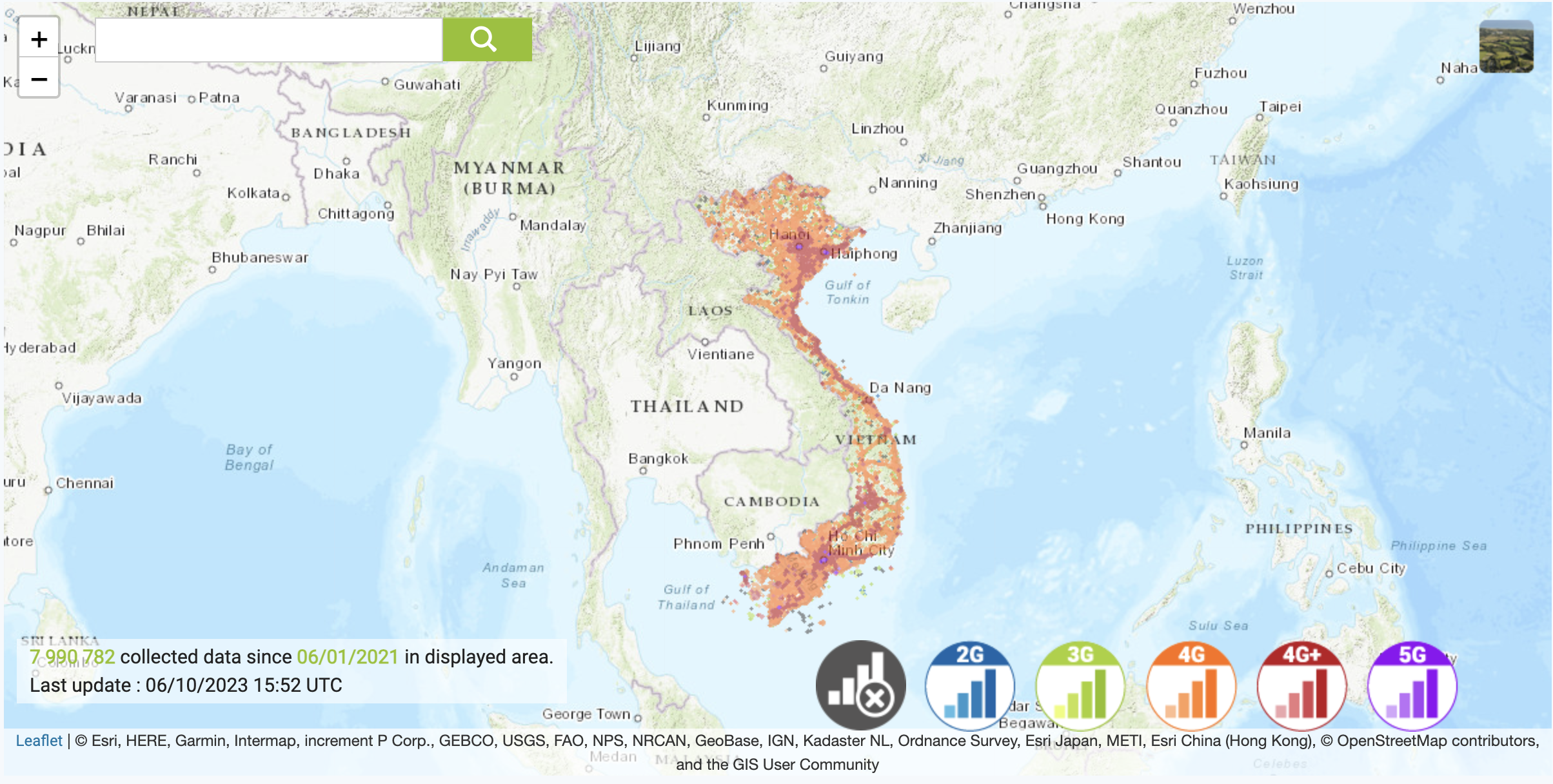 Mobifone eSIM:
- International Roaming Services: Mobifone offers seamless international roaming services, enabling you to stay connected beyond Vietnam's borders, which is particularly beneficial if you plan to visit neighboring countries.
- Flexibility in Plans: Mobifone provides flexible eSIM plans, including options for short-term usage or longer stays, allowing you to customize your plan based on the duration of your trip.
- Multilingual Customer Support: With customer support available in multiple languages, Mobifone caters to the diverse needs of international tourists, ensuring effective communication and assistance.
- Value-Added Services: Mobifone offers additional services such as access to exclusive partner networks and discounted travel packages, enhancing your overall travel experience.
This map represents the coverage of Mobifone 2G, 3G, 4G and 5G mobile network, slightly worse coverage than vinaphone.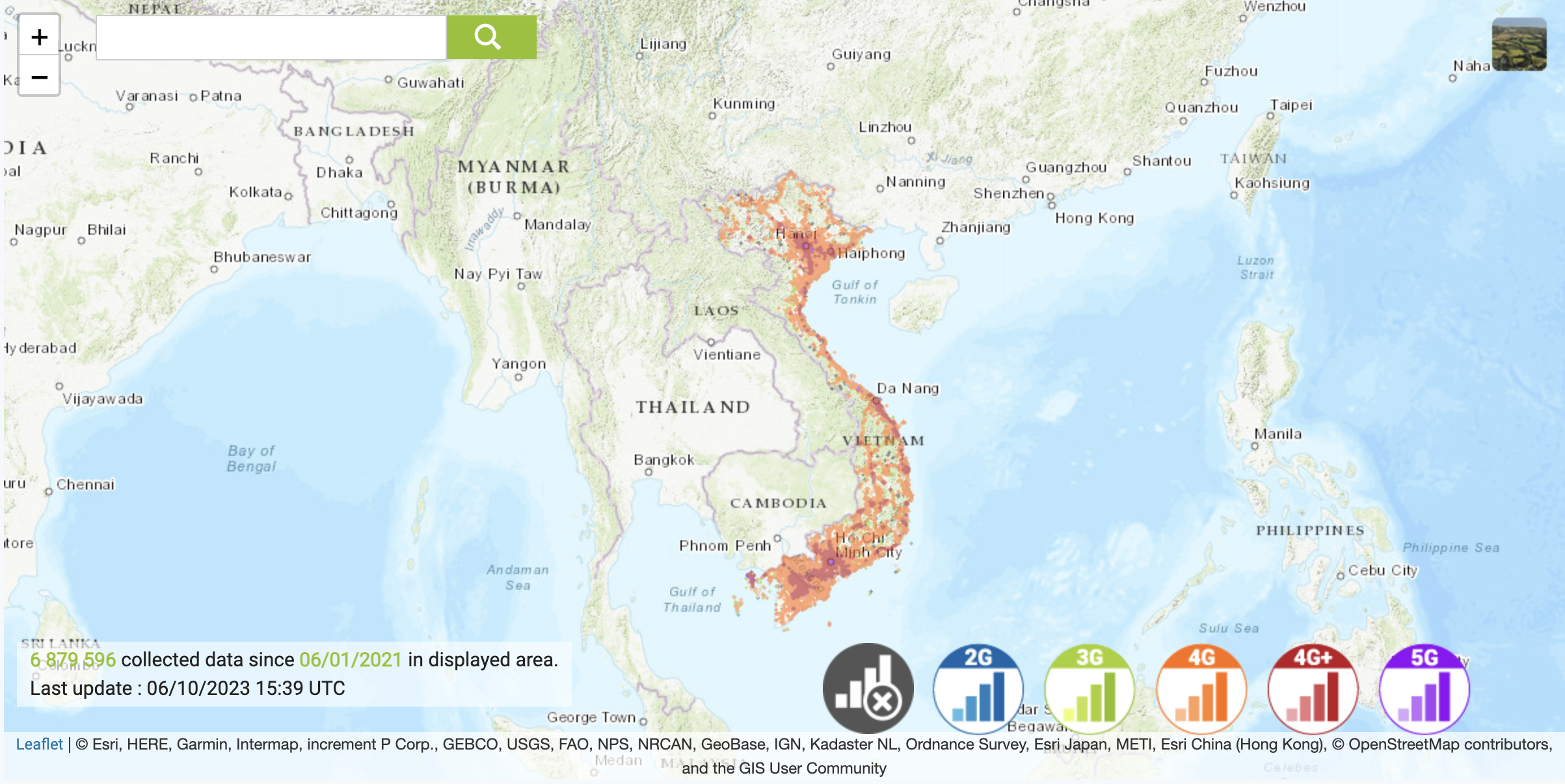 Vietnamobile eSIM:
- Cost-Effective Plans: Vietnamobile focuses on providing cost-effective eSIM plans, making it an excellent choice for budget-conscious travelers who still want reliable connectivity.
- Data Rollover: Vietnamobile offers the advantage of data rollover, allowing you to carry over unused data to the next billing cycle, ensuring you maximize the value of your eSIM plan.
- Quick Activation: Vietnamobile ensures fast and efficient eSIM activation, allowing you to get connected swiftly upon your arrival in Vietnam, without any unnecessary delays.
- Simplicity in Plans: Vietnamobile offers simplified eSIM plans and packages, making it easier for travelers to choose and manage their eSIM usage without any complications.
This map represents the coverage of Vietnamobile 2G, 3G, 4G and 5G mobile network, Coverage is the worst of the four carriers.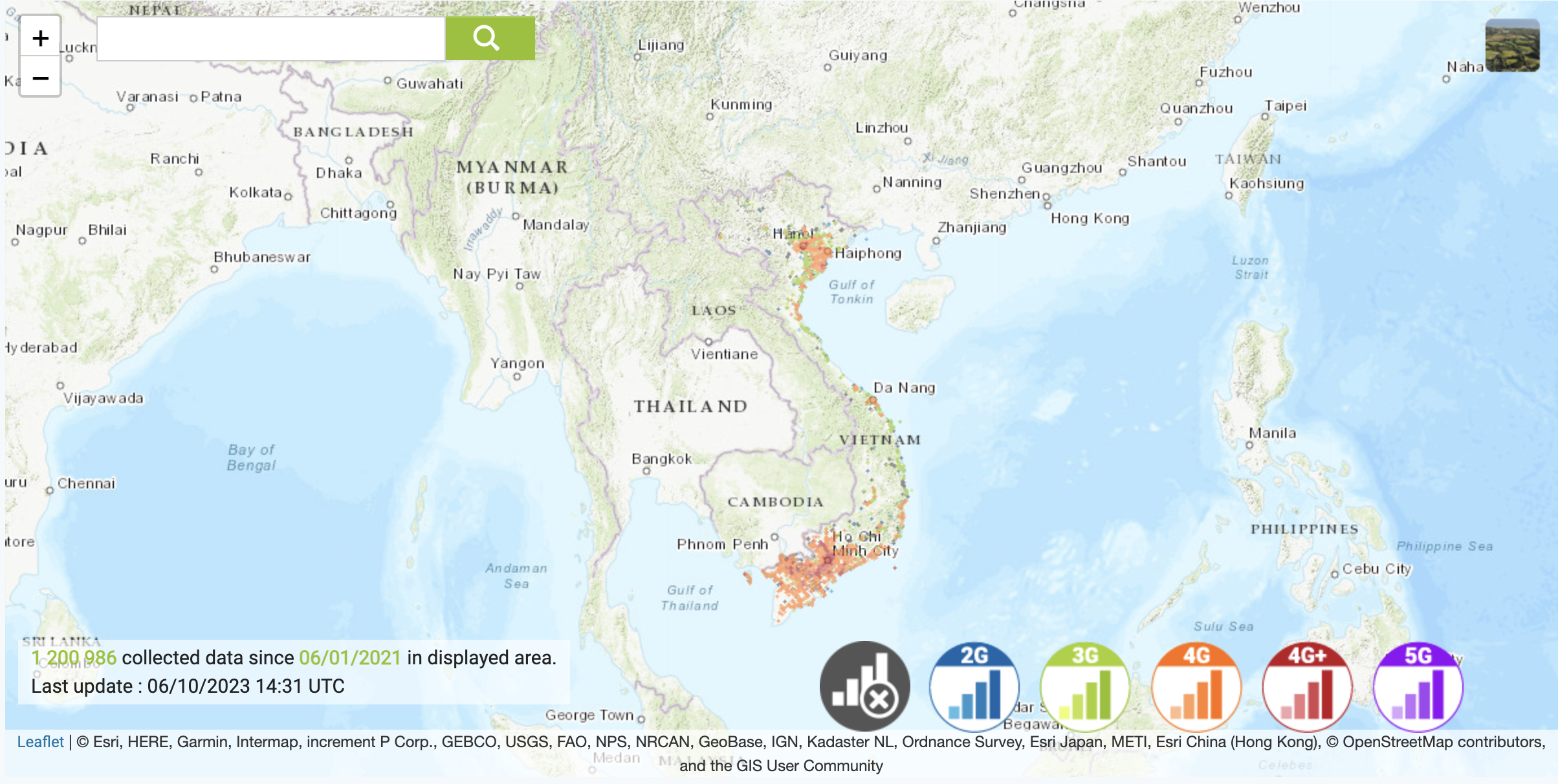 When it comes to choosing the best Vietnam eSIM provider for international tourists, it's crucial to consider the differences and unique features offered by each provider. Viettel's extensive coverage and value-added services, Vinaphone's affordability and user-friendly interface, Mobifone's international roaming and flexibility, and Vietnamobile's cost-effectiveness and simplicity all cater to different traveler preferences. Consider your specific needs, such as destination preferences, data requirements, and budget, to select the eSIM provider that align.
Advantages of the embedded SIM card vs the physical SIM
Easy to Buy:
Purchasing eSIM cards is a convenient and streamlined process. Unlike physical SIM cards that require a visit to a store or the hassle of ordering and waiting for delivery, eSIM cards can be easily obtained online. With a few simple steps, you can browse, select, and purchase an eSIM plan from the comfort of your home or while on the go.
Instant Activation and Seamless Switching:
Activating an eSIM card is quick and hassle-free. Once you receive the eSIM profile details, you can instantly activate the eSIM on your compatible device by scanning a QR code or entering an activation code. This eliminates the need to physically insert or replace SIM cards, making it more convenient, especially when switching between different networks or travel destinations.
Flexibility and Multiple Profiles:
Unlike physical SIM cards that are tied to a specific network or carrier, eSIM cards offer flexibility and the ability to store multiple profiles on a single device. This means you can switch between different eSIM profiles without needing to physically swap SIM cards or carry multiple devices. It's ideal for travelers who frequently visit different countries or need access to multiple networks.
Enhanced Security and Remote Management:
eSIM cards provide enhanced security features compared to physical SIM cards. Since eSIMs are embedded within the device, there is no risk of losing or misplacing the physical card. Additionally, eSIM cards can be remotely managed, allowing you to disable or reassign the eSIM to a new device in case of loss or theft, providing peace of mind during your travels.
Cost-Effective and Environmentally Friendly:
eSIM cards offer cost savings in the long run. With eSIMs, there are no physical cards to manufacture, package, or ship, reducing the environmental impact associated with traditional SIM cards. Additionally, eSIM cards often provide competitive pricing and flexible plans, allowing you to choose cost-effective options that suit your travel needs.
Device Compatibility and Space Savings:
eSIM technology is compatible with a wide range of devices, including smartphones, tablets, smartwatches, and even some laptops. By eliminating the need for a physical SIM card slot, eSIM cards enable sleeker device designs and save valuable space, making it easier to accommodate other components or features.
In conclusion, considering the advantages of eSIM cards over physical SIM cards, it is highly recommended to explore the services offered by ByteSIM. As a leading eSIM card provider in Vietnam, ByteSIM stands out for its core advantages, including unlimited data, affordability, and a wide range of plan options. With ByteSIM, you can enjoy a seamless and convenient connectivity experience during your travels, making it an excellent choice for your eSIM card needs in Vietnam.
Where Can I Buy a Prepaid SIM Card for Vietnam?
When it comes to buying a prepaid SIM card for Vietnam, there are various options available depending on your preference and convenience. Here are some common places where you can purchase a SIM card in Vietnam and the potential challenges you might encounter:
1. Airports (e.g., Ho Chi Minh City Airport, Hanoi Airport):
Most major airports in Vietnam have dedicated kiosks or counters where you can buy SIM cards. While this option provides convenience upon arrival, keep in mind that airport prices might be higher compared to other locations. Additionally, the language barrier and long queues during peak hours can be potential challenges.
2. Local Carrier Stores:
Throughout the cities and towns in Vietnam, you can find stores operated by local mobile network providers such as Viettel, Vinaphone, Mobifone, and Vietnamobile. These stores offer a wide range of prepaid SIM cards and packages. However, it's important to note that communication barriers and the need for cash payments may arise in some stores.
3. Street Vendors and Small Shops:
In busy areas or tourist hotspots, you may come across street vendors or small shops selling prepaid SIM cards. While this option can provide competitive prices, it's essential to exercise caution and ensure that the vendor is trustworthy. Verify that the SIM card is properly activated and that the vendor provides adequate support if any issues arise.
4. Online Purchase:
An increasingly popular option is to buy a SIM card online before arriving in Vietnam. This allows you to have the SIM card ready for use upon arrival, eliminating the need to search for a physical store. One recommended option is ByteSIM, which offers Vietnam eSIM cards with several key advantages. ByteSIM provides affordable eSIM cards with unlimited data options, local Vietnamese numbers, and additional features like the ability to make Grab bookings or receive SMS for verification purposes. ByteSIM partners with reliable carriers such as Viettel and Vinaphone, ensuring a reliable network connection.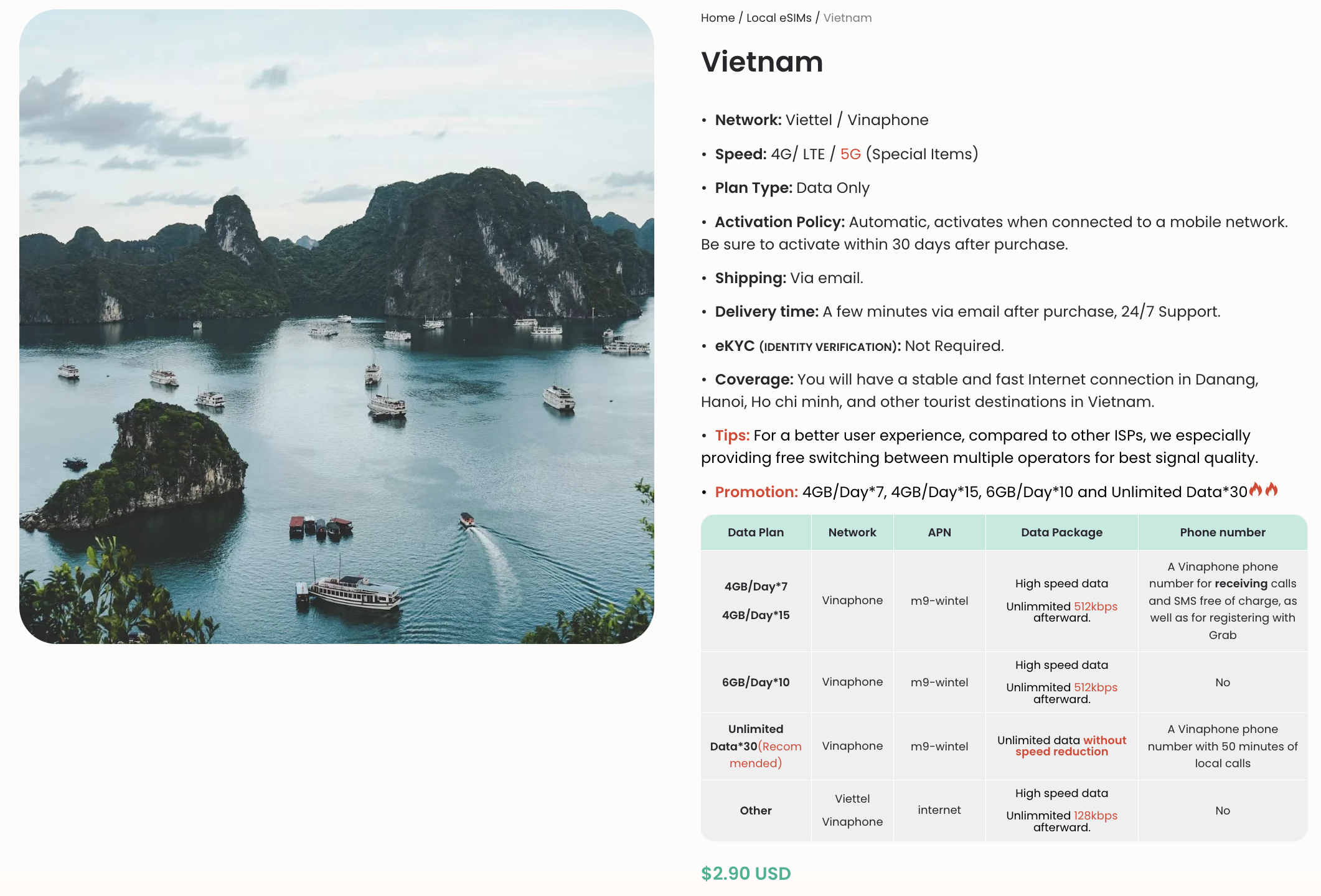 By considering these options and potential challenges, you can make an informed decision on where to purchase your prepaid SIM card for Vietnam. If convenience, affordability, and additional features are important to you, ByteSIM's Vietnam eSIM card is worth considering for a reliable and cost-effective connectivity solution during your stay.
How to buy a Vietnam eSIM
In today's digital age, eSIMs have emerged as a convenient option for travelers to stay connected while visiting Vietnam. Here is a step-by-step guide on how to purchase and set up a Vietnam eSIM:
Step 1: Check Device Compatibility
Before diving into the process of buying a Vietnam eSIM, it's crucial to ensure that your device supports eSIM functionality. Most modern smartphones, tablets, and smartwatches have eSIM capabilities, but it's always wise to double-check with your device manufacturer or refer to the user manual. For the most comprehensive and up-to-date list of eSIM-compatible devices, please visit esim-compatible-devices. This reliable source provides the latest information on smartphones, tablets, smartwatches, and more that support eSIM functionality. Stay informed and ensure compatibility by referring to this authoritative resource.
Step 2: Choose a Reliable eSIM Provider
When it comes to choosing a reliable eSIM provider in Vietnam, it's important to consider factors such as network coverage, data plans, pricing, and customer reviews. Some well-known eSIM providers in Vietnam include ByteSIM, eSIM2Fly, and SIMO. Assess their offerings and select the one that best aligns with your connectivity needs and preferences.
Step 3: Purchase and Download eSIM
Once you have identified a suitable eSIM provider, proceed with the purchase process. Visit the provider's website or download their mobile app, if available. Browse through their eSIM plans, considering factors like data allowances, validity periods, and any additional features that align with your requirements. Select the desired plan, provide the necessary details (such as your device's IMEI number and email address), and complete the payment process.
Upon successful payment, you will receive an email or in-app notification containing the eSIM profile. Follow the provided instructions to download the eSIM profile to your device. The process may involve scanning a QR code or entering a confirmation code, depending on your device.
Step 4: Configure eSIM Settings
Once the eSIM profile is downloaded, navigate to your device's settings menu and locate the eSIM section. Follow the prompts to configure the eSIM settings, which typically involve activating the eSIM, assigning it as your primary SIM card, and selecting preferred network options. Also, don't forget to turn on data roaming.
During this configuration process, you may also have the option to choose a local Vietnamese number if supported by the eSIM provider. ByteSIM can be advantageous for making local calls, receiving calls from local contacts, or using services like Grab or food delivery apps that require a local number.
With the eSIM successfully configured, you are now ready to enjoy seamless connectivity throughout your visit to Vietnam. The ByteSIM provides the flexibility to switch between different networks, activate multiple eSIM profiles if needed, and enjoy the convenience of not needing a physical SIM card.
Remember to keep a backup of your eSIM profile details, such as the QR code or confirmation code, in case you need to reinstall the eSIM or transfer it to another compatible device.
By following these steps and choosing a reliable eSIM provider, you can easily purchase and set up a Vietnam eSIM, ensuring a smooth and uninterrupted connectivity experience during your travels.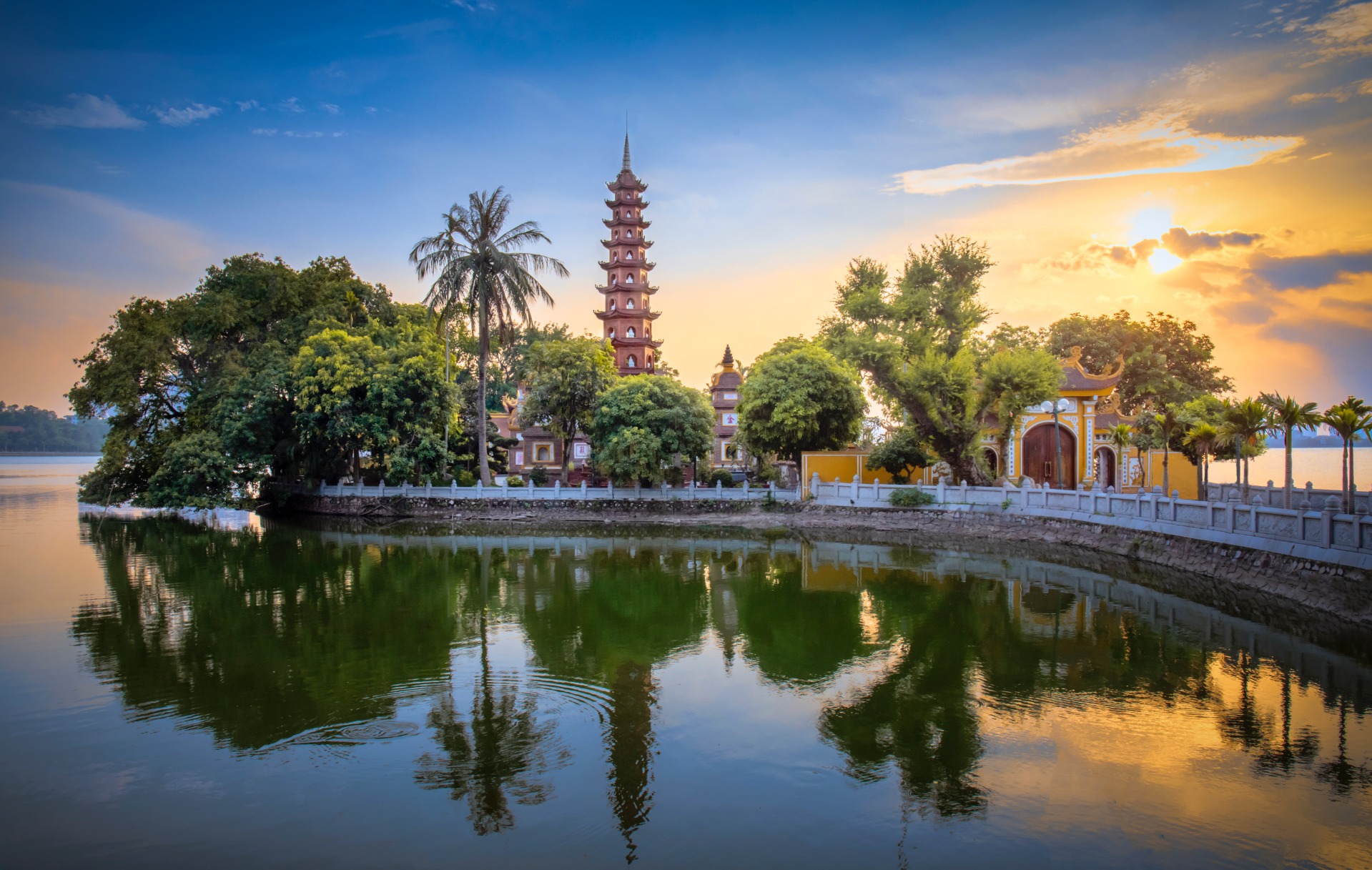 How much does a tourist eSIM in Vietnam cost
Check out the prices for a ByteSIM eSIM for Vietnam.
Table 1. Virtual SIM Card rates with ByteSIM's Vietnam data. Source: ByteSIM
Frequently Asked Questions for Vietnam Travel
1. Where can I buy a prepaid SIM card in Vietnam?
Prepaid SIM cards are available at various locations in Vietnam, including airports, local carrier stores, street vendors, and online platforms. However, if you're looking for a hassle-free option, consider ByteSIM's Vietnam eSIM card, which can be conveniently purchased online.
2. What documents do I need to provide when buying a prepaid SIM card?
One of the advantages of ByteSIM's Vietnam eSIM card is that it doesn't require any passport or identification documents. You can easily purchase and activate the eSIM card without the need for lengthy paperwork.
3. Can I get a local phone number with ByteSIM's Vietnam eSIM card?
Yes, ByteSIM's Vietnam eSIM card provides you with a local phone number. This allows you to make and receive calls and send text messages within Vietnam. Having a local number can be beneficial for various purposes, such as interacting with locals, using ride-hailing services, or placing orders for food delivery.
4. What special packages does ByteSIM offer for their Vietnam eSIM card?
ByteSIM offers a special package for their Vietnam eSIM card, which includes 30 days of unlimited high-speed 4G data. This means you can enjoy uninterrupted internet access throughout your stay in Vietnam, without worrying about data limits or slow connections.
With ByteSIM's Vietnam eSIM card, you can easily stay connected, enjoy the convenience of a local phone number, and take advantage of their special package that offers unlimited high-speed 4G data for 30 days. It's a reliable and cost-effective option for travelers seeking a seamless connectivity experience in Vietnam.