Your Go-To Guide: Where to Buy Prepaid SIM Card for South Korea in 2023
May 24,2023 | Matrix
Planning your trip to Korea and in need of a reliable travel eSIM provider? Look no further than Bytesim! Discover the convenience and flexibility of using eSIM technology, allowing you to stay connected without the hassle of physical SIM cards. In this comprehensive guide, we'll explore the best options for buying prepaid eSIM cards, highlighting Bytesim's top-notch services and coverage. With Bytesim as your travel eSIM provider, you can roam freely, access essential apps, and share your memorable moments hassle-free. Join us on this digital journey and experience a new level of connectivity in Korea! 💫📲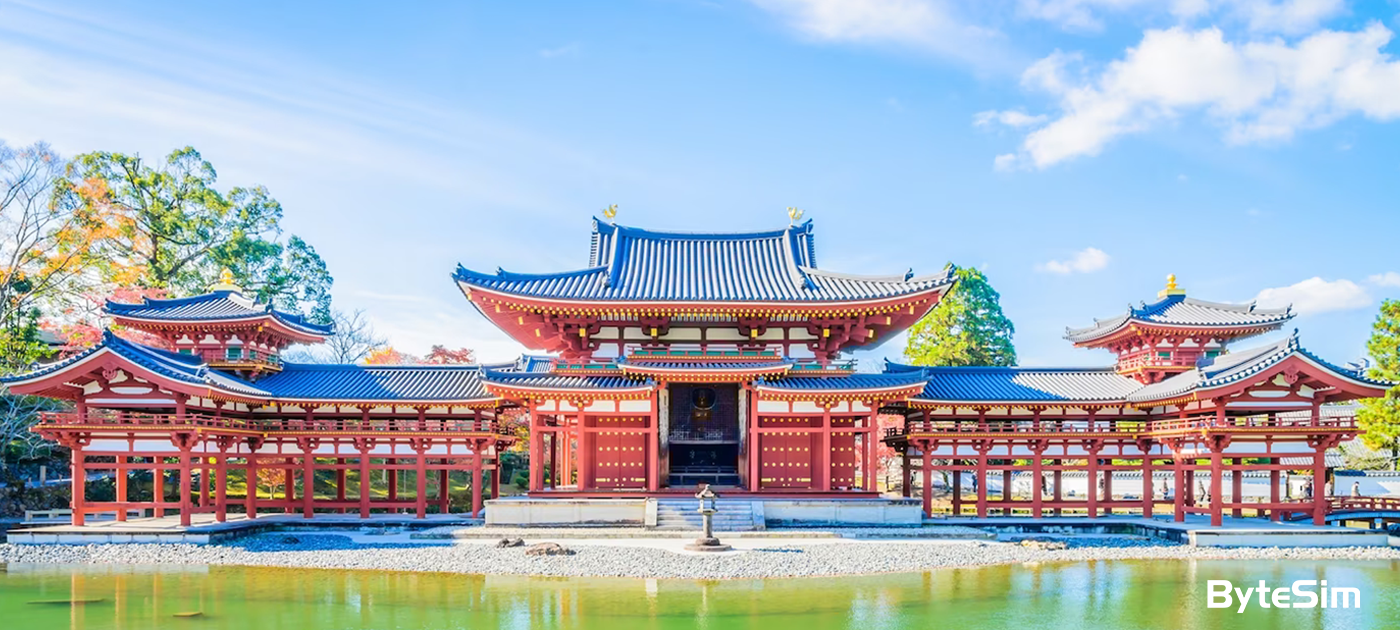 Table of contents
Where Can I Buy a Prepaid SIM Card for South Korea?
If you're planning a trip to South Korea, you'll need to figure out how to stay connected. One of the best ways to do this is to buy a prepaid SIM card. A prepaid SIM card is a small chip that you insert into your phone. It allows you to use the local cellular network to make calls, send text messages, and use data.
There are a few different places where you can buy a prepaid SIM card in South Korea. You can buy them at the airport, at convenience stores, or online.
Part 1: Physical SIM Cards
1. Airports:
Upon arriving at major airports like Incheon International Airport and Gimpo International Airport, you'll find dedicated stores and kiosks offering prepaid SIM cards. These shops provide a range of options with different data plans and validity periods. Simply look for the designated stores in the arrival area to get your SIM card.
- Disadvantages: SIM cards at airports may have limited options and higher prices compared to other sources. It's recommended to compare prices and plans before making a purchase.
2. Convenience Stores:
Throughout Korea, popular convenience store chains such as 7-Eleven, CU, and GS25 offer prepaid SIM cards. These stores are easily accessible and can be found in almost every neighborhood. Simply visit a nearby convenience store, and you'll be able to purchase a SIM card hassle-free.
- Advantages: Convenience stores like 7-Eleven, CU, and GS25 are widespread in Korea, making it easy to find a store near your location. They offer SIM cards at competitive prices.
- Disadvantages: The variety of SIM card options might be limited, and some stores may have language barriers or limited customer support for assistance.
Part 2: eSIM Cards (Virtual SIM Cards)
For those looking for a digital alternative, eSIM cards provide a convenient and flexible option. ByteSIM and similar online stores offer eSIM cards for Korea, allowing you to purchase and activate them before your trip. With ByteSIM's eSIM card, you can enjoy seamless connectivity without the need for a physical SIM card.
Online stores like ByteSIM provide a user-friendly platform where you can compare different eSIM cards, data plans, and network coverage. Simply visit ByteSIM's website, browse through the available options, and choose the eSIM card that best suits your needs. Once purchased, you will receive instructions on how to activate the eSIM card remotely, eliminating the need for a physical card.
With ByteSIM and similar online stores, you can conveniently buy and activate an eSIM card from the comfort of your home. Say goodbye to searching for physical stores and dealing with language barriers. Enjoy the flexibility and convenience of a virtual SIM card for your trip to Korea.
- Advantages:
- Convenience of purchasing and activating online.
- Wide range of options and competitive prices.
- No need to worry about physical SIM cards or language barriers.
- Disadvantages:
- Requires compatible devices with eSIM support.
- Activation process may need to be done in advance.
What Factors Should I Consider When Buying a Prepaid SIM Card?
When purchasing a prepaid SIM card for your trip to Korea, there are several important factors to consider. These factors will ensure that you choose a SIM card that meets your communication needs and offers a seamless experience during your stay. Here are some key factors to keep in mind:
1. Network Coverage
Check the network coverage of the SIM card provider. In Korea, major network operators like SK Telecom, KT, and LG Uplus offer extensive coverage across the country. Ensure that the SIM card you choose supports the network with the best coverage in your desired areas, especially if you plan to explore remote or rural regions.
2. Data Plans
Evaluate the available data plans offered by different SIM card providers. Consider the duration of your stay and estimate your data usage requirements for activities like browsing, streaming, and social media. Look for plans that offer sufficient data allocation at affordable prices to avoid unexpected costs or running out of data during your trip. For example, Bytesim provides unlimited data plan to ensure that the connection is always maintained
3. Validity Period
Check the validity period of the SIM card. Some prepaid SIM cards have a fixed validity period, while others offer options for extension. If you have a longer stay in Korea or plan to visit again in the future, choosing a SIM card with longer validity or extension options can be beneficial.
4. Additional Services
Consider any additional services or features provided by the SIM card provider. Some cards may offer complimentary services like free messaging apps, discounted international calls, or access to local Wi-Fi hotspots. These extras can enhance your overall communication experience and provide added value.
5. Customer Support
Evaluate the level of customer support provided by the SIM card provider. Look for providers with reliable customer support channels, such as phone, email, or live chat, in case you encounter any issues or need assistance during your trip. For example, Bytesim provides 7x24 hours service.
By carefully considering these factors, you can choose a prepaid SIM card in Korea that suits your communication needs and offers a reliable and seamless experience throughout your stay. Remember to compare different providers, read customer reviews, and make an informed decision that aligns with your preferences and budget.
Which Mobile Network Operators Support eSIM Cards in South Korea?
When it comes to eSIM card support in South Korea, all three major mobile network operators offer this convenient feature. Let's take a closer look at each operator and some of their key characteristics.
Surprisingly, users on both carriers experienced average download speeds of over 100 Mbps across the board. In the download speed experience award, SK Telecom won with 129.9 Mbps, while KT recorded 101 Mbps.

There is no statistical difference between carriers in overall availability. This means that the percentage of time users spend without a mobile signal is the same for KT, LG U+ and SK Telecom.

For more demanding applications, the user experience met the minimum requirements in a larger percentage of tests with SK telecom than with other carriers. SK Telecom scored 88.9% in good consistency quality compared to 85.4% for KT and 79.6% for LG Uplus.

1. SK Telecom (SK텔레콤):
- SK Telecom is the largest mobile network operator in South Korea, known for its extensive network coverage and high-quality services.
- They offer a wide range of data plans, including options for tourists and long-term residents.
- SK Telecom provides reliable and fast internet connectivity, making it a popular choice among locals and tourists alike.
- Their customer support is highly regarded, with multiple channels available for assistance.
This map represents the coverage of SK Telecom 2G, 3G, 4G and 5G mobile network: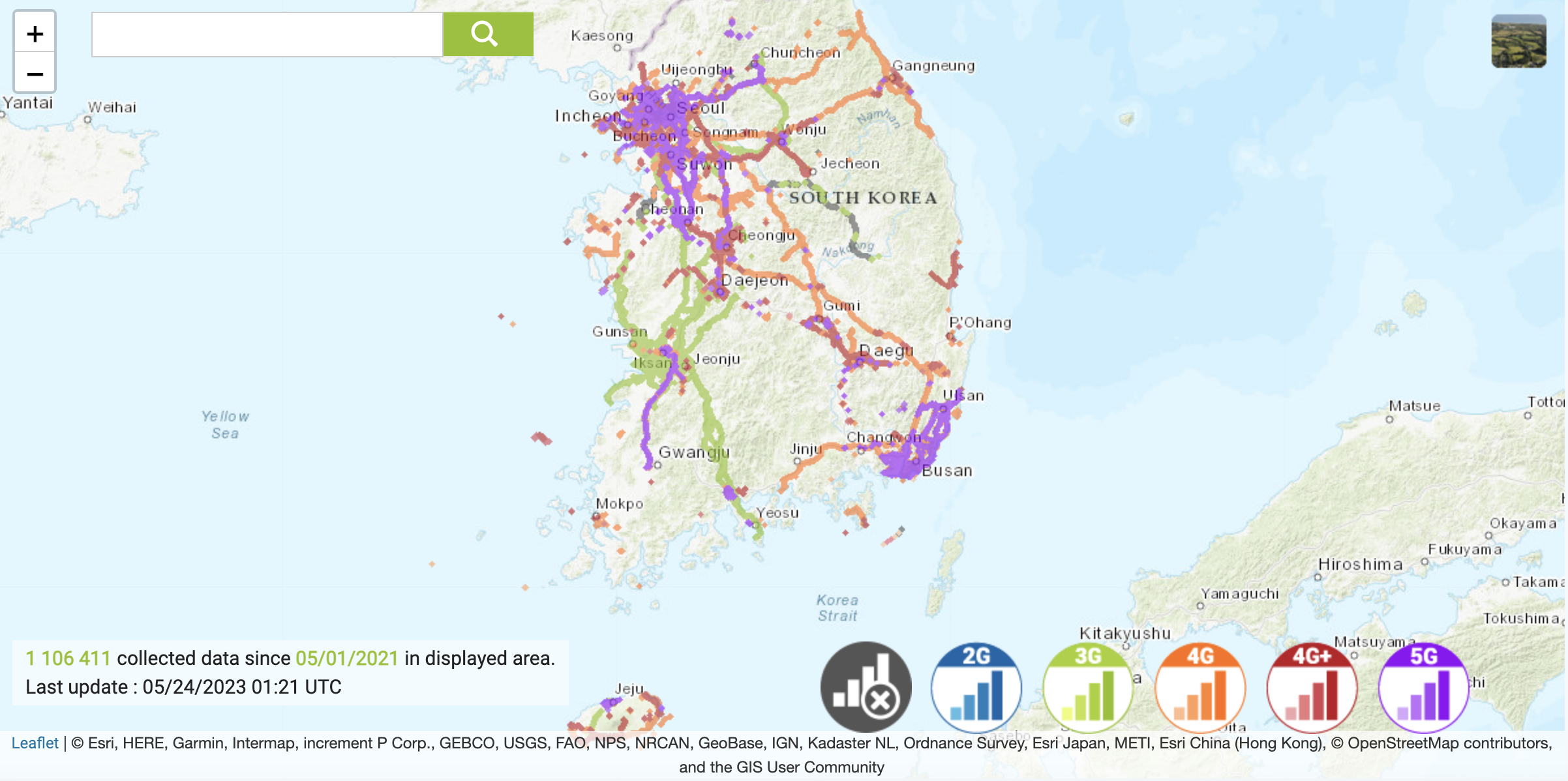 2. KT Corporation (KT):
- KT Corporation is another major player in the South Korean telecommunications market, offering diverse services and innovative solutions.
- They provide competitive data plans with various options to cater to different usage needs.
- KT Corporation focuses on delivering fast and stable internet speeds, making it suitable for data-intensive activities like streaming and gaming.
- They offer excellent coverage, including in remote areas and underground subway stations.
This map represents the coverage of KT Telecom 2G, 3G, 4G and 5G mobile network: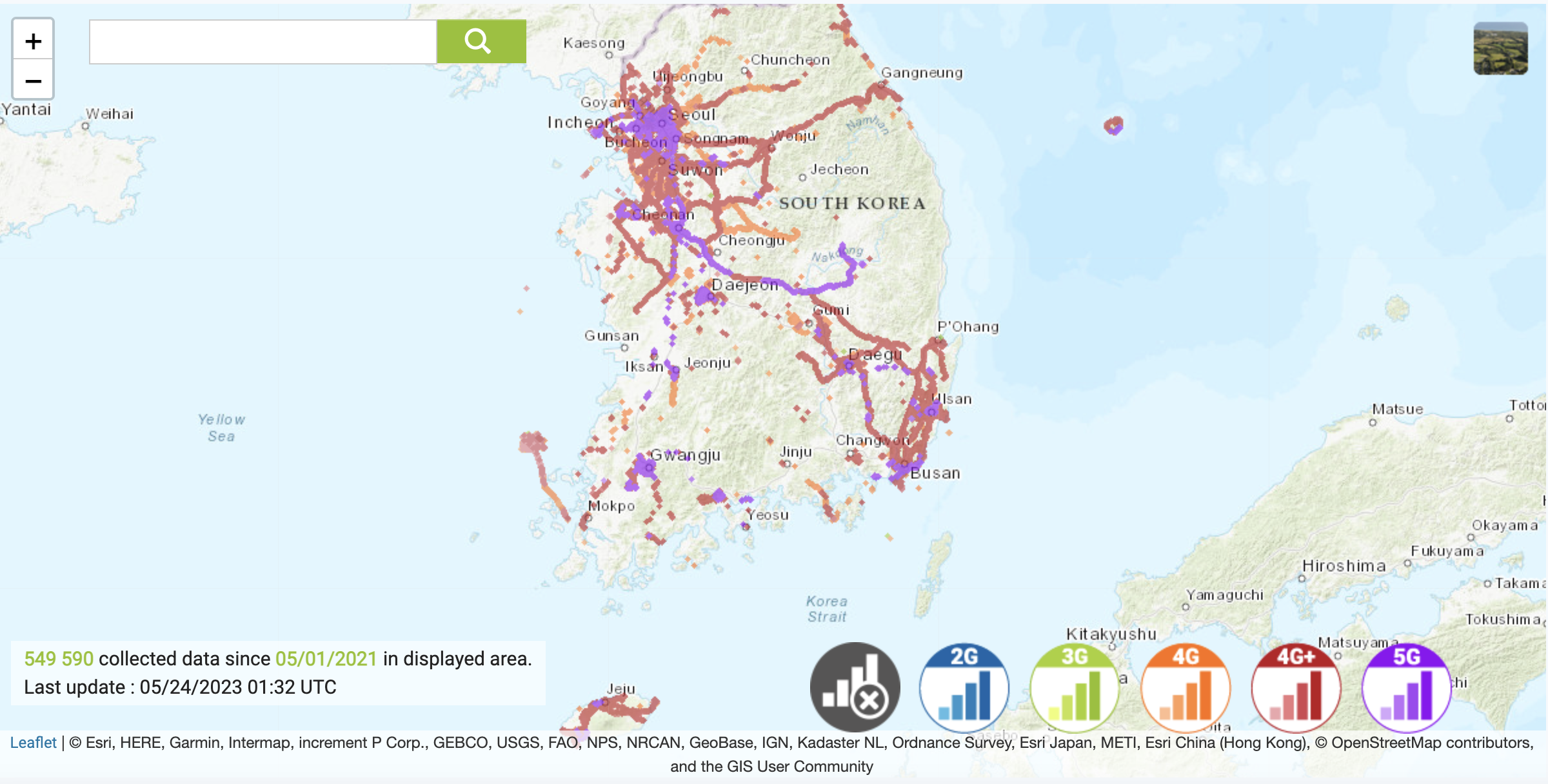 3. LG Uplus (LG유플러스):
- LG Uplus is known for its advanced technology and cutting-edge services.
- They offer a range of flexible data plans, including unlimited data options for heavy data users.
- LG Uplus prioritizes customer satisfaction and offers personalized services tailored to individual needs.
- They have made significant investments in their network infrastructure, providing reliable and fast connectivity across the country.
This map represents the coverage of LG Telecom 2G, 3G, 4G and 5G mobile network: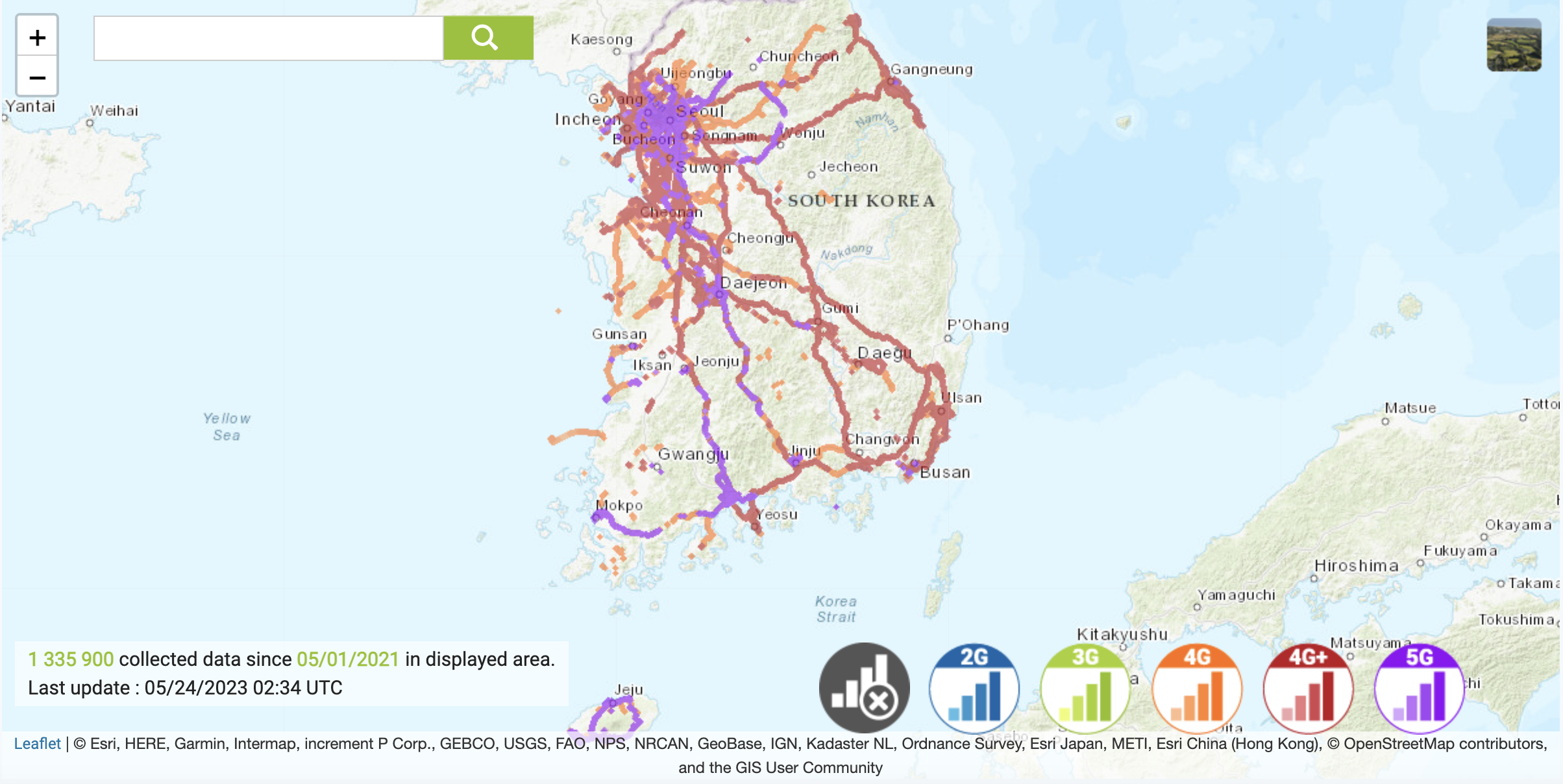 By considering the unique characteristics of each mobile network operator in South Korea, including SK Telecom (SK텔레콤), KT Corporation (KT), and LG Uplus (LG유플러스), you can make an informed decision when choosing an eSIM card provider.
If you prefer the networks of SK Telecom and KT, ByteSIM is an excellent option. ByteSIM offers the advantage of being able to switch between these two prominent network providers, providing you with flexibility and improved coverage. You can enjoy the expansive coverage of SK Telecom and the competitive plans of KT Corporation, ensuring a seamless and reliable mobile experience throughout your time in South Korea.
Whether you prioritize network coverage, competitive pricing, or advanced technology, ByteSIM's partnership with SK Telecom and KT gives you the opportunity to tailor your eSIM card choice to your preferences, budget, and connectivity requirements. Stay connected effortlessly and make the most of your journey in South Korea.
What Are the Advantages of Using an eSIM Card in South Korea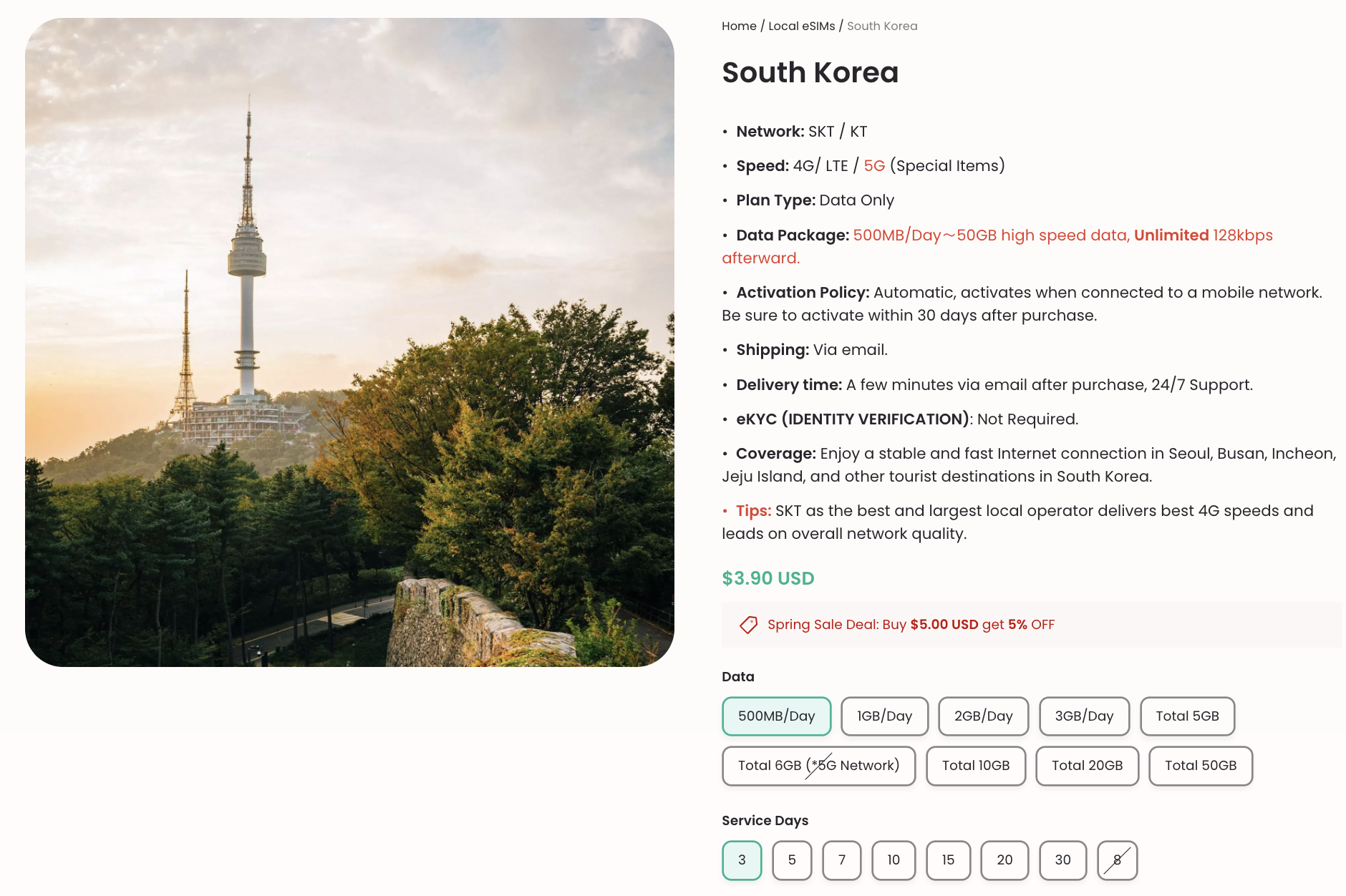 Unleashing the Advantages of eSIM over Traditional SIM Cards in South Korea. In the realm of mobile connectivity, eSIM technology has revolutionized the way we stay connected while traveling. South Korea, a country at the forefront of technological advancements, offers a myriad of benefits when it comes to using eSIMs over traditional SIM cards. Let's delve into these advantages:
Convenience: With an eSIM card, you can say goodbye to the hassle of swapping physical SIM cards. Simply install the eSIM profile on your device, and you're ready to connect to the internet. No more searching for local prepaid SIM cards or dealing with the inconvenience of finding pocket Wi-Fi hotspots.
Multiple eSIM Card Support: Unlike physical SIM cards that require swapping, eSIM technology allows you to store multiple eSIM profiles on your device simultaneously. This means you can easily switch between different eSIM cards based on your needs. ByteSIM offers a wide range of data plans, giving you the flexibility to choose the one that suits your usage and duration of stay in South Korea.
Unlimited Data Plan: ByteSIM provides the advantage of an unlimited data plan. Stay worry-free as you browse, stream, and connect to the internet without data limitations. Enjoy fast and reliable connectivity throughout your travels in South Korea.
Instant Delivery: ByteSIM ensures a seamless experience by delivering the eSIM card details to you instantly. Upon purchase, you'll receive the necessary instructions and activation details via email, allowing you to set up your eSIM card immediately. No need to wait in lines or rely on physical delivery.
Freedom of Choice: With ByteSIM, you have the freedom to choose from a wide selection of data plans. Whether you need short-term coverage for a quick visit or a long-term plan for an extended stay, there's a suitable option for you. Enjoy the flexibility to tailor your connectivity to your specific needs.
24/7 Customer Service: ByteSIM provides round-the-clock customer service to address any queries or concerns you may have. Their dedicated support team is available to assist you at any time, ensuring a smooth and uninterrupted experience.
By choosing an eSIM card, you can experience the convenience of connecting to the internet without the need for physical SIM cards. With ByteSIM's unlimited data plans, instant delivery, a wide range of options, and 24/7 customer service, you can stay connected throughout your journey in South Korea.
How much does a tourist eSIM in South Korea cost?
Check out the prices for a ByteSIM eSIM for South Korea.
| | | | |
| --- | --- | --- | --- |
| Brand | Data | Service Days | Price ($USD) |
| ByteSIM | 500MB/Day-Unlimited | 3-30 Days | 3.9-19.9 |
| ByteSIM | 1GB/Day-Unlimited | 3-30 Days | 4.9-38 |
| ByteSIM | 2GB/Day-Unlimited | 3-30 Days | 7.9-59.9 |
| ByteSIM | 3GB/Day-Unlimited | 3-30 Days | 10.9-82.9 |
| ByteSIM | Total 5GB-Unlimited | 3-30 Days | 6.5-9.5 |
| ByteSIM | Total 10GB-Unlimited | 3-30 Days | 10.9-16.9 |
| ByteSIM | Total 20GB-Unlimited | 3-30 Days | 21.9-31.9 |
| ByteSIM | Total 50GB-Unlimited | 3-30 Days | 62.9-77.5 |
Table 1. Virtual SIM Card rates with ByteSIM's South Korea data. Source: ByteSIM
Frequently Asked Questions About Buying Prepaid SIM Cards in Korea
Are There Any Special Considerations for Tourists Using eSIM Cards in South Korea?
Using eSIM cards in South Korea offers tourists the same convenience as residents. Ensure device compatibility, follow activation steps, check validity and expiry dates, and enjoy the flexibility of choosing suitable plans. With eSIM providers like ByteSIM, tourists can stay connected hassle-free without the need for physical SIM cards.
Can I Use an eSIM Card in South Korea for Voice Calls and Text Messages?
No, eSIM cards from ByteSIM in South Korea only provide data services and do not support voice calls or text messages. However, you can use communication apps like WhatsApp or Skype to make calls or send messages over the internet. Keep in mind that you'll need a stable internet connection for these services.
Do I Need to Provide Passport Information to Get an eSIM Card for South Korea?
No, when obtaining an eSIM card for South Korea, such as ByteSIM, you do not need to provide passport information. Unlike traditional SIM cards that typically require registration with identification, eSIM cards offer added convenience and privacy as they do not require passport information. Simply follow the activation process provided by the eSIM card provider to start using your eSIM in South Korea.