Network Tips for Travelers Heading to Paris: Paris eSIM!
Sep 28,2023 | Tom
Photo france ready for 5g connection concept. 3d rendering smartphone technology background
Are you planning to travel to the romantic, fashionable and historical " City of Light"---- Paris? Are you a travel rookie wondering how to be network-connected in Paris? Or are you a traveler troubled by frequently changing and buying your local SIM cards when buzzing around different countries such as from the U.S. to Paris or the like? Well, today we are gonna provide you with the best recommended Paris network travel guide for you.
Now here we go!
Ways to Be Network-Connected Abroad
When traveling abroad, there are main ways to connect to the network and ensure you have internet access. Here is a list of options:
Check with your current mobile carrier if they offer international roaming plans. By activating roaming, you can use your existing SIM card to connect to partner networks abroad. However, be aware that roaming charges can be expensive.
Portable Wi-Fi Hotspot(Mi-Fi)
Another option is to rent or purchase a portable Wi-Fi hotspot device. These small devices create a personal Wi-Fi network that you can connect your devices to. They usually require an extra local SIM card or an eSIM to insert the device and you should top up your Mi-Fi device before connecting to the network.
Many public places, such as cafes, hotels, airports, and restaurants, offer free or paid Wi-Fi access. Look for Wi-Fi networks in the area and connect to them to access the internet. But it is not always a public Wi-Fi connection anywhere you go, it cannot be your long-term alternative when traveling abroad. And you have to notice network security in case of malicious Wi-Fi connections.
Upon arrival at your destination, you can purchase a SIM card from a local mobile network provider it can be troublesome cuz you have to find a local premise and hop in the line for one SIM. This option allows you to have a local phone number and access to the network like the locals. Before this, make sure your phone is unlocked(if you are not sure, you can contact your original operator), so it can accept SIM cards from different carriers.
Some companies offer international SIM cards that work across different countries. These cards typically provide data, calling, and texting services at a fixed rate. They can be purchased online before your trip or at certain travel retail stores. But it may charge higher than local SIMs and in some cases, the network may not be as stable as the local one.
If your device supports eSIM technology, you can use an eSIM to connect to the network abroad. This involves activating an eSIM plan digitally without the need for a physical SIM card. Check with your current carrier or local carriers at your destination to see if they offer eSIM plans.
There are many ways to access networks in a foreign country, ways are many but what is the most appropriate one for common travelers?
photo attractive yang woman in pajama is drinking coffee on balcony in the morning in city paris. view of the triumphal arch.
What Is ESIM?
In a rapidly evolving digital landscape, the advent of eSIM technology has transformed the way we connect and communicate, it is now growing and becoming popular all over the world. It's a new thing born in recent years and maybe some of you may be not familiar with "eSIM", so let's have a knowledge of "what on earth eSIM is?"
eSIM, also known as an embedded SIM or virtual SIM, is a SIM card that is integrated directly into a device, such as a smartphone, tablet, or wearable device. Unlike traditional SIM cards that require physical insertion and removal, eSIMs are built into the device's hardware. This small chip can be programmed wirelessly, allowing users to switch between carriers and activate mobile plans without a physical SIM card.
Advantages of ESIM Over the Other Ways
photo young man standing on sidewalk using cellphone
It's important to research and compare the costs and available options before your trip to determine which method suits your needs and budget. Actually, there are full of reasons to recommend an eSIM instead of the other ways. Here we provide a list of edges of eSIM:
Convenience and Flexibility
One of the key advantages of eSIM is its convenience in terms of switching carriers and activating mobile plans. With eSIM, there's no need to physically swap SIM cards or visit a store. Instead, users can easily switch between carriers and activate new plans through digital means. This flexibility allows for greater user control and eliminates the hassle of dealing with physical SIM cards.
eSIM technology has paved the way for dual-SIM functionality, allowing users to have two lines on a single device. This feature is particularly beneficial for travelers or individuals who want separate work and personal numbers without the need for multiple devices. By utilizing eSIM and a physical SIM card slot, users can easily manage two numbers simultaneously.
eSIM offers the advantage of being able to connect to multiple networks without requiring physical SIM card changes. This capability becomes particularly useful when traveling to areas with limited coverage from a single carrier. With eSIM, users can access different networks seamlessly, ensuring a more reliable and consistent connection throughout their travels.
Improved Security and Protection
The embedded nature of eSIM makes it more secure compared to traditional SIM cards. It is significantly harder to clone or tamper with an eSIM, enhancing the overall security of the device and the user's data. Additionally, in the event of loss or theft, the eSIM cannot be physically removed, preventing unauthorized access to the device and mitigating potential privacy risks.
Eco-Friendly Solution
eSIM technology contributes to a more sustainable approach to mobile connectivity. With traditional SIM cards, there is substantial waste generated as they are often replaced and discarded. However, eSIM eliminates the need for physical cards, reducing plastic waste and shipping materials. This environmentally friendly aspect makes eSIM a more sustainable choice for the future.
Mobile Data Operators in Paris
Photo pleasant casually dressed woman with wireless earphones drinking coffee and holding cell phone
So what the mobile operators are in Paris? It can be helpful to us to know more about local network facility coverage before our trip on the land in the capital of France. It is home to several mobile data operators that are actively involved in the development and expansion of 4G/LTE and 5G network infrastructures.
Here are some of the prominent mobile data operators in Paris and France:
Orange
Image result for Orange esim
Orange , formerly known as France Telecom, is the largest mobile operator in France. With a strong presence in Paris, Orange has been at the forefront of building robust 4G/LTE and 5G networks. They offer a wide range of mobile plans and services, ensuring seamless connectivity for their customers.
SFR
Image result for SFR
SFR is another leading mobile data operator in France, providing services in Paris and other regions. They have made significant investments in upgrading their network infrastructure to deliver high-speed 4G/LTE and 5G connectivity. SFR offers a variety of mobile plans, bundled services, and attractive packages to meet the diverse needs of their customers.
Bouygues Telecom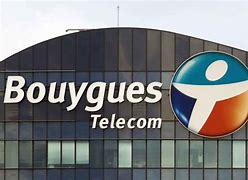 Image result for Bouygues Telecom
Bouygues Telecom is a prominent player in the mobile data market in Paris and France. They have been actively involved in the deployment of 4G/LTE and 5G networks and have made considerable progress in expanding their coverage. Bouygues Telecom offers competitive mobile data plans and packages, focusing on delivering reliable and fast internet connectivity.
Free Mobile
Image result for what is free mobile
Free Mobile is known for its disruptive approach and affordable mobile plans. They have made significant strides in the development of 4G/LTE and 5G networks and are a popular choice among customers in Paris and across France. Free Mobile emphasizes cost-effectiveness without compromising on quality.
These are just a few of the prominent mobile data operators serving Paris and France. Each operator strives to provide reliable and fast connectivity, enabling users to access data-intensive applications and services with ease. With ongoing advancements in technology, the mobile data landscape in Paris and France is continually evolving, ushering in a new era of connectivity and digital experiences for residents and visitors alike.
How to Get an ESIM?
Photo woman sitting at outdoor cafe in rome
To get an eSIM, you have a few options:
Check compatibility: Before getting an eSIM, ensure that your device supports eSIM functionality.***
Through your mobile carrier
Contact your current mobile carrier and inquire if they offer eSIM services. They can provide you with the necessary instructions and activate an eSIM remotely. This process may involve scanning a QR code provided by the carrier or using their app to set up the eSIM on your device.
Purchase from a local carrier
When traveling abroad, you can purchase an eSIM from a local carrier in the country you are visiting. Research and find out which carriers support eSIM and offer plans for travelers. You can either buy the eSIM plan online in advance or visit their physical store upon arrival.
Some online platforms such as Airalo, Holafly, ByteSIM and Nomad offer eSIM services where you can purchase eSIM plans globally. These platforms provide a wide range of options and allow you to select plans that suit your needs. Make sure to choose a reputable and reliable provider.
Take ByteSIM as an example:
After you surf on the eSIM online store, PLS carefully check the relevant product info as marked in red line such as " Network, Plan Type, Activation Policy, Shipping Way, Delivery time, Coverage "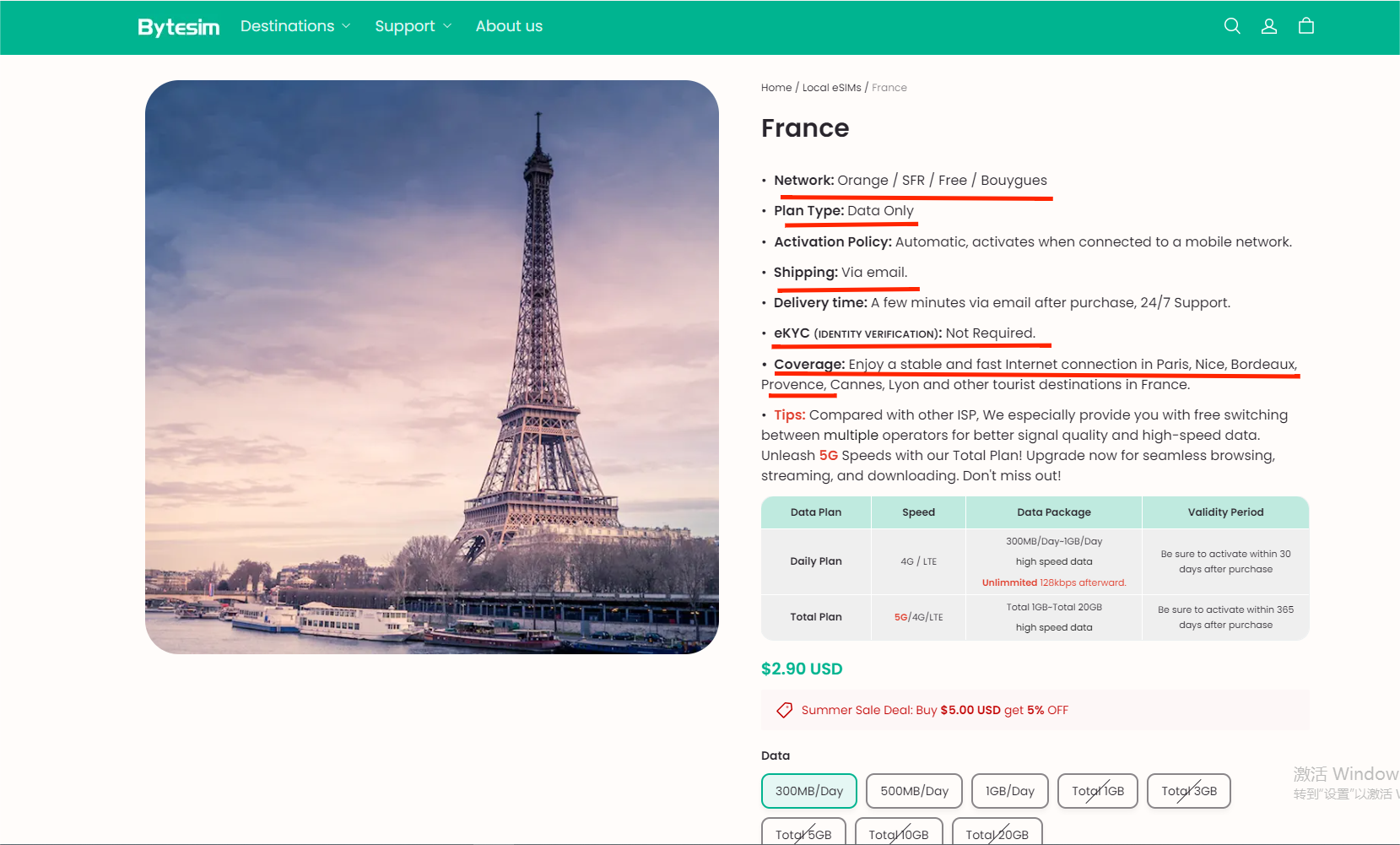 Then scroll down the page, you can customize your eSIM plan by data amount(from 300MB to unlimited option), validity time(from 1 day to 30) and quantity, altogether 40-50 options for you in each specific destination.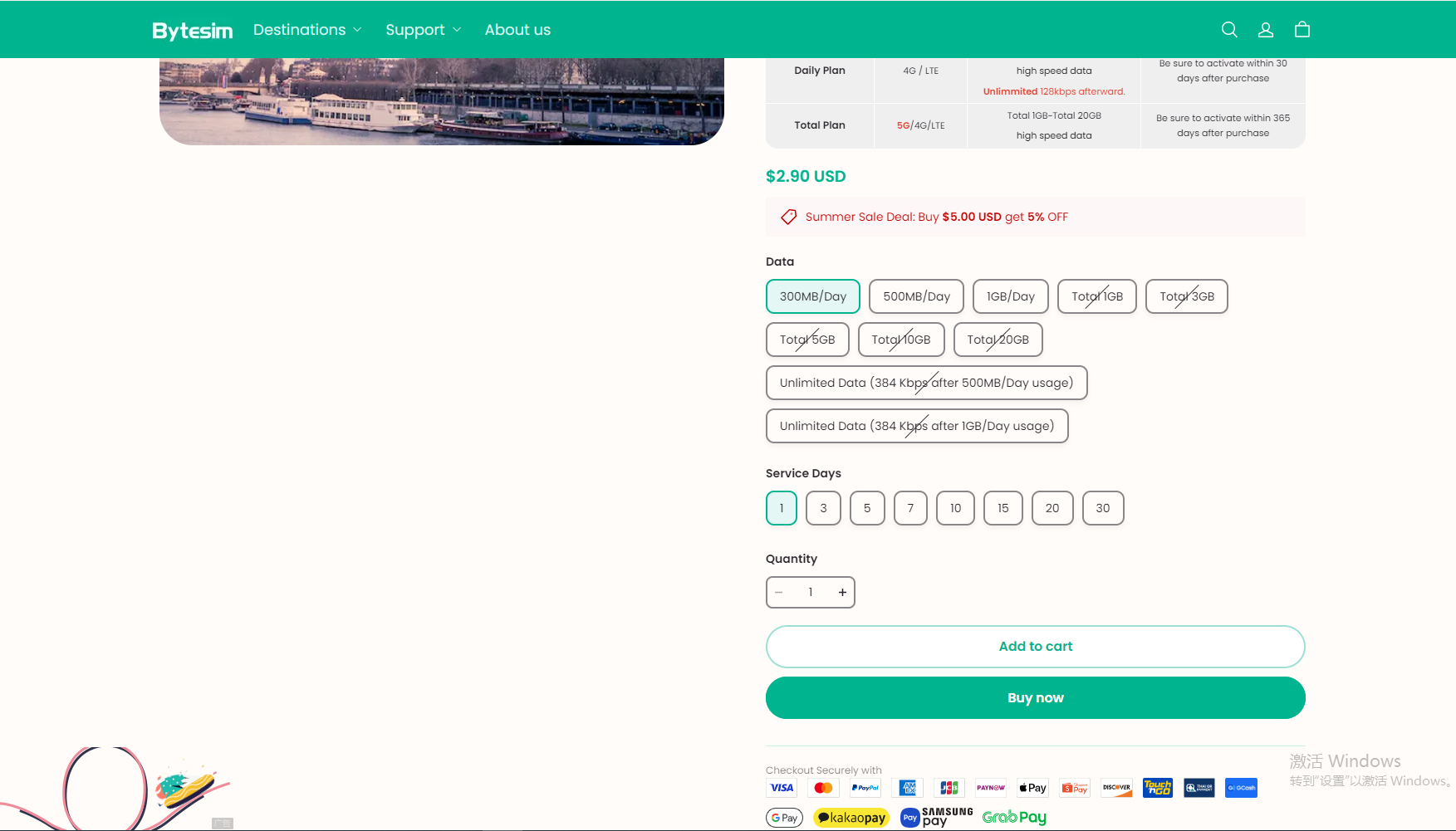 After all the selections are finished, click/tap the purchase button and now your Paris eSIM is ready for you! (There are up to 16 ways of payment such as VISA, MasterCard, Paypal, AMEX, JCB, Paynow, ApplePay and the like)
How to Install& Activate ESIM?
Once you have obtained the eSIM, the setup process generally involves activating it using a QR code or through the carrier's app. Follow the instructions provided by your carrier or the eSIM provider to complete the setup.
IPhone:
Turn on your iPhone and follow the onscreen instructions.
If your carrier supports eSIM Carrier Activation or eSIM Quick Transfer, you can activate your eSIM during the setup process.
If these options are not available, contact your carrier to activate your eSIM using a QR code or your carrier's iPhone app.
Samsung Galaxy:
Open the Settings app on your Samsung Galaxy device.
Go to "Connections" > " SIM card manager".
Tap on " Add mobile plan".
Follow the onscreen prompts to enter the necessary information and activate your eSIM.
Xiaomi:
Go to Settings on your Xiaomi device.
Scroll down and select " SIM cards & mobile networks".
Tap on " Add SIM card" or " Add eSIM card".
Enter the required information provided by your carrier and follow the prompts to activate the eSIM.
Oppo:
Open the Settings app on your Oppo device.
Tap on " Dual SIM & Cellular Network".
Select " Add a new plan".
Enter the details provided by your carrier to activate the eSIM.
Google Pixel:
Open the Settings app on your Google Pixel device.
Tap on " Network & internet" > " Mobile network" > " Advanced" > " Carrier".
Follow the instructions and enter the necessary details to activate your eSIM.
For more detailed eSIM installing instructions(iPhone, Samsung, Pixel)***
Please note that the exact process may vary depending on your device and carrier. It's recommended to reach out to your carrier or the eSIM provider for specific instructions based on your situation.
eSIM technology has ushered in a new era of mobile connectivity, offering numerous advantages over traditional SIM cards. From convenience and flexibility to dual-SIM capabilities, improved security, and eco-friendliness, eSIM provides a future-proof solution for streamlined and enhanced connectivity. As this technology continues to develop and gain widespread adoption, more users are expected to reap the benefits of eSIM in their everyday mobile experiences!
ByteSIM , Bye the SIM! A competitive and promising eSIM provider in the future(200+ Countries/areas)!

Comment