Network Travel Guide for Ankara Travelers: Ankara eSIM!
Sep 28,2023 | Tom
photo aerial view of istanbul city at sunrise in turkey.
Ankara, the capital city of Turkey, may not be as well-known as Istanbul, but it certainly has its own unique charm and attractions that make it worth visiting for travelers. Ankara is a vibrant and bustling metropolis known for its rich history, cultural landmarks, and modern infrastructure. In this article, we will explore the network coverage situation in Ankara and take a closer look at the mobile operators serving the city to let you no longer worry about network failure in Ankara.
Okay, here we go!
To Be Connected in Ankara
photo portrait of brunette girl with straight hair texting message while resting on summer resort. lovely lady in attire with floral print and sunglasses sitting on daybed under tropical sun and smiling
Whether you are a traveler or a resident, there are several ways to stay connected in the city:
Many cafes, restaurants, hotels, and public spaces in Ankara offer free Wi-Fi for their customers. You can easily access the internet and stay connected while enjoying a cup of Turkish tea or exploring the city's attractions. Additionally, some parks and popular tourist areas may also provide free public Wi-Fi access. But before being connected to a public Wi-Fi, you should be aware of potential network security risks, and make sure the right connection in case of the " evil twin" to steal your personal privacy and payment info.
A portable hotspot, also known as a pocket Wi-Fi device, should be considered for rental. This small device gives you the ability to create a Wi-Fi network and connect multiple devices to it. At airports or hotels, many rental companies offer convenient pickup and drop-off locations.
If you are visiting Ankara from another country, check with your mobile operator regarding roaming services. Roaming allows you to use your existing mobile number and data plan while abroad, although additional charges may apply. Make sure to inquire about the costs and options available before traveling to Ankara. IR is always far more costly than other network connection ways
If you are a traveler, getting a local SIM card can be a cost-effective option. Visit one of the mobile operator stores or authorized retailers in Ankara to purchase a SIM card and choose a suitable data package. This will provide you with a local phone number and data for internet access throughout your stay. But you have to go to the local mobile premise and hop on the line to get one SIM, it may be troublesome, especially for a foreign visitor who has no idea of where the store is, and what is the shop assistant talking about(language barrier).
If your device supports eSIM technology, you can utilize an eSIM to connect to the network abroad. By digitally activating an eSIM plan, you can avoid the hassle of manually switching SIM cards on your phone and waiting in line for a SIM on the premises. To see if they offer eSIM plans, make sure to check with your current carrier or local carriers at your destination.
So, based on these ways to be connected in Ankara, is there any way that can be the optimum selection for common Ankara travelers?
So what? eSIM?
photo brunette businesswoman laughing with her mobile
What is eSIM?
eSIM, also known as embedded SIM or electronic SIM, is a small chip embedded directly into your device, eliminating the need for a physical SIM card. Unlike traditional SIM cards, which hold carrier-specific information, an eSIM allows you to store multiple carrier profiles on a single device. Traditional physical SIM cards have been the go-to method for activating cellular plans on our mobile devices. However, an eSIM promises a more convenient and versatile mobile experience.
How does eSIM work?
When activating a cellular plan with an eSIM, you don't need to physically insert or swap SIM cards. Instead, you can activate it by scanning the QR code sent by your service provider and managing your eSIM directly from the device settings. Once activated, the eSIM securely stores the necessary information and credentials required to connect to your chosen carrier's network.
photo young man standing on sidewalk using cellphone
Advantages of eSIM
Flexibility and Convenience
One of the key advantages of eSIM is its flexibility. With eSIM, you can easily switch between different mobile operators without needing physical SIM cards. It allows you to choose and activate plans from various carriers straight from your device, which is particularly useful for travelers or individuals looking for the best network coverage in different regions.
eSIM technology enables dual-SIM functionality on a single device. With traditional SIM cards, using multiple SIMs meant constantly swapping cards or carrying multiple devices. With eSIM, you can have two phone numbers active simultaneously, allowing you to separate personal and work numbers or use local and international plans simultaneously.
Streamlined Activation Process
Activating a cellular plan with eSIM is typically a smoother and faster process. You can set up your eSIM directly from your device, following on-screen instructions. This eliminates the need for physical visits to carrier stores or waiting for SIM card deliveries.
By eliminating the physical SIM card slot, devices with eSIM technology can be designed slimmer and more compact. This enables manufacturers to optimize space for other features or components, leading to sleeker and more stylish device designs.
Improved Reliability and Security
eSIM offers greater reliability compared to traditional SIM cards, as there is no risk of physical damage or misplacement. Additionally, eSIMs provide enhanced security features such as remote provisioning and encrypted communication, making them more resistant to cloning or unauthorized access.
Given that eSIM eliminates the need for physical SIM cards, it contributes to reducing electronic waste in the long run. This eco-friendly approach aligns with the global effort to minimize the environmental impact of technology.
4G/LTE/5G Network Infrastructures in Ankara
The development and coverage of 4G/LTE and 5G networks in Ankara have seen significant progress in recent years. As the capital city of Turkey, Ankara has received considerable attention in terms of improving wireless connectivity and meeting the increasing demands for high-speed internet and data services.
Photo the modern creative communication and internet network connect in smart city
4G/LTE networks have been deployed extensively across Ankara, providing reliable and fast connectivity to residents and businesses. These networks offer improved speeds, lower latency, and enhanced network capacity compared to previous generations. With 4G/LTE, users can enjoy seamless browsing, streaming, and downloading experiences, making it suitable for various applications including video conferencing, online gaming, and multimedia content consumption.
In terms of 5G network development, Ankara is also making strides towards embracing this next-generation technology. 5G promises even faster speeds, ultra-low latency, and the ability to connect a massive number of devices simultaneously. This advanced network is crucial for supporting emerging technologies such as the Internet of Things (IoT) , smart cities, autonomous vehicles, and augmented/virtual reality.
While full-scale 5G deployment is still underway, Ankara has witnessed the establishment of 5G test zones and pilot projects. These initiatives aim to explore the potential of 5G technology, measure its performance, and understand its real-world implications. As the infrastructure continues to evolve, Ankara is expected to experience wider 5G coverage and the integration of innovative use cases that will revolutionize various industries and sectors.
Efforts are being made to expand coverage to suburban and rural areas to ensure no matter residents or travelers can benefit from these advanced networks!
Mobile Operators in Ankara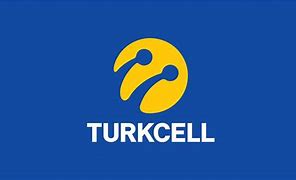 Image result for turkcell
As Turkey's leading mobile operator, Turkcell offers comprehensive network coverage in Ankara. With a strong emphasis on innovation and customer satisfaction, Turkcell provides a wide range of mobile services, including voice, data, and value-added offerings. Their network utilizes advanced technologies to deliver reliable and high-speed connectivity to its subscribers in Ankara.
Image result for vodafone
Vodafone is another prominent mobile operator serving Ankara. With a robust network infrastructure, Vodafone offers reliable voice and data services to its customers. The company focuses on delivering a seamless mobile experience and has invested in expanding its coverage and capacity to meet the growing demands of Ankara's population.
Image result for Türk Telekom
Türk Telekom is a leading telecommunications company in Turkey, providing landline, broadband, and mobile services. With a strong presence in Ankara, Türk Telekom delivers reliable network coverage and a wide range of mobile plans to cater to the diverse needs of its customers. The company's commitment to innovation and service quality ensures a satisfactory mobile experience for its users.
Please note that*** there may be smaller mobile operators serving Ankara as well, but the three mentioned above are the major players offering comprehensive services to the residents and visitors of the city.
It's essential to evaluate the specific plans and offerings provided by each mobile operator to determine the one that aligns with your needs and preferences.
How to get an Ankara eSIM?
Well, it has to be noted that before you finally make a decision to get one eSIM, you have to check whether your device is eSIM-compatible .
To acquire an Ankara eSIM, you can follow these steps:
Look for reliable eSIM providers that offer services in Ankara. Some popular options include Holafly, ByteSIM, Truphone, Ubigi, and TravelSIM. Visit their websites to explore the available eSIM plans and benefits.
Consider your data and communication needs to select an eSIM plan that fits your requirements and budget. Look for plans that offer fast 4G or 5G network connections, unlimited data options, and customer support.
Once you have chosen a provider and plan, proceed with the purchase. Most eSIM providers allow you to buy the eSIM card directly from their website or through their app. You may need to provide your device and contact details to complete the purchase.
Let's choose ByteSIM as an example:
After searching on the relevant online store website, move your cursor on/tap on the " Destination" and it will display a variety of destination selections for you(or you can just enter the country/region name on the Search Box)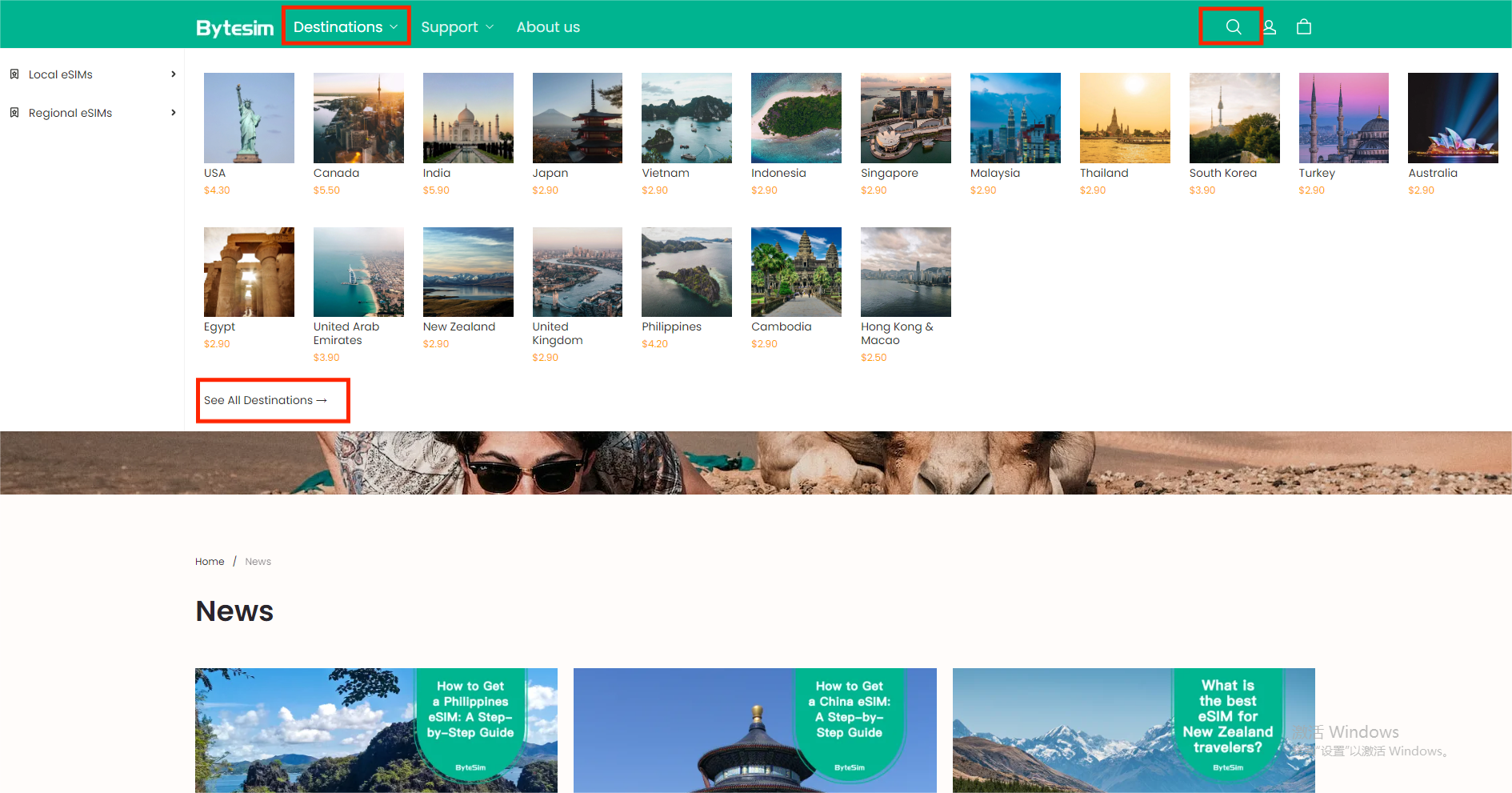 Then click/tap the corresponding icon, and the specific destination product webpage will be loaded. As you can see, data plan information such as Network, Plan Type, Activation Policy, Shipping Way, Delivery time, and Coverage need to be carefully checked before further purchase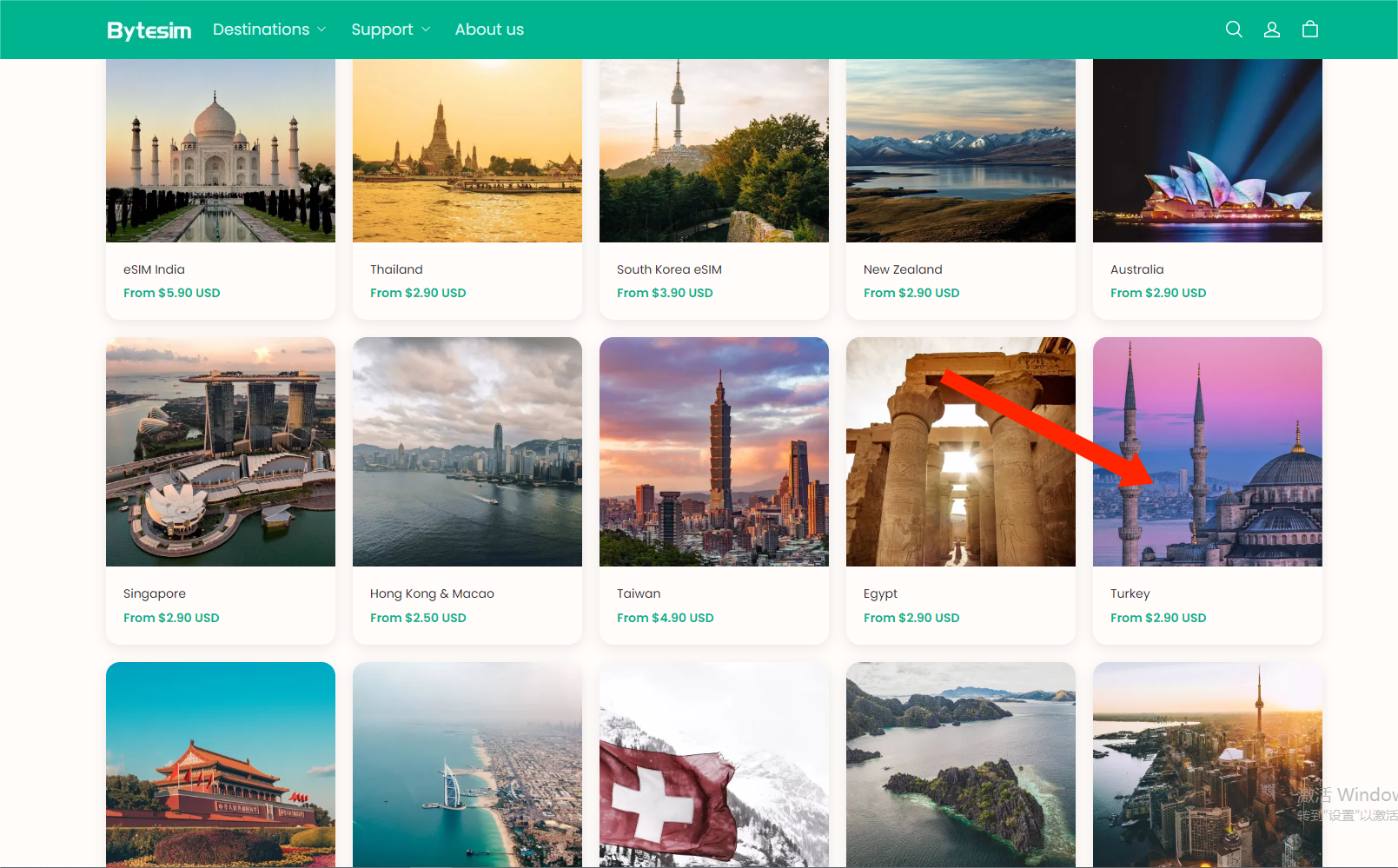 By scrolling down the page, you have the option to customize your eSIM plan with different data amounts (ranging from 300MB to 20GB), validity time (ranging from 1 day to 30), network speed (4G-TLE/5G) and quantities. In each specific destination, you have a total of 40-50 options available to you.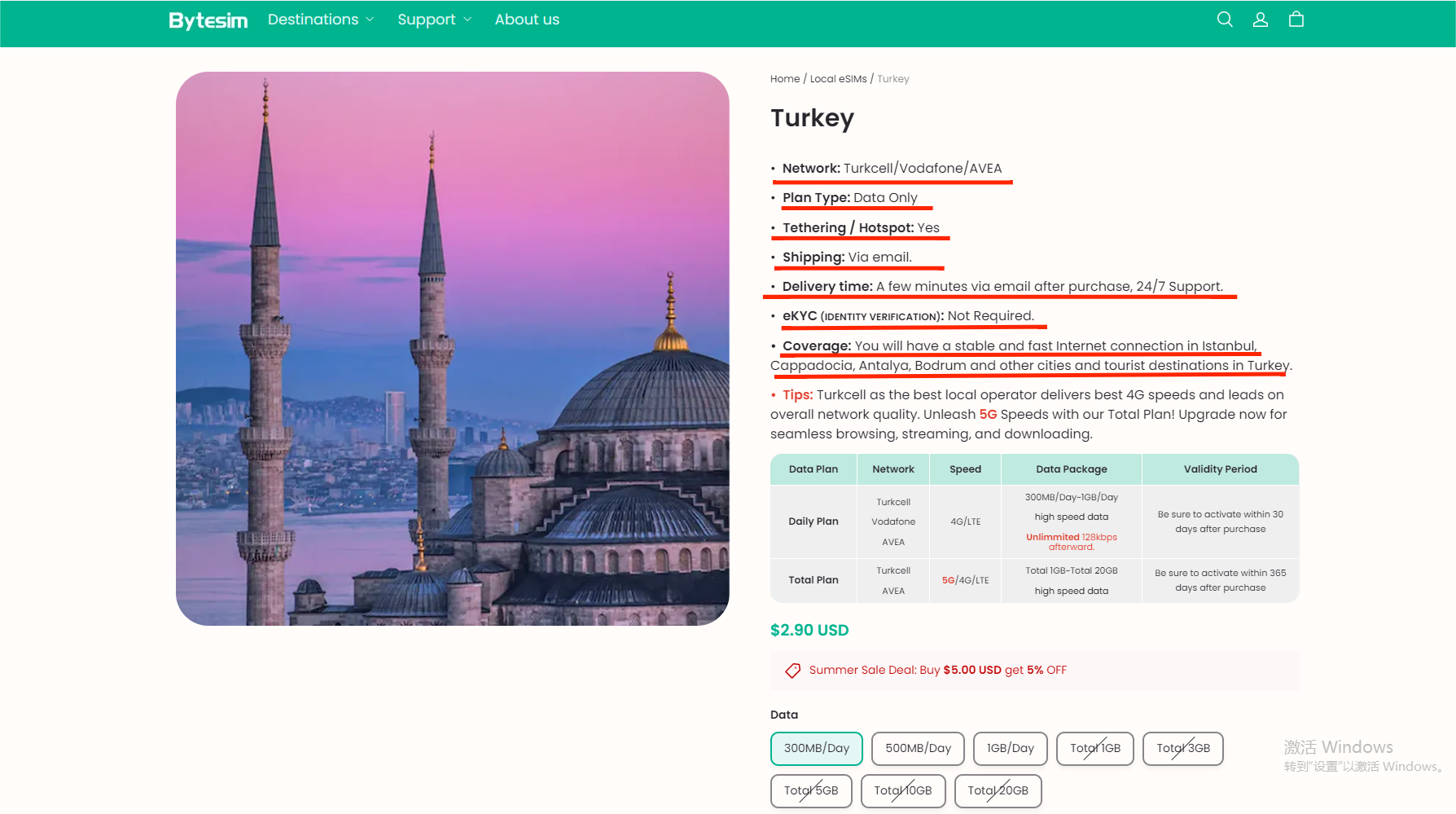 Simply click/tap on the purchase button and your Turkey eSIM will be ready for you now that you have completed all the selections. Among the 16 ways of payment, options such as VISA, MasterCard, Paypal, AMEX, JCB, Paynow, ApplePay, and similar methods are available.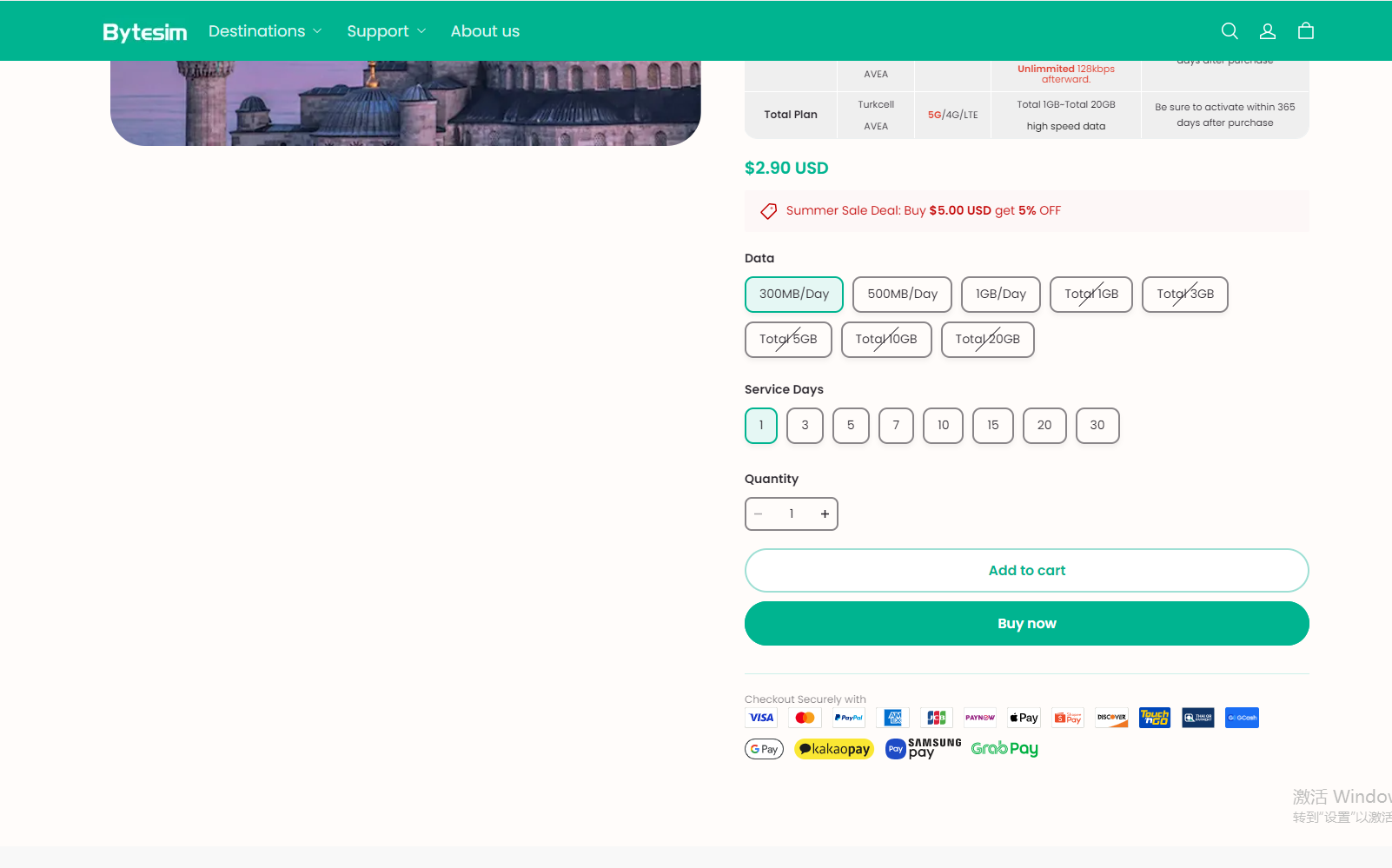 Install&Activate the eSIM
After purchasing the eSIM, you will need to activate it on your device:
Click/tap here to get the detailed eSIM installation instructions***
1. Scan the QR code
Within the eSIM settings, select the option to add a new eSIM plan or scan a QR code. Use your device's camera to scan the QR code provided by your eSIM provider. The camera will automatically detect and read the QR code.
2. Follow the on-screen instructions
Once the QR code is scanned, your device will retrieve the information from the code and guide you through the setup process. This may include confirming the eSIM details, activating the plan, and finalizing the configuration.
3. Activate the eSIM
Depending on your eSIM provider, you may need to perform additional steps to activate the eSIM. This could involve contacting your provider, following prompts in their app, or making a call to test the connectivity.
In most cases*** , you will be required to download a carrier app provided by the eSIM provider and follow the instructions to activate the eSIM.
Enjoy using your eSIM in Ankara
Once the eSIM is activated, you can start using it to enjoy fast and reliable mobile internet in Ankara. Connect to the local networks used by Ankara residents, benefit from lightning-fast download and upload speeds while you are surfing the FB/X, listening to online music, watching HD or even 4K videos and movies, or navigating on a real-time map and stay connected seamlessly during your time in the city!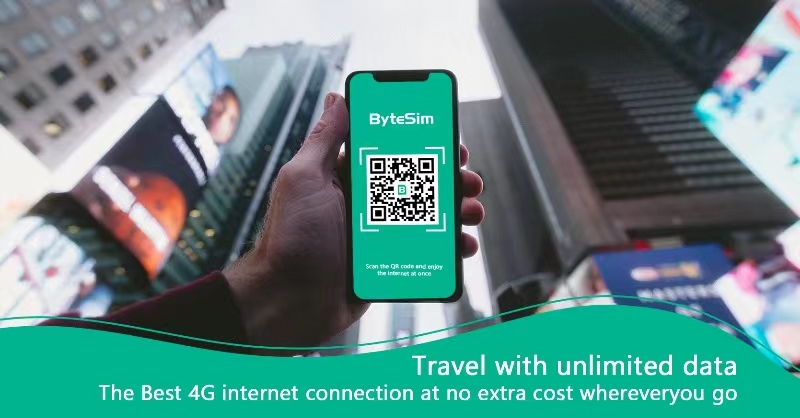 eSIM technology opens up new possibilities in mobile connectivity, providing users with greater flexibility, convenience, and reliability. With its dual-SIM capabilities, streamlined activation process, and space-saving design, eSIM offers a glimpse into the future of mobile communication. As more devices embrace this technology, the edges of eSIM will continue to shape and enhance our mobile experiences, making our lives more connected and convenient in Ankara, Turkey and all over the world than ever before!
Comment