eSIM for International Travelers in the Philippines
Nov 18,2023 | wilming
Telecommunications are evolving rapidly, and one notable recent innovation is eSIM technology. It's a game-changer for international travelers, offering convenience and flexibility. eSIMs provide a more efficient, cost-effective, and hassle-free way to stay connected while exploring the world.
In this guide, we'll explore eSIMs and how they're transforming the way travelers stay connected in the Philippines. Understanding these shifts in mobile connectivity is crucial.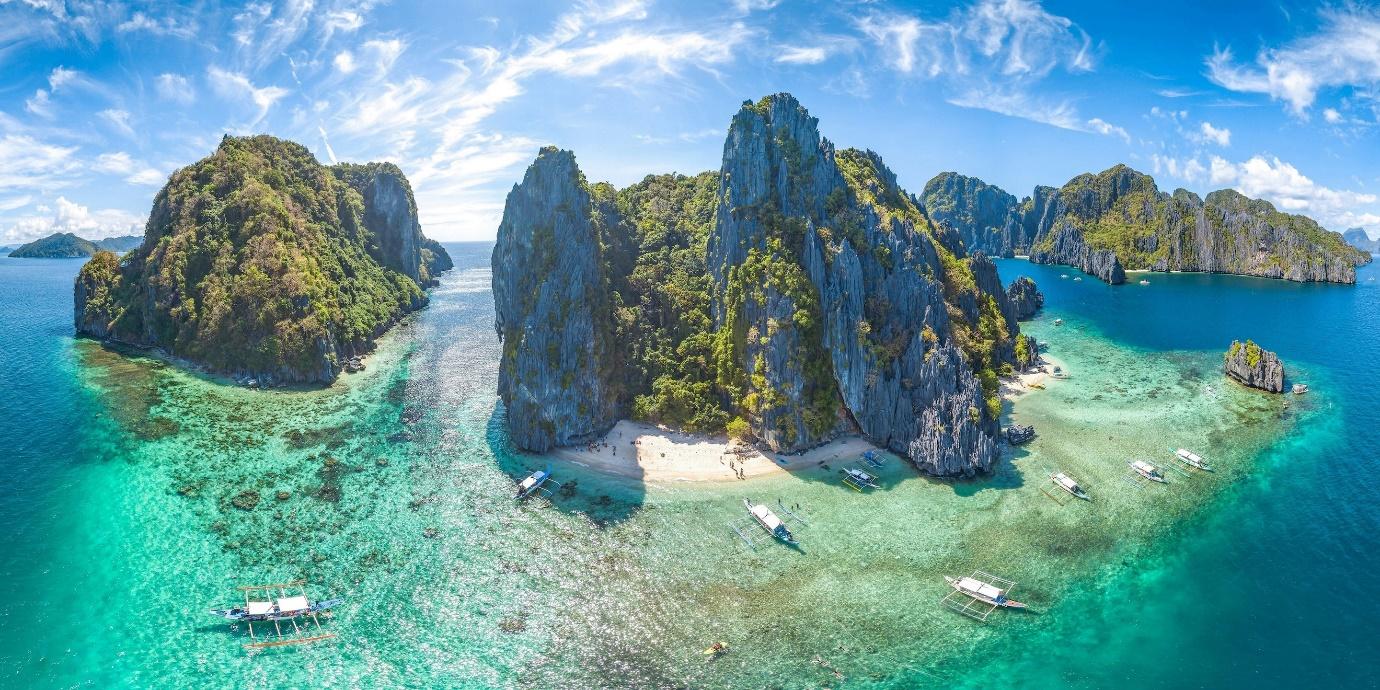 The Evolution of Mobile Connectivity: eSIM Unveiled
● What is eSIM?
Traditional SIM cards have been an integral part of mobile communication for years, but eSIMs, or embedded SIM cards, are changing the landscape. Unlike physical SIM cards that need to be swapped out when changing carriers or traveling abroad, eSIMs are embedded directly into your device. This technology allows for remote provisioning of mobile services, eliminating the need for a physical SIM card. This revolution in SIM card technology has been a game-changer, making it easier than ever for users to switch between mobile carriers and data plans, offering unprecedented flexibility and convenience.
With traditional SIM cards, you often find yourself managing multiple physical cards, juggling their installation, and dealing with the risk of losing or damaging them. In contrast, eSIMs are built into your device, eliminating these hassles and streamlining the process of managing your mobile connectivity.
● Uncovering the Versatility of eSIM Technology
One of the most significant advantages of eSIM technology is its flexibility, especially for international travelers. With eSIM, you can switch between carriers and data plans without needing to visit a store or replace your SIM card. This convenience makes eSIMs an ideal choice for travelers who frequently visit different countries and require varying data plans. Imagine landing in the Philippines and being able to switch to a local carrier's data plan without any hassle, all through a few simple taps on your mobile device. That's the power of eSIM technology.
The traditional process of buying a local SIM card when traveling can be a daunting task. Language barriers, unfamiliar stores, and the risk of overpaying for services are common challenges. With eSIMs, you can bypass these inconveniences. You can purchase and activate an eSIM from the comfort of your home or even while on your flight to the Philippines. This convenience ensures that you are connected as soon as you land, without any unnecessary delays.
● Exploring eSIM Availability in the Philippine Mobile Market
In the Philippines, eSIM technology has gained traction, offering a new level of convenience to both tourists and locals. Major carriers such as Globe and Smart have embraced eSIM technology, allowing users to enjoy high-speed mobile data services without the need for a physical SIM card. This means that travelers can easily stay connected to these local networks without having to go through the traditional process of purchasing a physical SIM card.
The availability of eSIM support in the Philippines means that you have the option to choose a local carrier and data plan that suits your needs. You are no longer restricted to using international roaming services, which can be expensive. This opens up a world of possibilities for travelers looking to stay connected in the Philippines while enjoying local rates.
● Purchasing eSIM Cards and Activation Codes
To obtain an eSIM card in the Philippines, the process is relatively straightforward. Users can purchase eSIMs online from reputable providers and receive activation codes via email. This digital process eliminates the hassle of visiting physical stores, making it an ideal choice for travelers who need immediate connectivity upon arrival. With eSIMs, the activation process is as simple as receiving an email and scanning a QR code. No more waiting in long lines at airports or local stores to get a physical SIM card – eSIMs offer a swift and convenient alternative.
Bytesim, a prominent eSIM provider, offers a seamless online experience for travelers. With Bytesim, you can explore different eSIM data plans that cater to your data needs while traveling in the Philippines. The purchase and activation process with Bytesim is user-friendly, ensuring that you have a smooth experience from the moment you land in the Philippines.
Advantages of eSIM in International Travel
Now let's take a deep look at the major advantages of eSIMs over ordinary physical SIM cards.
● Cost Savings and Convenience
One of the primary advantages of eSIM for international travel is the potential for significant cost savings. International roaming can be expensive with traditional SIM cards, but eSIMs offer the flexibility to choose from a wide range of data plans designed for travelers. This flexibility ensures that you only pay for the data you need, making international travel more economical.
Traditional SIM cards often come with hidden costs, including exorbitant roaming charges, international SMS fees, and the need to purchase additional SIM cards if your travels take you to multiple countries. With eSIMs, you can select from a variety of data plans tailored to your stay in the Philippines. Whether you need data for a few days or an extended stay, eSIMs give you the freedom to choose the most cost-effective option.
● Effortless Mobile Network Switching with eSIM
Another significant benefit of eSIMs is the convenience of not having to swap out physical SIM cards when traveling internationally. Traditional SIM card swapping can be a cumbersome process, often requiring you to cut or replace your existing SIM. With eSIMs, you can easily switch between carriers and data plans, making it a hassle-free experience.
The inconvenience of changing physical SIM cards becomes apparent when you are in the midst of your travels. Not only do you need to find a store selling SIM cards, but you also need to ensure that the SIM card is compatible with your device and comes with the right data plan. With eSIMs, you have the flexibility to switch between carriers and data plans through your device's settings, allowing you to focus on enjoying your journey through the Philippines.
eSIM Activation Unveiled: What You Need to Know

● Hassle-Free eSIM Activation Guide
Activating an eSIM in the Philippines is a straightforward process. Users can follow these general steps:
First go to Settings on your mobile device.
Then select Cellular.
Now tap on Add Data Plan.
Use your device to scan the purchased eSIM QR code you received.
This process ensures that you can activate your eSIM as soon as you land in the Philippines, without the need to visit a physical store. The simplicity of these steps makes it accessible to travelers of all technical backgrounds.
● Customized eSIM Activation Guidelines
While the general activation process remains consistent across various eSIM-compatible devices, there may be minor differences depending on the specific device you use. Therefore, it is essential to follow the manufacturer's instructions for your phone or tablet to ensure a smooth activation process. Whether you have an iPhone, Android device, or other eSIM-compatible device, the manufacturer's guidelines will guide you through the activation process.
Keep in mind that if you are using an older device, it may not support eSIM technology. It's advisable to check your device's compatibility before purchasing an eSIM.
Seamless Connections: eSIM Plans for Every Need
For international travelers visiting the Philippines, choosing the right eSIM plan is crucial. Bytesim, a reliable eSIM provider, offers a range of data and calling options tailored to the needs of travelers. Bytesim's eSIM data plans are designed to provide seamless connectivity, allowing you to stay connected during your visit to the Philippines.
Bytesim understands the diverse needs of travelers and offers a variety of eSIM data plans to cater to different preferences. Whether you're a short-term visitor or planning an extended stay, Bytesim has options to suit your data requirements. From light data users to those who need high-speed connections for business or leisure, there's a Bytesim eSIM plan that fits your needs.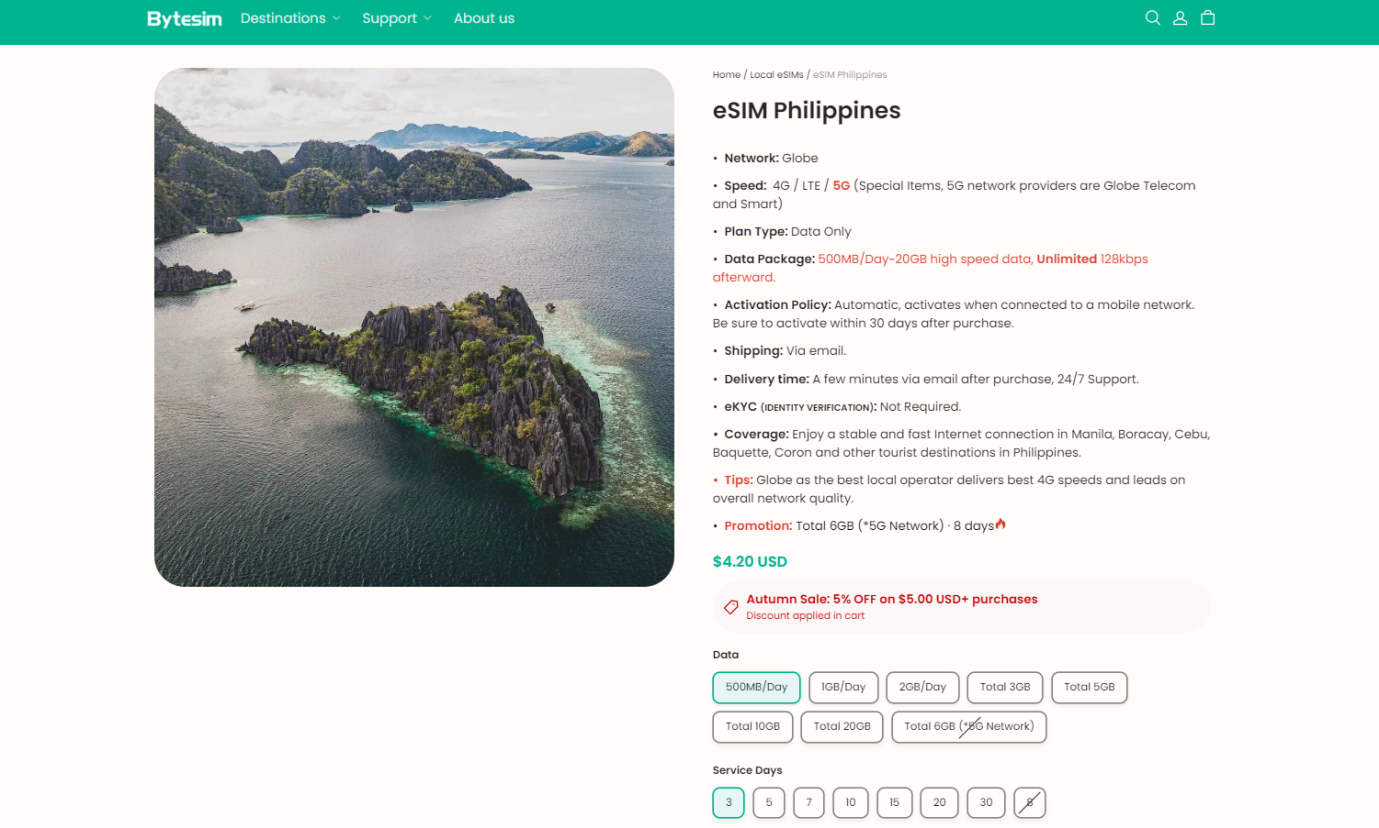 Data: Bytesim offers a variety of data packages, ranging from 500MB/Day to 20GB high-speed data. The plans also include unlimited data at 128kbps after you've used your high-speed data.
Service Days: Bytesim's eSIM plans range from 3 to 30 days, giving you the flexibility to choose the duration that matches your stay in the Philippines.
Quantity: You can purchase the number of eSIMs you need, ensuring that you have coverage for all your devices.
Bytesim also offers an enticing promotion Sale from time to time, providing a discount on purchases depending on your purchase amount. This discount is applied automatically to your cart, making Bytesim an even more attractive option for travelers.
Final Thoughts
In conclusion, eSIM technology is transforming the way international travelers stay connected, and the Philippines is no exception. The convenience, cost savings, and flexibility of eSIMs make them an ideal choice for those exploring this beautiful country. By adopting this technology early, you not only enhance your travel experience but also prepare yourself for the evolving mobile landscape. Whether you're on a business trip or vacation, the ease of purchasing, activating, and switching between eSIMs will enhance your travel experience.
Just dive into the eSIM technology and take advantage of Bytesim's eSIM in the Philippines data plans when traveling to the Philippines. With Bytesim, you can enjoy uninterrupted connectivity and explore the Philippines with ease. Say goodbye to the hassle of traditional SIM cards and embrace the future of mobile connectivity with eSIMs. Travel smarter, travel with eSIM, and experience the freedom and flexibility it offers. Your journey through the Philippines will be more convenient, economical, and connected than ever before.
Comment