Bond with Brazil eSIM! Brazil Travel Guide 2023(Part Two)
Sep 28,2023 | Tom
Photo brazil flag is depicted in liquid watercolor style isolated on white
In the last article " Bond with Brazil eSIM!----Brazil Travel Guide 2023(Part One)", we have introduced the brief introduction, notes and preparations you need to know before traveling to Brazil. Hope this does help your Brazil journey!
In this article, we are going to explore natural wonders, cultural heritage, festivals, and specialties in Brazil. Are you ready to enjoy the exotic and vibrant elements of the land?
Now, let's dig in!
You may be interested in:
Is my phone compatible with eSIM?***
Natural Scenes
Brazil is blessed with breathtaking natural wonders that will leave you in awe!
Iguazu Falls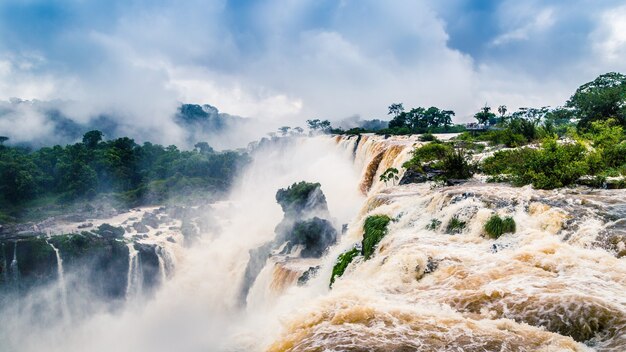 landscape of a waterfall surrounded by forests covered in fog under a cloudy sky
The magnificence of Iguazu Falls is indescribable in pictures alone, not to mention the shocking sound! Iguazu Falls, situated on the border of Argentina and Brazil, is the widest waterfall in the world. It has a horseshoe shape, spanning 4 kilometers in width and standing at a height of 82 meters. The falls are created when the Iguazu River and the Parana River converge, 23 kilometers upstream. It definitely makes your adrenaline surge standing in front of the Devil's Throat!
Sugarloaf Mountain
bird's eye view of an ocean with mountains surrounded by clouds
Sugarloaf Mountain is named for its resemblance to French bread. Located at the entrance to Guanabara Bay, it is one of the symbols of Rio de Janeiro. At the top of the 396-meter-high Bread Mountain, you can have a panoramic view of Rio. Bread Mountain is bordered by two slightly lower peaks, Dog-face Mountain and Urka Mountain, both 215 meters high. The city of Rio was founded between these two hills in 1565, and the old castle of SAN Joao, which defended the city, can still be seen at the foot of the hill.
Copacabana Beach
Photo rio de janeiro people relax on sidewalk in copacabana. on weekends avenue near beach is closed for traffic and became a leisure place
Copacabana Beach is known as the most famous beach in the world, 4.5 kilometers along the coast, the sea is blue, the waves are white, the sand is clean and soft, and the temperature is suitable for playing in the water all year round. The beach is decorated with colorful parasols and swimsuits, and bikini girls with hot figures are also a sight on the Rio coast!
Mount Roraima
Provided by todamateria.com.br
Mount Roraima, a tabletop mountain standing at 9,186 feet high, straddles the border of Brazil, Venezuela, and Guyana, boasting a summit of 19 square miles and sheer cliffs that soar up to 1,330 feet high. As one of the oldest geological formations on Earth, its prehistoric vibe is out of your imagination. Many of its rocks originate even 2 billion years ago! Heavy rainfall throughout the year at the top of Mount Roraima leads to the formation of several sporadic and temporary waterfalls off the plateau.
Ilha de Marajó
aerial view of a beautiful tropical beach with white sand and turquoise clear water
Another such gem is Ilha de Marajó, an ecologically preserved island equal to the size of Switzerland, located at the mouth of the Amazon River. This hidden paradise boasts pink-hued sandbanks, lush vegetation, and unique buffalo-mounted waters.
Chapada dos Veadeiros
waterfal in iguazu national park
Last but not least, the must-visit destination is Chapada dos Veadeiros, a vast national park in Goiás. Explore the quartz stones and healing crystals that adorn the park, or take a dip in the natural pool formed by Pedreiras waterfall. The surreal rock formations of Vale da Lua will bring you to another world.
Cultural Heritage
The Statue of Christ (Jesus Mountain)
Photo rio de janeiro brazil
Jesus Mountain is located in Brazil's second-largest city in Rio de Janeiro. The Statue of Christ is 38 meters high, 28 meters wide and weighs more than one thousand tons. Jesus faces the ripening Atlantic Ocean, and his open arms look like a huge cross from a distance, which is solemn and dignified. The huge statue of Jesus, built at the top of this mountain, can be seen day or night from most of the city and has become the most famous symbol of the Brazilian city of Rio de Janeiro.
The Cathedral of Rio de Janeiro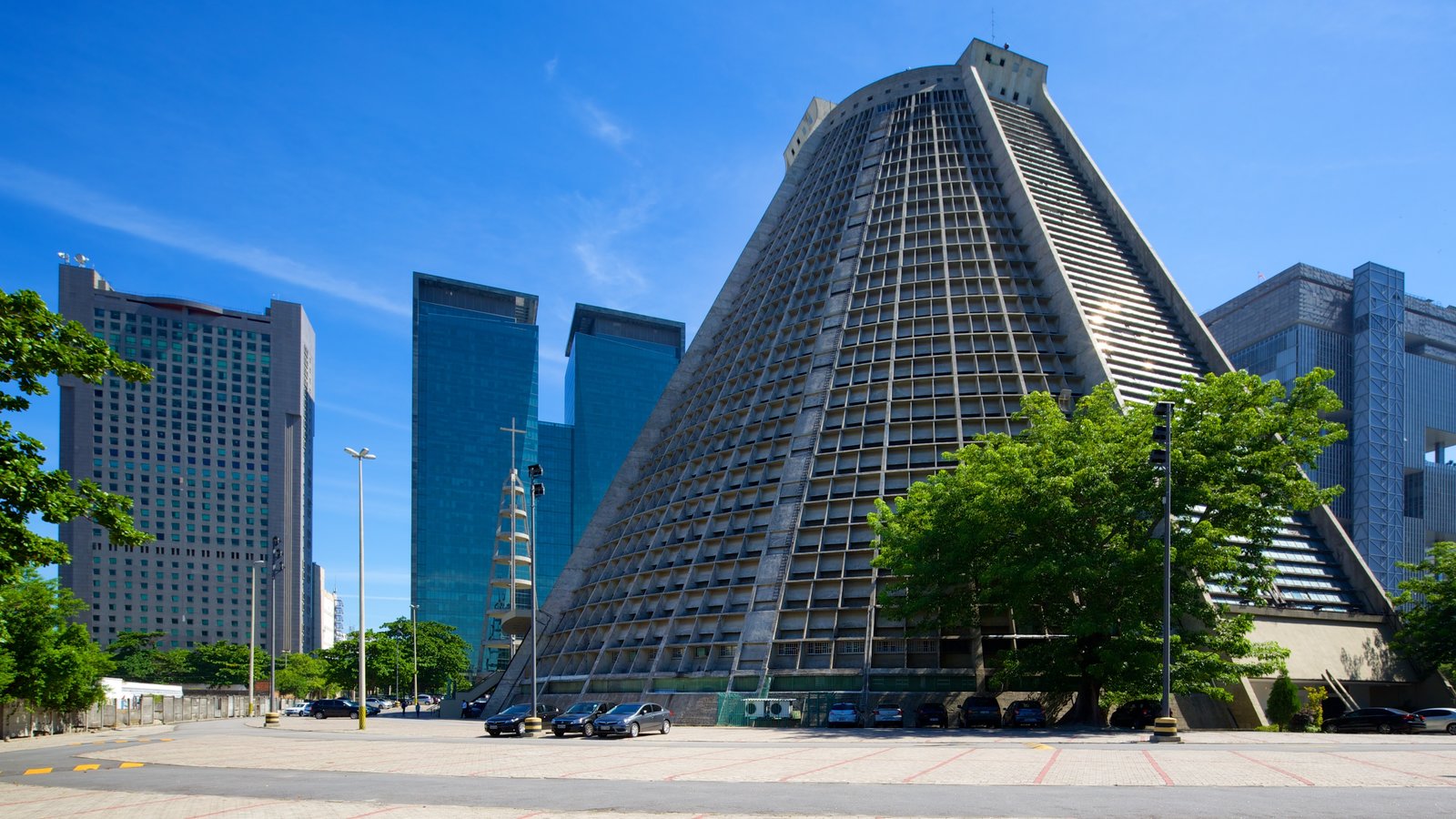 Provided by www.voceviajando.com.br
The Cathedral of Rio de Janeiro, also well-known as The Ladder Cathedral is said the largest church in all of Latin America, resembling a crown in appearance and also bearing the title of Crown Church. The main building of the Cathedral of Rio de Janeiro is a cone-shaped top, the interior is magnificent. The huge cross skylight on the top together with the decoration on the church walls creates a shocking feeling of "radiating light of the cross". It is one of the landmark buildings of Rio de Janeiro and a masterpiece of modern art.
The Maracana Stadium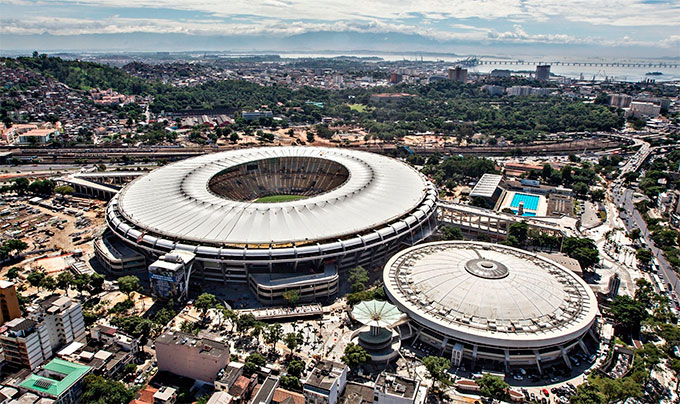 Provided by Business Website
The Maracana Stadium, officially known as Estadio Jornalista Mario Filho, is a professional football stadium in the city of Rio de Janeiro, Brazil, with a capacity of 80,000 spectators. The stadium was built for the 1950 FIFA World Cup in Brazil and served as the venue for the 1950 FIFA World Cup final, the 2013 FIFA Confederations Cup, the 2014 FIFA World Cup in Brazil and the opening and closing ceremonies of the 2016 Rio de Janeiro Olympic Games.
The "Favela"
photo beautiful view of a small town in the mountains during sunset in brazil
The Favela in Brazil has a local name. It is called Favela. The 2002 film " City of God" introduced the world to Brazil's slums. Through the efforts of all sectors of society, the government began to pay attention to the development of slums and opened slum Tours to guide tourists to visit slums and generate income for residents living in them. Residents also sell paintings, souvenirs, handmade crafts, and bread and snacks to visitors. As the saying goes, "Heaven goes with hell," and this is the reality. People who tend to learn more about the lives of local people in the local slums can take a visit here.
The Selaron Steps
photo colorful selaron steps in rio de janeiro, brazil
Besides, there are many street graffiti and artworks such as " Selaron Steps" created by Selaron . The Escadaria Selaron (Selaron Steps) in LAPA is a must-have for the cultural tour of Rio. In 1990, Chilean artist Selaron began to decorate it with tiles recovered from garbage dumps and later added donations from tourists from all over the world and he completed the 250-story works in total.
This section of the steps in the favela is a very famous photo spot in Rio, has become one of the landmarks of Rio, The United States National Geographic Channel, Playboy magazine, and many famous musicians such as U2's "Walk On" music video, Snoop Dogg's music video have been shot here.
Traditional Festivals
Brazil is renowned for its vibrant festivals and activities:
Carnival
Photo lets dance all our troubles away cropped shot of beautiful samba dancers performing in a carnival with their band
Undoubtedly Carnival is the largest festival in Brazil! Carnival is known worldwide for its non-stop one week of partying. It features large parades of samba with flamboyant costumes and energetic dancing. Major cities such as Rio de Janeiro, Salvador, and Recife have the biggest parades and parties. Experience the energy and passion as samba schools compete for glory!
Festa Junina
Photo colorful flags and decorative balloon for the saint john party in northeastern brazil
Celebrated throughout the whole of Brazil during the entire month of June, Festa Junina is a celebration of Saint John the Baptist. It highlights rural life with traditional clothing, food, and dances. Typical items include checkered shirts, straw hats, canjica (a corn dish), pé-de-moleque (peanut brittle), and cake.
Parintins Folklore Festival
Photo square dance performing at the feast of saint john campina grande paraiba brazil
Held in Parintins, Amazonas, this festival is the second largest in Brazil after Carnival. It takes place over three days at the end of June and celebrates Amazonian folklore and indigenous culture. The festival features a competition between the Garantido and Caprichoso teams, who retell the story of a resurrected ox through dances, singing, and parades.
Oktoberfest
Photo oktoberfest munich germany waiter with traditional costume holding beers
This traditional German festival has become extremely popular in Brazil, especially in Blumenau, Santa Catarina. Usually held in the middle of October, Oktoberfest celebrates German cuisine, beer, and culture. There are traditional folk costumes, singing, dancing, and street parties. The festival also includes a beauty pageant to crown the Queen and Princesses of Oktoberfest.
Lavagem do Bonfim
Image result for Lavagem do Bonfim in Brazil image
A religious festival held in January on the second Sunday after Epiphany (Day of Kings) in Salvador, Bahia, Lavagem do Bonfim is a vibrant celebration of the Bonfim Church. Participants dress in white and from the Church of Our Lady of Conceição to the Bonfim Church, cleansing the way with water and flowers. The festival combines religious devotion, music, and dance.
Bumba Meu Boi
Image result for Festival do Boi Bumba in Brazil image
This traditional folk festival, also known as Festival do Boi Bumba, is held in various regions of Brazil, particularly in northern states such as Maranhão and Amazonas. It tells the story of the resurrection of an ox through colorful parades, dances, music, and theatrical performances. Bumba Meu Boi is typically celebrated from June to August. The exact dates can vary depending on the specific location and community where the festival is taking place.
Brazil is a country known for its rich and diverse culinary heritage. Here are some specialties that showcase the unique flavors and culinary traditions of Brazil:
Brazilian Specialties
Feijoada
a plate of food with a plate of food with a red sauce and a yellow sauce.
Considered the national dish of Brazil, feijoada is a hearty black bean stew made with various cuts of pork, beef, and smoked sausages. It is typically served with rice, collard greens, farofa (toasted cassava flour), and orange slices.
Coxinha
Photo coxinha of chicken brazilian snack
Coxinha is a popular Brazilian street food. It is a deep-fried pastry filled with shredded chicken, cream cheese, and seasonings. The dough is usually made from cassava flour and potato, resulting in a crispy exterior and a savory, creamy filling.
Brigadeiro
Photo brazilian brigadeiro brigadier traditional candy for party with chocolate sprinkles
Brigadeiro is a beloved Brazilian sweet treat. It is made with condensed milk, cocoa powder, butter, and chocolate sprinkles. These chocolate fudge balls are rolled in sprinkles and enjoyed at parties, festivals, and as a delicious dessert.
Acarajé
Photo typic acaraje traditional brazilian dumpling made with blackeyed peas
Acarajé is a traditional snack from the state of Bahia. It consists of a deep-fried ball of black-eyed pea dough stuffed with shrimp, vatapá (a spicy shrimp and peanut paste), and caruru (a sauce made from okra, onions, and palm oil). It is often sold by street vendors.
Pão de Queijo
photo cream puff on plate
Pão de queijo translates to "cheese bread" and is a popular Brazilian snack. These small, chewy rolls are made with cassava flour, cheese (usually a type of Brazilian cheese called "queijo Minas"), eggs, and oil. They are a delightful combination of savory and cheesy flavors.
Moqueca
Photo delicious food in a frying pan closeup
Moqueca is a delicious seafood stew that originated in the northeastern region of Brazil, particularly in the states of Bahia and Espírito Santo. It is made with fish or shrimp cooked in a flavorful broth of coconut milk, palm oil, tomatoes, onions, garlic, and various spices. It is often served with rice and farofa.
In conclusion, Brazil offers a kaleidoscope of experiences, from its stunning natural scenes to its rich cultural heritage, vibrant festivals, and tantalizing specialties. Whether you seek adventure in the Amazon rainforest, immerse yourself in samba rhythms, or indulge in mouthwatering dishes, Brazil promises to leave you with unforgettable memories. Come and explore the wonders of Brazil, where diversity and beauty converge in a celebration of life!
(This article is written in the name of ByteSIM)
If you are going to travel around Brazil with a convenient and compatible eSIM data plan, welcome to ByteSIM and feel free to contact us with any eSIM questions( FAQs). We are 7/24 here to help you!

Comment