Bond with Mobile Hotspot
Aug 29,2023 | Tim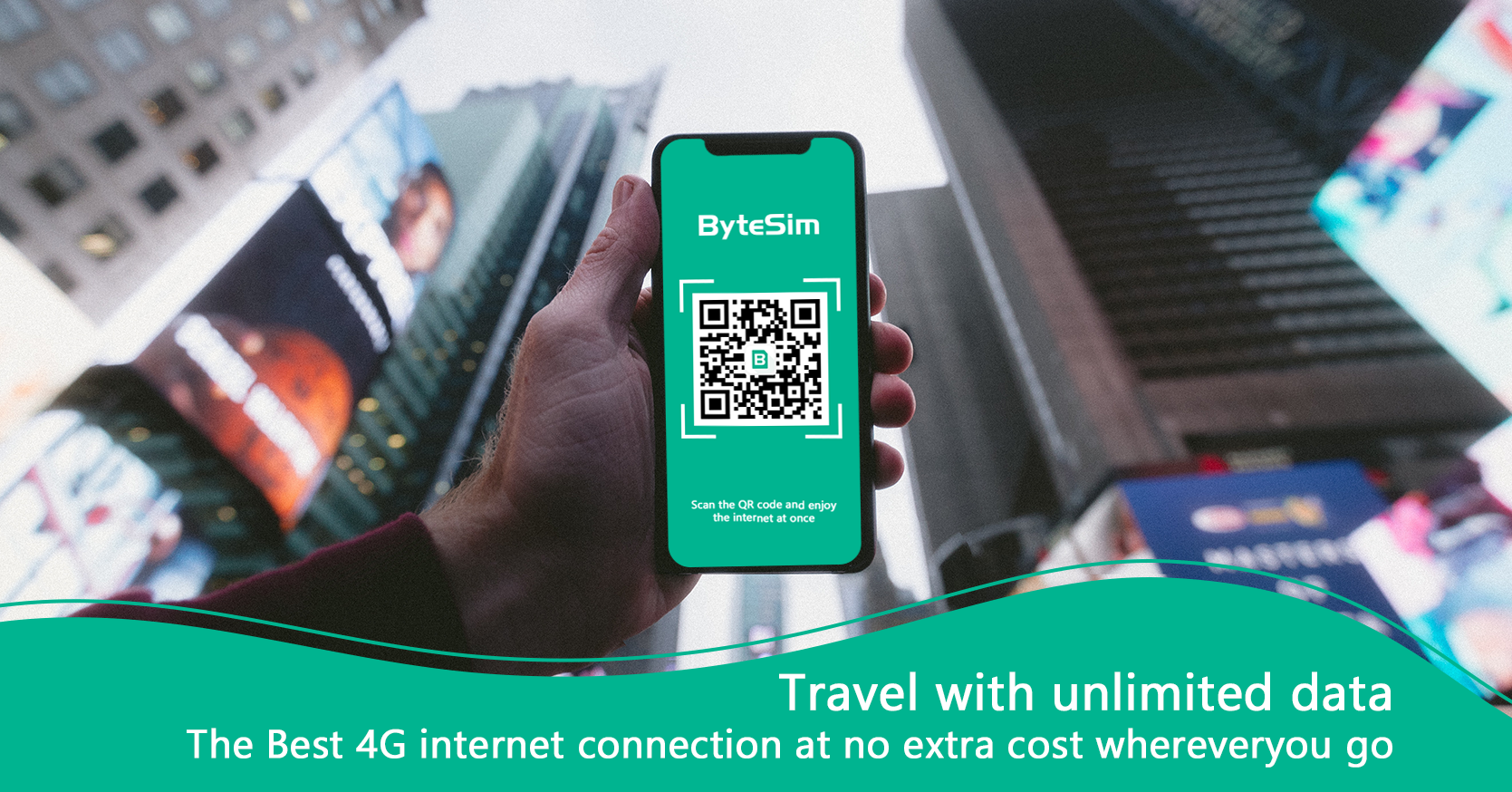 Welcome to www.bytesim.com if you NEED an eSIM data plan while traveling around the world. This message is written in the name of ByteSIM.
What is a Mobile Hotspot?
A mobile hotspot, also known as tethering, allows you to share your smartphone's internet connection with other devices such as laptops, tablets, or other smartphones. It essentially turns your smartphone into a portable Wi-Fi router, allowing other devices to connect to the internet using your cellular data connection.
How to set up a Hotspot?
For Android
Here are steps for setting up a hotspot on an Android device:
Open the " Settings" on your Android device.
Look for the " Network & Internet" or " Connections" option and tap on it.
Find and select the " Hotspot & Tethering" or " Mobile Hotspot" option.
Tap on " Mobile Hotspot".
Configure the hotspot settings(choosing a network name (SSID) and a strong password for security).
Once the hotspot is set up, you can find the network name (SSID) and password to share with other devices that want to connect.
For iOS
Here are steps on how to set up a hotspot on iOS:
Go to the " Settings" on your iPhone or iPad.
Tap on the " Personal Hotspot" option (If you don't see this option, contact your carrier to ensure that you have the necessary plan to use a personal hotspot).
Toggle the switch to turn on the Personal Hotspot.
*You can choose to set a Wi-Fi password for your hotspot by tapping on " Wi-Fi Password" and entering a password of your choice for security.
Once you have enabled the personal hotspot, you will see the name of your hotspot and a Wi-Fi password.
On the device that you tend to connect to the hotspot, go to its Wi-Fi settings and look for the name of your hotspot network.
Tap on the hotspot network and enter the password.
After connecting successfully, the device will now be able to use the internet connection from your iPhone or iPad.
PLS note that the process of setting up a hotspot may vary slightly depending on your device and operating system. If you encounter any difficulties or have specific questions, it's recommended to consult your device's user manual or contact your carrier for further assistance.
Mobile Hotspot in our life
Hotspot, also known as mobile tethering or simply tethering, refers to the process of sharing your smartphone's internet connection with other devices. It is everywhere in our daily life
Essentially, it allows other devices to connect to the internet using the data connection on your smartphone. This can be done through various methods, such as using Wi-Fi, Bluetooth or USB cable.
Wi-Fi tethering, also referred to as Wi-Fi hotspot or mobile hotspot, is a technique of tethering in which your smartphone generates a wireless access point. It allows other devices to connect and access the internet by broadcasting a Wi-Fi signal using the data connection on your smartphone.
This is particularly useful if the connected devices do not have their cellular capabilities.
Bluetooth enables devices to exchange data over short distances, making it a wireless communication technology. Commonly used for connecting devices such as smartphones, tablets, headphones, speakers, and keyboards to each other, it is.
Bluetooth is typically used between devices to transfer small amounts of data, such as audio, files, or control commands.
Connecting your smartphone to another device using a USB cable to share its internet connection is what USB tethering involves. When you connect your smartphone to a computer or another compatible device via USB, your smartphone's cellular data connection can be used to provide internet access to the device.
*For devices without Wi-Fi or Bluetooth capabilities, such as desktop computers, USB tethering proves to be particularly useful. It provides a direct and stable connection for sharing internet access.
Does Hotspot have limitations?
Unfortunately, it does exist. So we need to consider these limitations when using data tethering:
Most mobile carriers enforce data limits on mobile hotspots. This means that you may have a specific amount of data that you can use or a separate data allowance specifically for tethering. If you exceed these limits, you may face additional charges.
Some carriers may throttle the internet speed when using tethering. This means that the connection speed may be slower compared to using your smartphone directly.
Hotspot can consume significant battery power on your smartphone, especially if you are using the hotspot for an extended period. It is advisable to connect your device to a power source to avoid a battery-low situation.
Not all devices may be compatible with tethering. Ensure that the device you want to connect has the necessary Wi-Fi, Bluetooth, or USB tethering capabilities.
Notes for using Hotspot
When using data tethering, it is important to consider the following:
Tethering can consume a significant amount of data. Keep track of your data usage to avoid exceeding your data plan limits or facing additional charges.
Set a strong password for your hotspot to prevent unauthorized access to your internet connection. Be cautious when connecting to public Wi-Fi networks while tethering, as it may expose your connection and data to potential security risks.
As mentioned earlier, tethering can drain your device's battery quickly. Monitor your battery level and connect your device to a power source if possible.
Familiarize yourself with your mobile carrier's policies and restrictions regarding tethering. Some carriers may charge extra for tethering or have specific terms and conditions associated with its usage.
By considering these factors, you can make the most of data tethering while staying within your limits and ensuring a secure and reliable connection.

Comment