South Korea Travel Guide 2024
Aug 22,2023 | Tim
Geographical Position
South Korea, officially known as the Republic of Korea, is located in East Asia. It lies on the Korean Peninsula, with North Korea to its north and the East Sea to its east. Its southern tip is surrounded by the Korean Strait and the Yellow Sea lies to its west.
Climate
South Korea experiences four distinct seasons: spring, summer, autumn, and winter.
Spring (April - June): The weather is warm but not hot, with light rain possible.

Summer (July - August): It's hot, and the monsoon season brings heavy rain.

Autumn (September - November): This is arguably the best time to visit with its cool and dry weather as well as beautiful foliage.

Winter (December - March): The temperatures drop significantly, and it is often snowy, especially in mountainous areas.
Travel Tips
Transportation: Public transportation in South Korea is convenient and inexpensive. You can travel by metro, bus, and taxi within the cities and by high-speed trains or intercity buses for long distances. Consider buying a T-money card for convenient public transport and even purchases in convenience stores.
Network: Tourists can stay connected using free Wi-Fi available in public transportation, cafes, restaurants, hotels, and other public areas in South Korea. But if you want to surf the Internet more freely wherever and whenever you are, we recommend you purchase a ByteSIM eSIM( eSIM card for South Korea) card for your mobile devices. It's convenient and cheap to acquire a stable net.
Language: The national language is Korean , but English is widely understood, especially in major cities.
Currency: The currency is the South Korean won (KRW).

Culture Etiquette: South Koreans appreciate a respectful demeanor. It is customary to bow when greeting someone. Also, respect for hierarchy and seniors is ingrained in their Confucian culture.
Popular Festivals in South Korea
In South Korea, autumn is a wonderful time to visit as the weather is pleasant and there are several exciting festivals and events taking place. Here are some popular festivals and events held in autumn:
Happiness asian multi generation dining
Chuseok (Korean Thanksgiving): Chuseok is one of the most significant holidays in Korea, celebrating the harvest and honoring ancestors. It usually falls in September. Families gather, pay respects at ancestral graves, and enjoy traditional activities like making and sharing songpyeon (rice cakes).

Gimje Horizon Festival: Held in Gimje City , Jeollabuk-do province, this festival takes place in late September or early October. It celebrates the region's agricultural heritage and features events like rice harvesting, traditional music and dance performances, and a grand procession.

Busan International Film Festival (BIFF): BIFF is one of Asia's most prominent film festivals, held annually in Busan in October. It showcases a wide range of films from around the world and attracts both international and domestic filmmakers and movie enthusiasts.
Elegant mask of venetian carnival
Andong Mask Dance Festival: Taking place in Andong, Gyeongsangbuk-do province , this festival celebrates traditional mask dance performances. It usually occurs in late September or early October. Visitors can enjoy cultural performances, mask-making workshops, and street parades.
Seoul Lantern Festival: This festival occurs in November along the Cheonggyecheon Stream in Seoul. It features numerous lantern installations, depicting various themes and cultural icons. Visitors can enjoy the beautiful lantern displays and cultural performances.
Photo lantern decoration garden park in new year festival
Jinju Namgang Yudeung Festival: Held in Jinju, Gyeongsangnam-do province, this festival showcases thousands of traditional lanterns floating on the Namgang River . The festival takes place in October and includes various cultural events, including a lantern parade and fireworks display.
The soldier march changing of the guard demonstration
Gwangju Kimchi Festival: held in Gwangju City , this festival showcases Korea's most beloved dish, kimchi. Visitors can learn about the kimchi-making process, participate in cooking competitions, and sample different varieties of kimchi. The festival usually takes place in late October or early November.
Delicacy
A variety of food including shrimp, rice, and vegetables
South Korean cuisine is flavorful and varied. Must-try dishes include:
Scenic Spots
Gyeongbokgung palace
Seoul: The capital city offers a mix of modern skyscrapers, high-tech subways, street markets like Namdaemun, ancient palaces such as Gyeongbokgung, and Buddhist Temples. Don't miss visiting the N Tower for panoramic views of the city.
Haedong yonggungsa temple and haeundae sea in busan, south korea
Busan: This coastal city offers beautiful beaches, hot springs, and seafood. Haeundae Beach and Gwangalli Beach are among the famous spots. The city also hosts the Busan International Film Festival.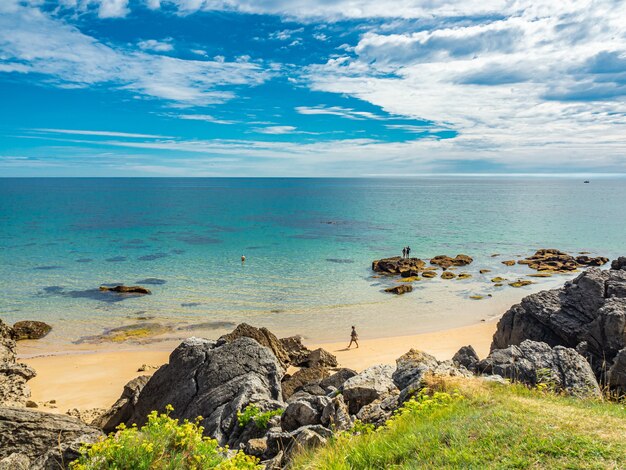 Panoramic shot of a rocky white beach on thin clouds background
Jeju Island: Renowned for its volcanic landscape, beach resorts, and vibrant nightlife. Key attractions include Hallasan National Park, Jeju Volcanic Island and Lava Tubes.
Gyeongbokgung palace in autumn with korean national dress
Gyeongju: Known as a museum without walls. Visit this ancient city to glimpse the cultural heritage of the Silla Kingdom at historical sites like Bulguksa Temple and Seokguram Grotto.
South Korea is a magnificent blend of history, culture, technology, and natural landscapes. It's a country that guarantees an unforgettable travel experience filled with discoveries, delights, and surprises at every turn.
Enjoy your trip!
Welcome to www.bytesim.com if you want to get a stable and cost-effective eSIM data plan for your mobile devices while traveling around South Korea. This message is written in the name of ByteSIM

Comment