ESIM Dubai Travel Guide: Everything You Need to Know
Sep 28,2023 | Tom
Photo dubai skyline at sunset
Dubai is a dynamic city in the United Arab Emirates(UAE), known for its futuristic architecture, luxurious resorts, and vast shopping opportunities. Visitors can explore iconic landmarks the Burj Khalifa, Palm Jumeirah, and Dubai Mall, and indulge in extravagant such as desert safaris, indoor skiing, and fine dining.
Well, while you are eager to land at Dubai Airport to enjoy its exotic culture, activities, delicacies and scenic spots, have you prepared to cope with network connection problems in the destination? Remember to bond with a cost-effective Dubai eSIM data plan (compared to the international data roaming and WiFi packet ).
Now, let's dig in!
What Is ESIM?
An embedded SIM (eSIM) is a programmable chip that is built into your smartphone, tablet, or smartwatch without the need to manually insert a physical SIM. With the ability to be programmed via software and being carrier-independent, switching providers is even easier than acquiring and installing a physical SIM card.
Advantages of ESIM Over Physical SIM
Here we provide a list of eSIM advantages compared to physical SIM:
Convenience
Its convenience is one of the main advantages of eSIM. The device's chipset directly embeds eSIM, making it easier to switch between different mobile networks or plans without the need for physical insertion and swapping of SIM cards.
Flexibility
You can have multiple mobile plans on a single device with eSIM. You can easily switch between different carriers or data plans without needing to physically change the SIM card. This is a convenient feature. You can simply activate a new eSIM plan for the country you're visiting, offering greater flexibility, especially when traveling internationally.
Cost Savings
ESIM can offer cost savings in comparison to traditional physical SIM cards, particularly for international roaming. When it comes to international data plans, many eSIM service providers offer competitive rates, giving you the flexibility to choose cost-effective options based on your specific needs. This can help avoid expensive roaming charges and reduce overall communication expenses while traveling.
Environmental Impact
ESIM is a more environmentally friendly option compared to physical SIM cards. Traditional SIM cards, usually made of plastic, often require additional packaging materials for shipping purposes. No physical cards or packaging are involved with eSIM, leading to a reduction in waste and environmental impact.
Enhanced Security
Compared to physical SIM cards, the embedded nature of eSIM offers enhanced security. An eSIM is not easy to clone, which provides an additional level of security against unauthorized access to your mobile network. In addition, if your phone is stolen, the eSIM cannot be easily removed, making it harder for the thief to evade tracking and use the phone without authorization.
How to Set up an ESIM for Dubai Travel?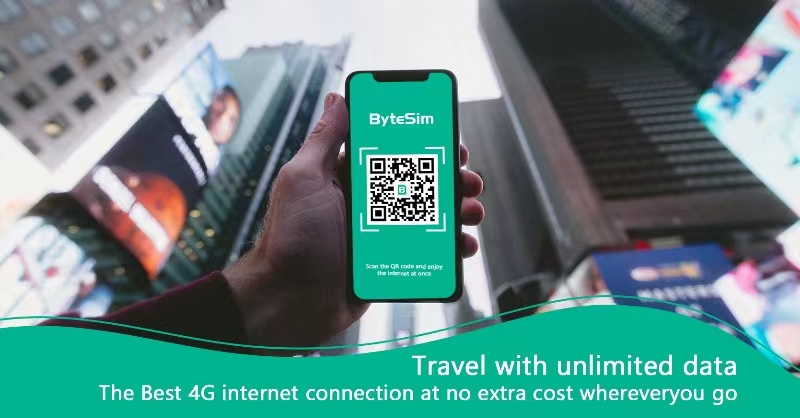 Check Device Compatibility
Make sure to verify that your smartphone or device supports eSIM technology. eSIM capabilities are now available on most modern smartphones, including iPhones and some Android devices. It should be noted, however, that eSIM compatibility may vary for the same mobile phone type in different manufacturing countries/areas.
* Click here to view the latest mobile devices compatible with eSIMs
Choose an ESIM Service Provider
When planning your trip, make sure to research and select an eSIM service provider that offers coverage in the country you plan to visit. You can search on the internet for eSIM data plan recommendations or you can explore reputable brands like ByteSIM , Holafly, GigSky, or Flexiroam.
Purchase and Download ESIM Plan
After choosing an eSIM service provider, simply go to their website or app and pick the data plan you prefer for Dubai . By paying for the plan, you'll be able to receive a QR code or activation code to download the eSIM onto your device.
Installation&Activation instructions for different sorts of cell phones
Installing, activating, and using an eSIM may vary slightly depending on the specific device and mobile carrier.
Here are general steps to install, activate, and use an eSIM on popular smartphone brands:
iPhone
Open the Settings for " Cellular" or " Mobile Data."
Tap " Add Cellular Plan" or " Add Data Plan."
Scan the QR code provided by your carrier using the camera, or manually enter the activation details.
To complete the activation process, follow the onscreen instructions.
After activation, the " Cellular" or " Mobile Data" section is where you can manage your eSIM settings.
Pixel (Android)
Enter the Settings and tap " Network & Internet."
Tap " Mobile network" or " SIM cards."
Select " Add carrier" or " Add eSIM profile."
You can either scan the QR code or manually enter the activation details provided by your carrier.
Follow the onscreen instructions to complete the activation process.
Navigate to the " Network & Internet" or " SIM cards" section to manage your eSIM settings.
Samsung (Android)
Tap the Settings app and go to " Connections."
Tap " SIM card manager" or " Dual SIM settings."
Select " Add mobile plan" or " Add eSIM profile."
To activate, either scan the QR code provided by your carrier or manually enter the activation details.
To finish the activation process, simply follow the onscreen instructions.
In the " SIM card manager" or " Dual SIM settings" section, you can manage your eSIM settings.
[Click here** ](https://bytesim.com/blogs/helps)to get lucid eSIM installation instructions(iPhone/Pixel/Samsung)*
photo woman holding dish of arab food
Make your Dubai trip unforgettable by crossing off bucket list activities, exploring exclusive culinary experiences, and immersing yourself in incredible events happening across the city. Of course, make sure your network bonds with the Dubai eSIM data plan !
You may be interested in:
Welcome to ByteSIM if you NEED an eSIM data plan while traveling around the world . And feel free to Contact Us if you are met with any questions( FAQs )

Comment