Encounter "Unable to Complete Cellular Plan Change" Error
Sep 28,2023 | Tom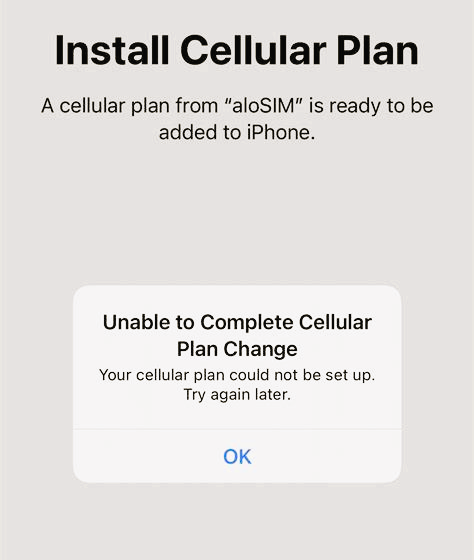 If you encounter the " Unable to Complete Cellular Plan Change" error on your phone while trying to install or change an eSIM data plan, there are several steps you can take to resolve the issue:
In many cases, a simple restart can often resolve temporary glitches or software issues that may be causing the error, "Restart" is always the first of all ways to rapidly and effectively solve your problem. Restart your phone and attempt the eSIM activation again.
Check if the eSIM is already installed
The eSIM you are trying to install may have already been installed on your device. Check the existing ICCIDs (Integrated Circuit Card Identifiers) on your device to ensure that the eSIM is not already installed.
It's a string of numbers like 89XXXXXXXXXXXXXXXXXX(ICCID)
*How to find the ICCID and EID on my phone?
Confirm eSIM slot availability
Depending on your phone model and storage capacity, there is a limit to the number of eSIMs that can be installed simultaneously. If you have already installed the maximum number of eSIMs, the "Unable to Complete Cellular Plan Change" error may occur. Remove any old eSIMs that you no longer need to free up a slot for the new eSIM.
* Click here to learn more details of eSIM capability on my phone
Verify that your Wi-Fi or data connection is stable and strong enough to complete the activation process. Unstable or weak connections can hinder the activation process and trigger the error. Try switching to a different network or resetting your network settings if needed.
*The list of eSIM carriers in different countries
Update your device software
Ensure that your phone's software is up to date. Manufacturers regularly release updates that address bugs and improve system stability. Check for any available software updates and install them if necessary.
Contact your cellular provider
If the above steps do not resolve the issue, it is recommended to reach out to your cellular provider for further assistance. They will have specific troubleshooting steps or may need to activate the eSIM from their end.
Please note that the steps provided are general guidelines and may vary depending on your specific phone model and operating system. It's always advisable to consult your device's user manual or contact the manufacturer's support for detailed instructions.
To Learn More:
ByteSIM , the promising eSIM provider for your travel in 200+ destinaions. We are available 24/7 365 to help you!

Comment