The Main ESIM Providers in Asia 2024!
Sep 28,2023 | Tom
Airalo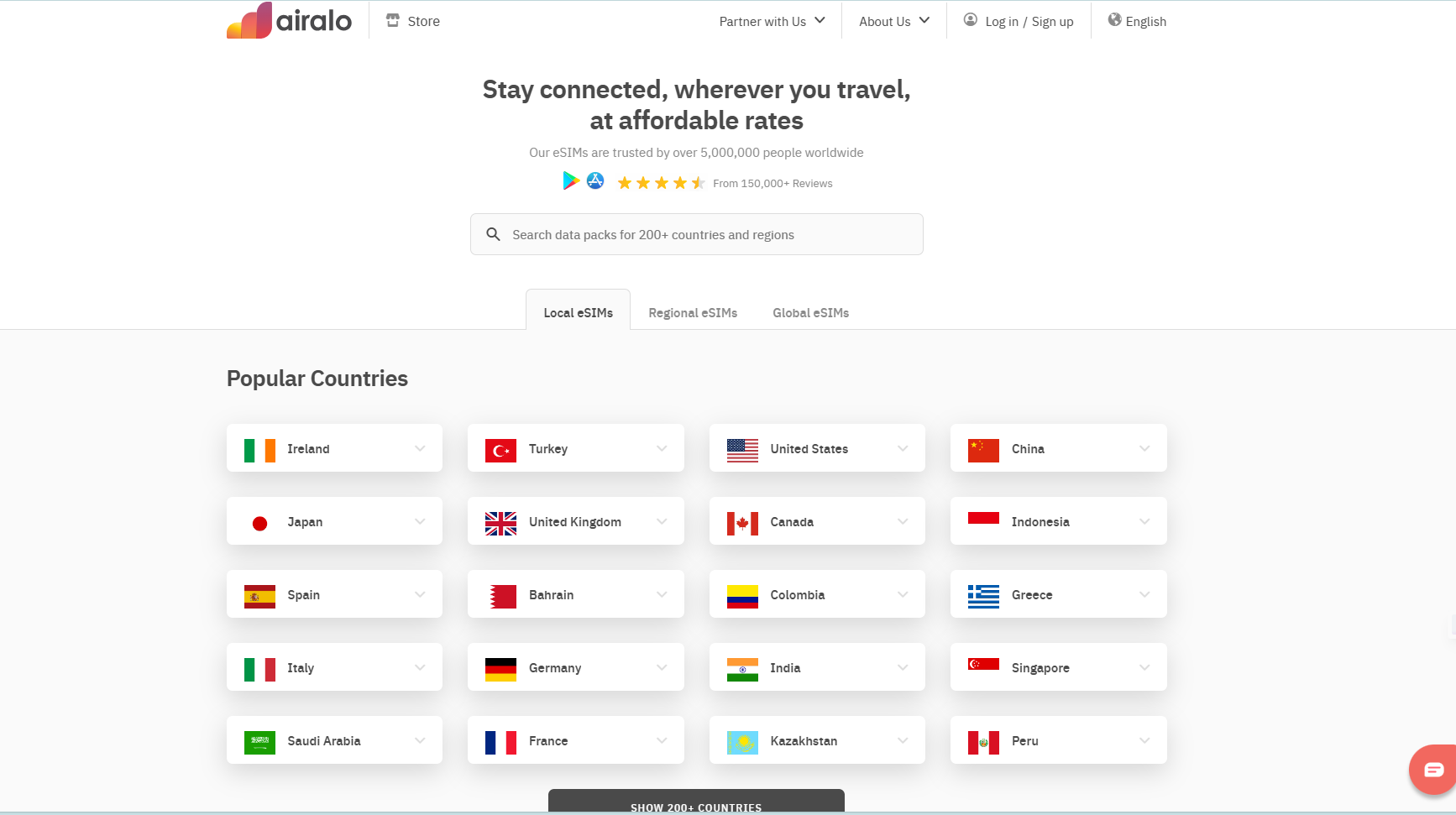 Airalo is a popular eSIM provider addressing the needs of travelers heading to various destinations in Asia. Their service boasts affordable prices, robust network stability, widespread coverage, and high flexibility in terms of data packages.
In a review of the available information, let's list the pros and cons of Airalo, an eSIM provider:
Pros
Airalo offers eSIMs that you can use in more than 190 countries and regions worldwide which makes it an excellent choice for travelers.
Since Airalo partners with local network providers, it allows lower costs for their eSIM packages, keeping them affordable for their users.
Airalo eliminates the need for physical SIM card purchases, offering the convenience of staying connected just by using the Airalo app and setting up the plan based on the destination.
Diverse Local and Regional Data Plans
Airalo provides a wide range of local and regional data plans providing users the flexibility to choose based on their requirements.
The process to set up Airalo on your phone is straightforward and quick, contributing to user convenience.
Cons
Most plans provided by Airalo are data-based. This means the ability to make standard phone calls or send standard SMS messages might not be available, limiting the service to data usage only. Besides, no unlimited data plans are available, you have to top up on the platform if the data plan runs out.
App-Reliant Communication
Because Airalo mostly offers data service, any kind of communication (phone call, text) has to be done through internet-based applications like Skype or iMessage, which might not be preferred by all users.
Note that not all phones are compatible with eSIMs, so the services of Airalo may not apply to all phones currently in the market.
Overall, Airalo appears to be a sound choice for the global mobile user population that is primarily focused on data usage. However, for those who depend on traditional call and text services, it might not be the ideal choice. It's always recommended to refer to device compatibility and network services based on the destination before investing in an eSIM package plan.
Holafly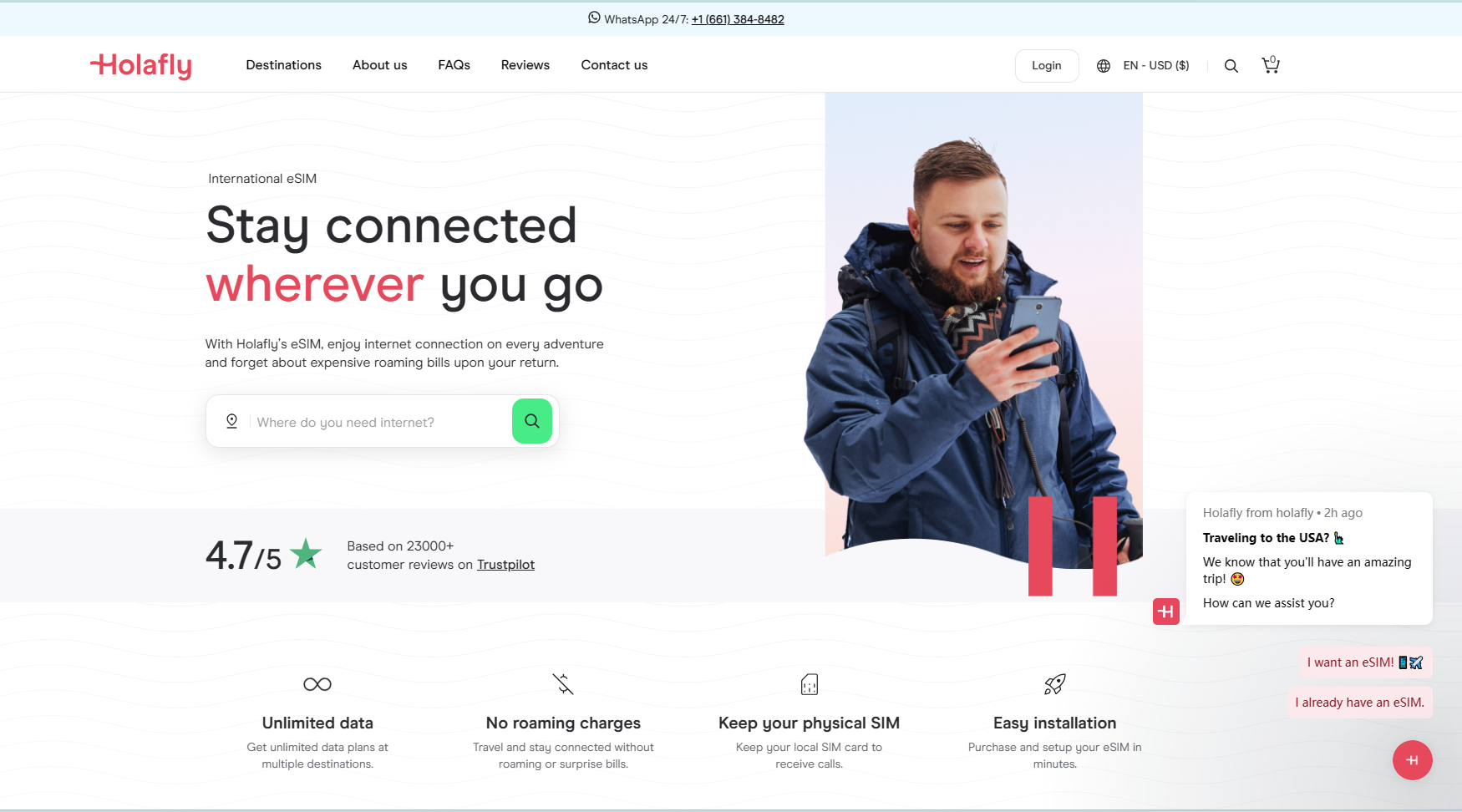 Another notable eSIM provider, Holafly, offers tailor-made eSIM plans for multiple Asian destinations, accommodating various travel needs. Holafly presents robust network connections and competitive pricing options along with flexibility in data packages, including unlimited options for certain destinations.
Here is a list of pros and cons for Holafly, based on the information derived from the internet:
Pros
Holafly offers a simple and convenient setup process for their eSIMs, allowing users to easily add local data plans to their phones by scanning a QR code.
Holafly provides eSIMs for more than 130 countries, enabling travelers to stay connected to various destinations without the need for purchasing and switching physical SIM cards.
Users report positive experiences with the data connection provided by Holafly eSIMs, even in remote areas such as the Sahara desert, indicating good network coverage and stability.
With Holafly eSIMs, users can avoid the hassle of searching for local SIM cards upon arrival, dealing with language barriers, or facing issues with the availability of SIMs in certain locations.
Holafly offers competitive pricing for their eSIMs, making them a cost-effective option for international travelers seeking reliable data connectivity.
Cons
Similar to other eSIM providers, Holafly specializes in unlimited data plans, which means you cannot customize and pay for your data according to your practical needs(not friendly for light/middle data users ). Besides, services such as voice calls and regular text messaging may not be available through their eSIMs.
Holafly's eSIMs are dependent on the compatibility of users' devices. It is important to check whether your device supports eSIM technology before considering Holafly as an option.
You can't share your Holafly eSIM data installed on your handset with other mobile devices although it's an unlimited data plan. If you're planning on using a hotspot, it's worth checking out.
The network stability is not always as good as any country/region because of different local carriers and network facilities. Besides, you may suffer a speed limit if your data usage exceeds the regulated amount, which means you'll get high speed first, and eventually, you'll get a slower speed if you use too much data.
Overall, Holafly is praised for its user-friendly setup process, wide-coverage, reliability, and cost-effectiveness. However, it's important to note the limitations in terms of limited services (mainly data-focused) and device compatibility. Holafly can be a suitable choice for heavy-data users while traveling internationally.
ByteSIM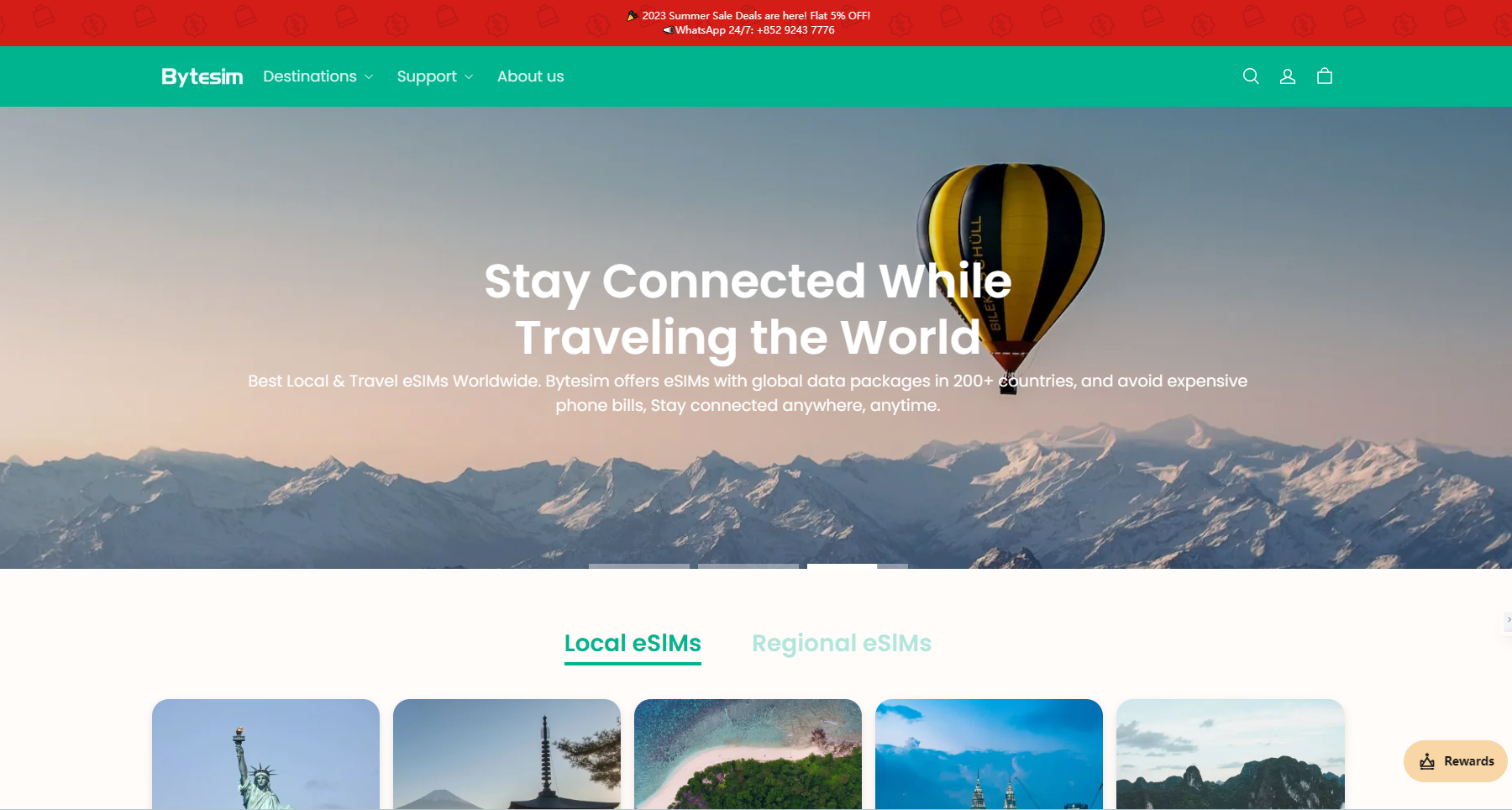 ByteSIM is an eSIM provider that offers international eSIM plans for travelers. ByteSIM provides eSIMs with global data packages all over the world, allowing users to stay connected anywhere and avoid expensive phone bills.
Pros
Bytesim eSIM, with coverage in 190+ countries and regions, is the ideal choice for travelers visiting multiple destinations.
ByteSIM provides a wide range of data plan selections based on different travel needs. Users can customize their plans such as data amount, validity days and quantity and for some destinations unlimited data selections. There are 40-50 selections available for a single destination.
Users can experience seamless signal switching for better connectivity where multiple carriers provide network coverage. For mobile usage, this eliminates potential signal quality issues and provides more flexibility.
Compared to traditional roaming charges or purchasing local SIM cards, Bytesim eSIM's competitive pricing can save travelers money with over 5 million customers per year.
For heavy-data travelers or individuals who heavily use their devices for streaming, downloading, or browsing, this is particularly advantageous(such as U.S. , Vietnam , Malaysia and so on).
Users can feel free to contact ByteSIM customer service at any time, their customer service is 24/7 365 online.
Cons
Bytesim is only compatible with eSIM-enabled devices, limiting its availability to users with compatible smartphones or smartwatches.
Users may need to contact their carrier to unlock the eSIM functionality if some carriers decide to lock the eSIM feature on their devices.
Limited Coverage and Selections in Remote areas
Despite providing coverage in over 190 countries, Bytesim eSIM may have limited coverage and data plan selections in remote areas or smaller destinations.
Please note that this information is based on general knowledge available and may vary over time. It is always recommended to visit ByteSIM's official website or contact their customer support for the most up-to-date and accurate information about their eSIM services.
Nomad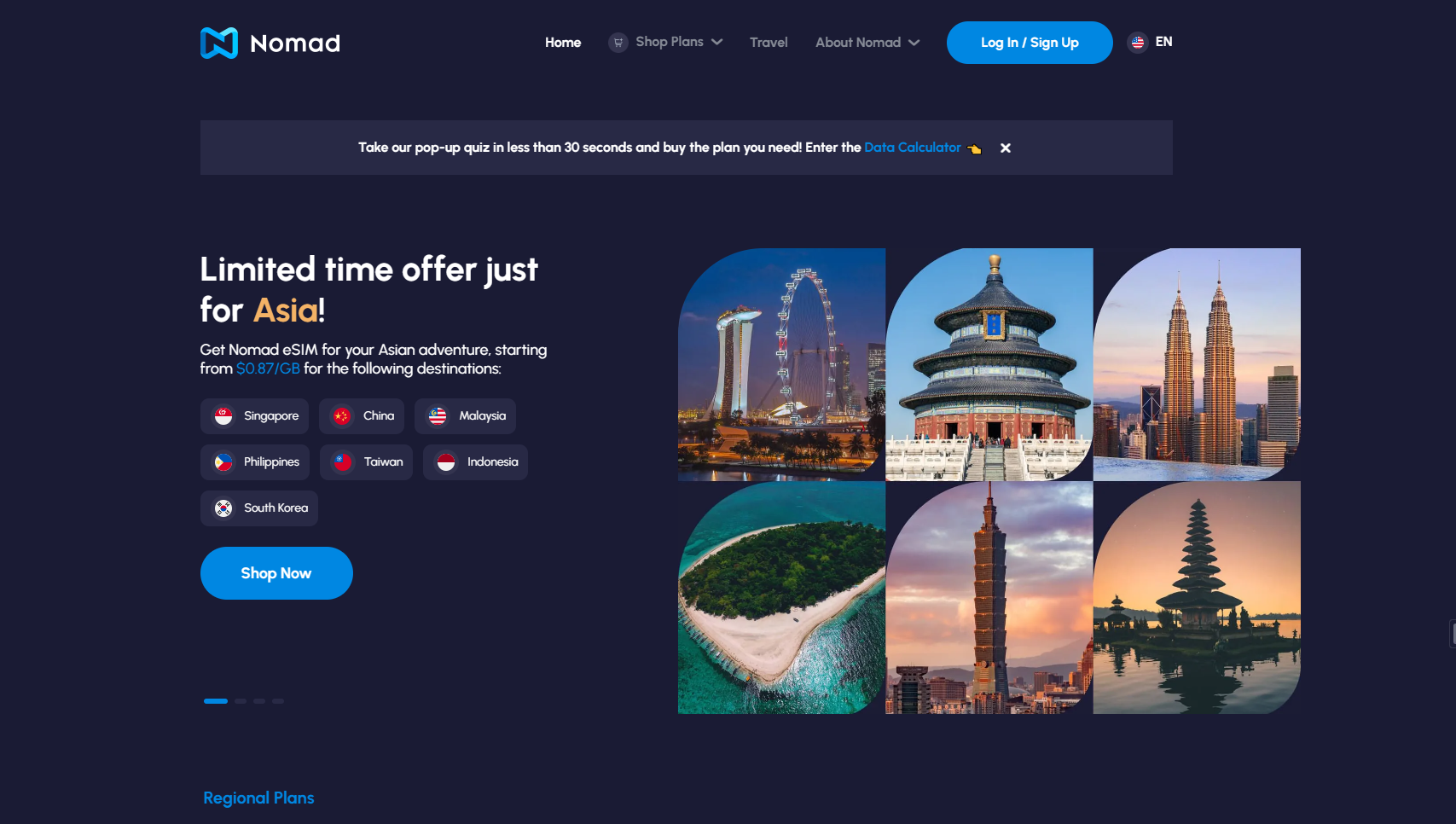 Nomad caters to connectivity needs by providing eSIM plans across numerous Asian countries. It exhibits competitive pricing and reliable network connections along with flexibility, addressing specific data requirements.
Now, based on the updated information from the search, here is a detailed list of the pros and cons of Nomad eSIM:
Pros
Nomad eSIM offers coverage in over 100 countries and regions, making it a convenient option for travelers who visit multiple destinations.
Nomad provides short-term plans, which can be beneficial for travelers who only need data connectivity for a specific period, such as a vacation or business trip.
In some destinations, Nomad offers unlimited data plans, allowing users to have worry-free data usage without the fear of exceeding limits.
Nomad offers competitive prices for their eSIM plans, making it a cost-effective choice for international travelers seeking data connectivity.
Nomad provides a selection of local, regional, and global plans, giving users the flexibility to choose the coverage that best suits their needs.
Cons
Nomad currently does not offer long-term plans. If you are looking for extended periods of data connectivity, you might need to consider other eSIM providers that offer such options.
As you can search on Nomad eSIM, it only provides 4G/LTE services. So if you want to choose a 5G data plan, you have to change to another eSIM platform.
Customer Support Responsiveness
Although Nomad offers 24/7 customer support, some users have reported that the response time can be slower compared to other providers.
It is important to note that while Nomad offers benefits such as extensive coverage, short-term plans, and competitive pricing, the lack of long-term plans and potential delays in customer support response are aspects to consider when choosing Nomad as your eSIM provider. It is recommended to assess your specific travel needs and compare them with the offerings of different eSIM providers to make an informed decision.
Some Other ESIM Providers in Asia
SimOptions
SimOptions offers eSIM plans specifically catering to Asian countries. Reliable network connections, combined with competitive pricing and flexible data packages, make it an attractive option for travelers.
BNESIM
Standing out with its competitive options for travelers, BNESIM ensures robust network stability and extensive coverage in Asia. Its eSIM plans are flexible and include unlimited data options in some destinations.
GigSky
GigSky, a global eSIM provider, presents a variety of data plans covering multiple geographical locations in Asia. With competitive pricing and sustainable network connections, GigSky assures easy connectivity for travelers.
ESIM2Fly
eSIM2Fly provides eSIM plans for various Asian destinations, backed by reasonable pricing options and collaborations with reliable network operators. Their service advocates flexibility and meets different data requirements, promising hassle-free travel.
Oneworldroam
With multiple collaborations with local network operators, Oneworldroam procures stable network connections and extensive coverage in Asia. It offers flexible data packages, catering to different usage requirements.
Truphone
Providing global mobile data plans, Truphone attracts users with its competitive pricing and seamless network stability. Their eSIM solutions are designed with flexibility in mind, making it easy to switch between operators.
KnowRoaming
Known for its flexible data options and reasonable prices, KnowRoaming offers comprehensive eSIM plans for Asia. Their partnerships with various Asian telecom operators ensure reliable network coverage and stability.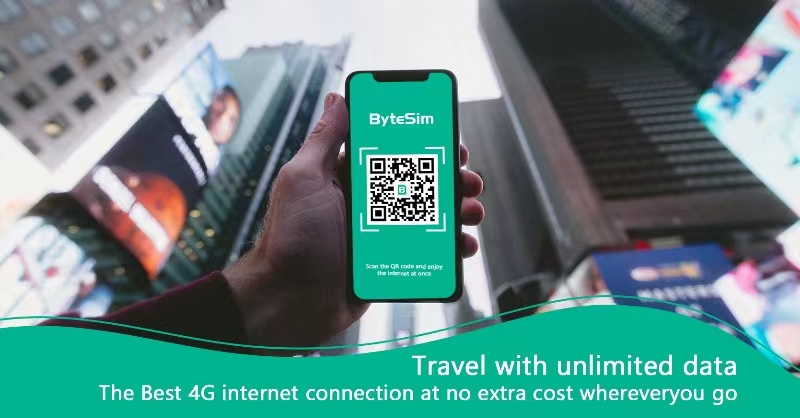 Attention!
Before purchasing, it's important to ensure that your device is compatible with the eSIM technology. The eSIM, or embedded SIM, is a modern version of the traditional SIM card, with the chip embedded inside newer smartphone models. This technology allows you to activate data tariffs virtually, either by using an app that serves as a SIM card manager, or by scanning a QR code.
* [ *Click here*** ](https://bytesim.com/pages/esim-compatible-devices) to check if your phone is eSIM-compatible.
How to* [ *install& activate my eSIM*** ](https://bytesim.com/blogs/helps) on my iPhone/Samsung/Pixel?
In addition to all these, getting an overview of your average data usage and the schedule of your trip beforehand can help choose the suitable data plan for your needs. As newer experiences might lead to increased data consumption out of blind selection, having a proper plan can help keep your connection stable with fewer charge fees throughout your journey.
ByteSIM , Bye the SIM! A promising eSIM provider for you
You May Be Interested In:
ESIM-Relevant:
Travel Guide:
Festivals:
Comment